Deals help aggregates firm post chunky rise in pre-tax profit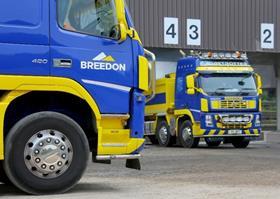 Hitting the acquisition trail has bolstered aggregates business Breedon, which posted a 43% hike in turnover and a 52% rise in pre-tax profit in 2017.
The Leicestershire-headquartered firm, which claims to be the UK's largest independent aggregates supplier, recorded turnover of £652.4m for the year to 31 December 2017 and a pre-tax profit of £71.2m.
Breedon, which has been linked to a possible deal for Northern Ireland construction firm Lagan, said it had benefited from a full-year's contribution from Hope Construction Materials, which it bought in 2016 for £336m, as well as activity from two smaller firms it had acquired in the past year; Sherburn Minerals for £15.7m and Humberside Aggregates for £9m.
It sold 16 million tonnes of aggregates in 2017, up 40%, and a 74% hike in sales of cubic metres to 3.3 million, while asphalt sales were flat at 1.9 million tonnes.
Chief executive Pat Ward said the group had seen stronger demand in England than in Scotland and what he called "many regional variances within both countries", while growth had been led by rising residential and infrastructure activity.
Breedon is awaiting competition clearance on its deal to buy four quarries and an asphalt plant from Tarmac, funded by the transfer to Tarmac of 27 of Breedon's ready-mixed concrete plants and a cash payment of £4.9m.