At the World Wildlife Fund's new HQ in Surrey, Willmott Dixon has taken sustainable construction to new levels of rigour, forensically tracking the carbon content of every single element, and even building an FSC-certified workshop on site. So has the result been worth it?
If you happened to be a leading conservation charity whose raison d'être is safeguarding the natural world, you would want to reflect those values in your day-to-day activities. For the World Wildlife Fund (WWF), this aspiration has proved elusive - at least as far as its headquarters goes. For the past 20 years, it has operated out of a converted light industrial unit on the edge of Godalming in Surrey. "It isn't well located and doesn't say anything about us or what we are about," says chief executive David Nussbaum.
A generous £5m donation gave WWF the chance to build a HQ that was more in keeping with its values. "It gave us the opportunity to do something special," says Nussbaum. "The aspiration was to have a building that engaged with the people in it, whether they were supporters or workers, and speak to them about a world where people and nature can survive. It also needed to be functional and sustainable to build and operate." The result is the £13m Living Planet Centre in Woking, Surrey, designed by Hopkins Architects and opened this month.
Tackling climate change and living sustainably are central to WWF's philosophy, so it is hardly surprising that the new HQ includes the latest thinking on sustainable design. It is naturally shaded by surrounding trees and features a mixed-mode ventilation system, drawing air out through roof cowls in natural ventilation mode, and saving energy on tempering incoming air by drawing it through 60m of earth ducts in mechanical mode. Warmth is provided by a ground-source heat pump. Generous roof lighting provides double the light of a typical office and 20% of the building's regulated energy needs are provided by photovoltaic panels on the roof. It will use 53% less energy than a typical office building and has been certified as BREEAM "outstanding".
But where this building really moves the sustainability agenda forward is in its rigorous, almost forensic approach to assessment. WWF insisted on full Forest Stewardship Council (FSC) certification for all timber products on this job - hardly surprising given that the preservation of forests is one of the main focuses of the charity's campaigning work. The Living Planet Centre is also the first building in the UK to have undergone a full whole-life carbon assessment, including for all of its furniture. Partly as a result of this approach, the completed building has a whole-life carbon footprint 42% smaller than the scheme submitted at planning stage.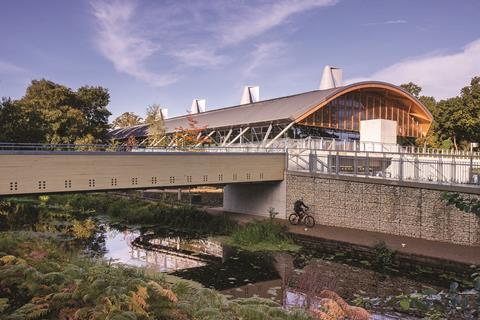 The wood from the trees
The task of ensuring the building was fully FSC certified was down to main contractor Willmott Dixon. "With any job there are aspirations that fall by the wayside. But here, these were contractual obligations," says Richard Bartlett, Willmott Dixon's sustainability manager. "Every piece of timber has to have full FSC chain of custody and if anyone drills a hole in that piece of wood, they need to be FSC certified," he says.
All of Willmott Dixon's suppliers had to be FSC certified. This was problematic as the joinery specialist didn't have the certification. It couldn't just buy in FSC-certified timber as there was risk of cross-contamination from non-FSC timber in its joinery workshop. Getting certification wasn't an option. "It is extremely bureaucratic getting certification and it is expensive to put the systems in place," says Bartlett. The solution was to build a joinery workshop on site, as Willmott Dixon is FSC certified. Fortunately the building was being constructed on a concrete podium over a car park, which had space underneath to create a weather-proof workshop. All timber arriving on the job had to be accompanied by a document showing the FSC chain of custody, a process meticulously audited by testing and certification organisation BM Trada. "Stringent is an understatement," sighs Bartlett.
With any job there are aspirations that fall by the wayside. Here, these were contractual obligations
But this proved to be relatively straightforward compared with getting certification for products made from processed timber. Willmott Dixon opted to use a dry screed board for the floors. This was cheaper and quicker to install than a traditional wet screed and had the additional benefit of a lower carbon footprint. It also reduced the number of wet trades on site.
However, the board includes cellulose insulation made from recycled paper, and the manufacturer, Knauf, was not FSC certified. The FSC accepts products made from post-consumer, as opposed to post-industrial, waste, so it was down to Bartlett to find out where the paper came from. He spent days tracking down Knauf's paper suppliers to determine what type of recycled paper was used for the board. "I ended up producing a 100-page document to prove this screed board was sourced from post-consumer waste," he says.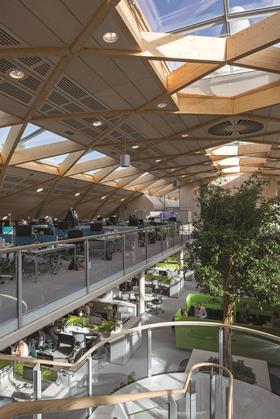 Ruthless cutting
The whole-life carbon assessment and mitigation process was handled by Sturgis Carbon Profiling. It assessed the building at the planning stage to see how the whole-life emissions of the building could be reduced. Sturgis identified some quick wins, including using a different glue for the glulam beam structure. The initially proposed beams were made using synthetic glue with a large carbon footprint. "We found this wasn't much better than a steel structure," says managing director Simon Sturgis. "Using natural glue made a big difference to the carbon impact of the beams."
At tender stage, Sturgis asked bidding contractors and their supply chains for details of the embodied carbon of their proposed specification. This included what the product was, what it was made from, how it was made and how far it needed to be transported. "The most onerous aspect [of the whole-life assessment process] has been getting the information from our suppliers, particularly the M&E package as there were 271 different elements," says Bartlett.
However, this exercise revealed that the whole-life carbon impact of the building was 30% lower than at planning stage. It was now down to Willmott Dixon to reduce this further. Sturgis gave the contractor a list of assumptions for the carbon impacts of different materials - the contractor had to equal or reduce the impacts of the selected materials without impacting on performance or quality.
Willmott Dixon managed to beat some of these targets handsomely. The carbon budget assumed that the aluminium framing included 30% recycled content, but the contractor found an alternative supplier that could supply 80% recycled aluminium. The earth tubes were lined with carbon-intensive concrete so Willmott Dixon switched these for plastic. It used reinforcement that was 99% recycled steel, saving 45 tonnes of carbon, and recycled aggregates - a fair-faced finish was needed so getting the mix right took some time.
Bartlett says 11% of the carbon budget was allocated to site operations. Carbon reductions were made by opting for well-insulated site accommodation, new plant and LED security lighting. A dehumidifier was used for the drying room rather than heaters and securing an early connection to the grid reduced the amount of time that diesel generators were needed. Despite these initiatives, Bartlett says the contractor wasn't able to meet the 11% target. "We've really struggled to achieve this," he says. "I would question the assumptions around the target."
Yet by scrupulously tracking the carbon content of absolutely everything, the end result is that the whole-life impact of the project is an impressive 42% lower than the scheme at planning stage. This adds up to a saving of 5,500 tonnes of carbon over the building's life. According to Sturgis this didn't add anything to the building cost.
The benefits of full FSC certification are more questionable, as Bartlett reckons all the timber used on the project would have come from sustainable sources in any case. "I think you would struggle to buy an illegal piece of timber in the UK as suppliers have to track their timber supplies and we do this through our own suppliers," he says. "I am confident that all our jobs use sustainable timber."
Nevertheless, this project provides an exemplary demonstration of environmental, social and economic sustainability. WWF has got a building that reflects its values, and Willmott Dixon has fulfilled tough environmental criteria while maintaining its margins.
Review: An ideal habitat
WWF's new HQ is proof that architects and clients can co-exist peacefully, says Ike Ijeh
As a work of architecture, corporate headquarters usually have to walk a difficult line. Clearly as the symbolic engine room of a company or institution they have to reflect the values and aspirations of their owners. But for obvious reasons, architects also like to ensure that their trademark style or signature is evident too.
The best corporate HQ, like Frank Lloyd Wright's seminal Johnson Wax Building or Norman Foster's Hong Kong & Shanghai Bank manage to construct a powerful visual representation of both client and architect. At others, like Richard Rogers' Lloyd's Building or Philip Johnson's AT&T (now Sony) Tower, the enduring impression hasn't quite been so balanced.
At only two storeys high and providing just 3,600m² of accommodation, Hopkins Architects' new headquarters for the World Wildlife Fund (WWF) may be relatively small contribution to corporate HQ architecture but it is engaged in exactly the same conceptual tussle. As one of the world's most renowned conservation charities, it was inevitable that the new building would say something about the organisation's environmental priorities and this has been convincingly realised.
Hopkins' trademark preoccupation with structural expressionism and modular components is on full display here
Timber is used extensively on the building, both inside and out and it imbues it with an appropriately soft and organic character. The building's curved, barrel-vaulted roof and profile also presents a subtly naturalistic impression that sits comfortably amongst the trees and hedgerows that encircle the site.
Inside the building too there is a constant connection to the natural world. Timber is again predominant, with the soffit of the gridshell roof and its diagrid bracing proudly exposed above the double height spaces and first floor offices. Generous glazing ensures that the building is awash with natural light and also delivers rich views of the surrounding trees, canal and foliage deep into the interior. The timber deck terraces that wrap around the building also enable the staff to physically interact even more closely with their surrounding environment.
So, if this is a building clearly in tune with the environmental ethos of its owners, what then does it say of its architect? Hopkins' trademark preoccupation with structural expressionism and modular components is on full display here but it is delivered in a sensitive manner that is sympathetic to the tactile, naturalistic intimacy requested by their client.
While the gridshell roof springs from inclined, external steel pin columns, the structure itself is formed from timber once again which thereby acts as frame as well as fascia throughout the building. Internally the timber is complimented by exposed concrete ceilings whose exceptionally honed finish appears as smooth and crisp as stone. And from a distance, the entire building itself appears flung across the landscape like a natural awning nestling between the trees.
But arguably the most prescient clue to the synthesis between architectural and corporate interests here is the fact that the new building has been built over what is now a semi-enclosed car park. The arrangement presents a conclusive metaphor for the entire scheme, the concrete gloom of the built environment squashed and invisible under the deftly engineered footprint of the natural world.
Project Team
Client WWF
Architect Hopkins Architects Partnership
Cost consultant Gardiner & Theobald
Project management Doherty Baines Project Management
Structural engineer Expedition Engineering
M&E Atelier Ten
Whole life carbon assessment Sturgis Carbon Profiling
Client rep JEB Project Management Services
Contractor Willmott Dixon