Housing, apprentices and high streets all mentioned during Hammond's hour-long address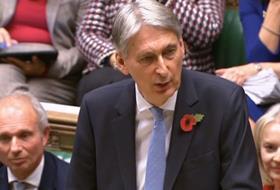 The chancellor today announced the end of an era for PFI by scrapping future schemes under the initiative –although honouring current projects – while Help to Buy received a two-year extension although it will be axed from 2023.
Speaking in the House of Commons this afternoon, chancellor Philip Hammond (pictured) said the controversial Help to Buy scheme would be applicable to first time buyers only and there would be regional price caps on eligible properties.
Take a look at the changes Hammond confirmed during his address to parliament.
1. Help to Buy

An extension to Help to Buy was not mentioned in Hammond's speech but did earn a mention in the Treasury's Red Book, which spells out in more detail the budget annoucements. The book said: "From April 2021, a new Help to Buy Equity Loan scheme will run for two years before closing in March 2023. The new scheme will be available for first-time buyers only, and for houses with a market value up to new regional property price caps. These caps are set at 1.5 times the current forecast regional average first-time buyer price, up to a maximum of £600,000 in London. The government does not intend to introduce a further Help to Buy Equity Loan scheme after March 2023."
2. Abolish the use of PFI and PF2
Hammond said: "I'm committed to PPP where it delivers value to the taxpayer and shifts risk to private sector. There is compelling evidence that PFI does neither." He said the government will honour existing contracts but "will be no pushover". There will be a new centre of excellence to monitor deals and no more PFI for future projects.
3. Tax relief for new non-residential buildings
Hammond announced the government would introduce a permanent tax break for new non-residential structures and building. This will be partly funded by an adjustment to the special writing down rate for long life assets from 8% to 6%.
4. Apprenticeships
Hammond confirmed that smaller firms who train apprentices would have their contribution to the apprenticeship levy halved. It will fall from 10% to 5%.
5. High Streets
He also confirmed a £675m fund to help local councils support High Streets across the country. This could lead to more housing in these areas too. Louise Brooke-Smith, UK Head of Development and Strategic Planning at Arcadis, said: "A sum of £675m to tart-up high streets is not to be sniffed at but will it be enough to hold back the tide of inevitability and stop more stores like Debenhams facing closure? It's the changes to planning regulations that might make more of a difference, particularly if it becomes easier to convert empty shops into residential floorspace or offices and there is direct support for more mixed-use schemes."
6. Housing
Government committed an extra £500m of funding to the Housing Infrastructure Fund, £291m of which is set to go to London. Hammond says this funding will unlock 650,000 new homes. He also revealed that the Letwin Review, the investigation into why the UK is not building enough homes by the Tory MP, recommends reforming the planning system to speed up building. But government making no promises to act on them, agreeing merely to review them. Hammond said Letwin concluded that "landbanking" is not systematic.
7. Infrastructure fund
Hammond said the infrastructure fund would receive a £38bn boost by 2023/24.
The government said it was backing the controversial Cambridge-Oxford Arc, which at the recommendation of the National Infrastructure Commission will see a million homes built between the cities by 2050. The Arc was an "opportunity to demonstrate the ambitions of the government's 25 Year Environment Plan," it said.
A new East West Rail company has been established to accelerate the delivery of the central railway section between Cambridge and Bedford. The government said it was providing a further £20m to develop a strategic outline business case for the route. There will also be a 'ministerial champion' for the scheme, the government said.