As uncertainty continues to stalk the economy, modest private housing sector growth is expected, with public housing having grown strongly but predicted to contract and the commercial sector facing downward pressure from cautious investors and inflation. Experian Economics reports
01 / Overview
The latest GDP figures released by the Office for National Statistics (ONS) showed that UK GDP grew by 0.2% quarter-on-quarter in the first quarter of this year, revised down from the preliminary estimate of 0.3%. This is the weakest performance since the first quarter of 2016, when output growth was also 0.2%. The change was due mainly to a downward revision in total service sector output from 0.3% to 0.2%.
The outlook for the next two years for the UK economy has weakened significantly following the Brexit vote. Uncertainties, notably on the domestic front, have mounted. Inflation threatens to erode real income growth and curb consumer spending while capital spending is set to weaken further as political and economic turmoil persist.
There is likely to be some gain from the more competitive exchange rate, but with global demand remaining weak we expect this to be heavily outweighed by the fall in domestic demand, despite looser monetary and fiscal stances.
Between January and March 2017, total construction output rose by 3% to £35.06bn compared with the corresponding period in 2016. Among the new work sectors, the public housing market experienced the strongest growth of 8% to £1.16bn. Public housing output is expected to contract by an annual average of 3% over the next three years, however, as a result of local authority budget constraints, the extension of Right to Buy to housing associations, and rent reductions.
Over the same period, the private housing sector posted a reasonable 5% expansion to £7.04bn, making it the largest new work sector for the fifth consecutive quarter (in 2013 prices). Despite aspirational targets such as 270,000 new homes a year by 2020, all the evidence, both statistical and anecdotal, suggests much more moderate growth in private housing output over the forecast period. House price growth is expected to average between 2% to 3% per year between 2017 and 2019, and property transactions and new orders growth remain relatively modest.
The commercial market posted another increase of 7% to £6.9bn in the three months to March on an annual basis. While continued growth is still expected over the mid-term, commercial property investors are likely to adopt a more cautious attitude to bringing projects forward while Brexit negotiations are ongoing. This, combined with rising inflation and rising import costs, places a degree of downward pressure on the sector forecast.
The public non-residential sector registered reasonable year-on-year expansion of 4% to £2.49bn. The sector is expected to grow at a similarly modest rate in the medium term, supported by a few major, long-term university projects such as the Cardiff University innovation campus and the University of Cambridge's North West Cambridge development, as well as the Ministry of Defence's Army Basing Programme.
Industrial output continued to decline, with the biggest fall of 16% on an annual basis in the three months to March. Sector output fell to £801m in constant prices, its lowest level on record. Industrial output forecasts are unchanged since the winter. We still expect to see work start this year on Jaguar Land Rover's £500m Coventry factory and a number of warehouse projects are also in the pipeline, leading to modest industrial output growth over the next three years.
In the first quarter of 2017, infrastructure output declined by 2% to £4.53bn compared with the same period a year earlier. Activity is predicted to stabilise this year before moderate expansion in 2018. Double digit output expansion is expected from 2019 onwards, due to a number of large scale transport and energy projects, including the Hinkley Point C nuclear power station and the High Speed 2 rail project.
02 / New work output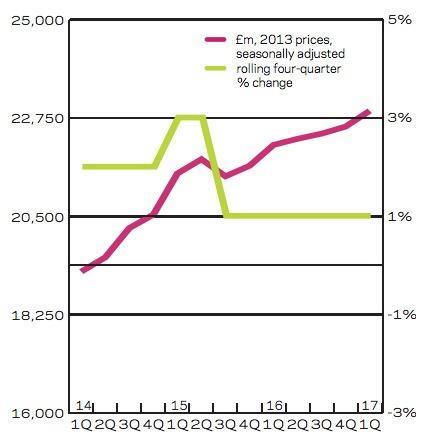 03 / R&M Output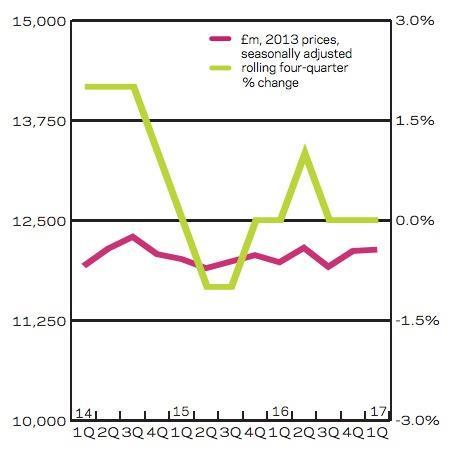 04 / New work orders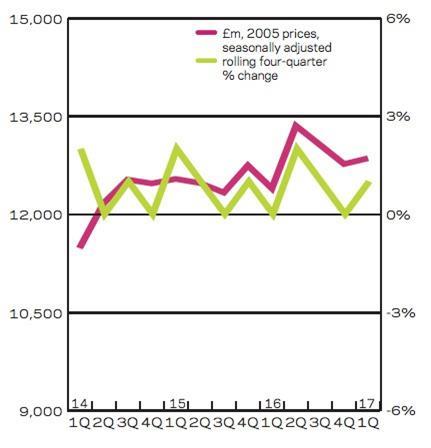 05 / 2017-19 Forecasts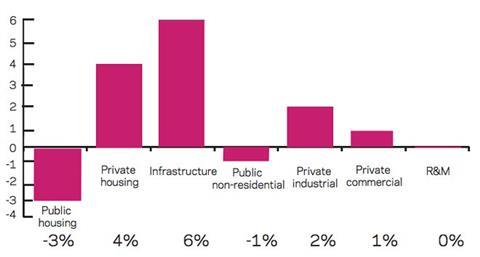 All of the new work sectors are projected to post annual average growth over the forecast period bar both public sectors, where average yearly declines of 3% and 1% are projected for the housing and non-residential sectors respectively.
06 / Regional new work output
In the three months to March 2017, new work output in current prices increased in eight out of 11 regions and devolved nations on an annual basis.
07 / Regional R&M output

Output for the repair and maintenance sector (R&M) increased in seven out of 11 regions and devolved nations on the same measure.
08 / Regional new work orders

New work orders only increased in five out of 11 regions on a yearly basis in the three months to March. The North-west experienced the biggest absolute rise in orders as they went from £1.47bn to £2.17bn.