Data from Experian Economics shows that while construction activity levelled off in Q4 2013, for the year as a whole, activity was on the rise, with growth forecast in the private housing and infrastructure sectors
01 / Overview
After ticking up for three straight quarters, construction output flattened in the final three months of 2013, at £28.4bn (2010 prices).
For the year as whole, activity rose just over 1% to £111.5bn, 8% below its average for the decade leading up to 2013. Repair and maintenance (R&M) picked by 1.4% annually, slightly above new work (1%).
The second estimate of GDP for the fourth quarter of 2013 confirmed that output grew by 0.7% quarter-on-quarter in real terms. There was a slight downward revision to the growth rate for 2013 compared with 2012, which is now estimated at 1.8%.
Growth was strongest in the private housing sector, with a 9% increase year-on-year to £17bn, its highest value since 2008.
The second half of the year was particularly productive, with activity up 16% on the same period of 2012. A good proportion of this upswing can be attributed to the government's Help to Buy scheme, which saw more than 17,000 homes bought under it in its first nine months, the majority of which were purchased by first time buyers outside of London. The mortgage guarantee part of the scheme, which began last October (in England), will continue until the end of 2016.
The public housing sector also fared well, with output rising 8% annually to £4.5bn. On a half-yearly basis strong gains were seen in the final two quarters of 2013, up 16% on the same period of 2012. Social housing providers have proved resourceful in regards to securing financing from sources other than the public purse, with total borrowing at approximately £70bn (according to the HCA) approaching the final quarter of 2013, which should underwrite new work up until April 2015.
Meanwhile industrial construction endured a tough year, as activity fell 8% annually to £3.3bn, a trend that continued in the final six months 2013, with a 15% annual decline. The sector's dependence upon a small number of large-scale projects was at the fore, as a slow-down in work for the aforementioned projects led to a corresponding fall in activity.
Nevertheless public non-residential construction maintained its place as the worst performing sector for the second straight year. Output fell 9% to £9.5bn, its lowest value since 2008, although the rate of decline slowed in the latter half of the year, falling 4% on the same period of 2012.
Total new work orders rose to £12.6bn (2005 prices) in the final quarter of 2013, an increase of 1.5% on the year previous quarter, and also up 4% on the corresponding 2012 figure. In 2013 overall new orders rose 10% to £48bn, the third straight year of growth, although levels remain notably below that for the decade leading up to 2013.
Double-digit increases were seen in the majority of new work sectors, the strongest upswings on an annual basis were in the public housing (£3.9bn) and private housing (£11.7bn) sectors, at 61% and 32% respectively. Infrastructure construction was the only new work sector that saw a dip in orders over the aforementioned period, with a 16% contraction to £8.8bn.
02 / New work output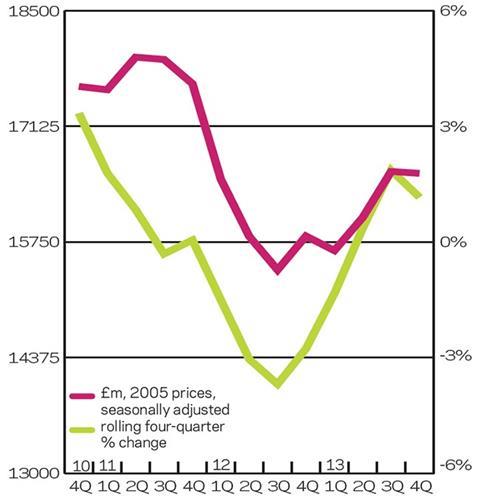 03 / R&M Output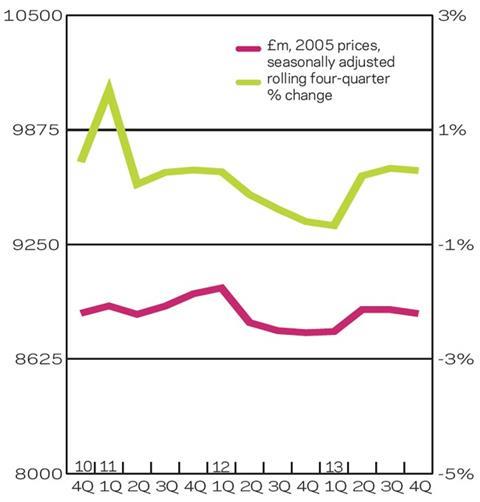 04 / New work orders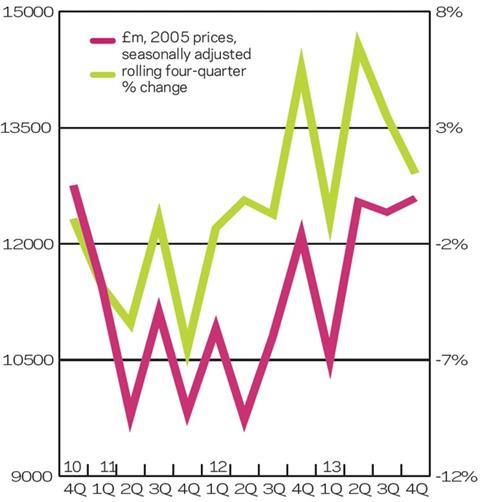 05 / 2014-16 Forecast
We expect growth in the majority of new work sectors. The strongest of which will be in the private housing and infrastructure ones, both at 7%. The public housing (5%), industrial (4%) and commercial (3%) ones should also see moderate growth. Conversely, outlook for public non-residential activity remains depressed, with a 2% forecasted contraction between 2014 and 2016.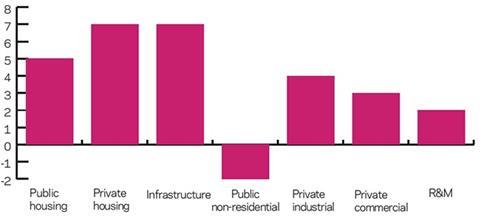 06 / Regional new work output
Output in nine out of 11 regions and devolved nations was higher in the three months to December 2013 than it was in the same period of 2012. The East Midlands, Greater London, West Midlands, North-west, and Scotland all saw double digit growth.
On the other hand, the North-east and South-east saw a dip in activity, at 2% and 1% respectively.

07 / Regional R&M output
The repair and maintenance (R&M) sector saw growth in eight out of 11 regions and devolved nations. On an annual basis the South-east and West Midlands saw the strongest increases of 20% and 24% respectively. Greater London, Wales and Scotland all saw declines, with corresponding figures of 5%, 2% and 16%.

08 / Regional new work orders
New work orders in the final three months of 2013 picked up in the majority of regions and devolved nations. The North-east, East Midlands, South-east, and North-west all saw sharp double-digit upswings, with the former doubling its quarterly total over a 12-month period. In contrast new work orders fell sharply in
East Anglia (16%) and Wales (44%).