Construction output in Q4 of 2017 was 1% above that of a year ago, with growth driven by new housing – and private housing proving particularly strong. Experian Economics reports
01 / Overview
The latest ONS figures showed UK GDP grew by 0.4% quarter-on-quarter in Q4 of 2017, revised downward by 0.1 percentage points from the preliminary estimate, in part reflecting a downward revision to the estimated output of the production industries. We expect GDP growth to moderate slightly this year to about 1.5%.
The construction forecasts outlined here are taken from our latest winter publication and thus do not yet reflect our macroeconomic downgrade.
Between October and December 2017 total construction output rose by 1% to £38.76bn (in 2015 prices) compared with the same period in 2016. The public housing market contributed to the overall rise with year-on-year growth of 4% to £1.38bn. The sector is expected to grow by an annual average of 6% over the next three years, with the Spring Statement 2018 reaffirming the government's commitment to its investment programme of £44bn over the next five years. The sizeable drop in new orders in Q4 of 2017, following on from two similarly strong quarters, presents a downside risk to the short-term output forecast for the sector, however.
In new work, private housing posted the strongest year-on-year growth, rising 9% to £8.41bn, making it the largest new work sector for the ninth consecutive quarter. It is expected to continue growing over the forecast period, albeit at a slower annual rate of 3%. Growth in new orders has slackened in recent quarters, with a slight increase in orders in Q3 of 2017 being followed up by a Q4 decrease of equal magnitude. Economic uncertainty is likely to curb investor appetite while affordability issues dampen buyer demand. Nonetheless, private housing activity, at least in output terms, remains at a historically high level. House price growth is expected to average 2.8% per year between 2018 and 2020.
Infrastructure output similarly grew by 4% to £4.78bn in Q4 of 2017, compared with the same period a year earlier. It is expected to experience the strongest annual average growth of all sectors at 7%. Continued investment in rail projects remains the largest driver of infrastructure output growth over the forecast period, with HS2 the single largest scheme. Rail expenditure aside from HS2 is projected to decline gradually over the forecast period but remain relatively high, with Network Rail's £47bn Control Period 6 (CP6) following on directly from the end of CP5 and lasting five years. This slowdown will also be balanced out by increasing expenditure in the sizeable roads subsector.
The public non-residential sector experienced the largest year-on-year contraction, of 8% to £2.45bn in Q4 of 2017. Output is expected to continue declining over the forecast period, but at a gradually moderating pace. This is largely due to expected falls in the sizeable schools and health subsectors, with the Procure22 programme yet to build up steam in the latter subsector. Completion of defence works linked to the Army Basing Plan by 2019 adds further downward pressure. A few large university projects, notably in Glasgow and Manchester, will remain the key drivers of growth over the next few years, mitigating more serious declines for the sector.
Industrial output experienced a slight downturn in Q4 of 2017, falling 4% in year-on year terms to £1.08bn. Reasonably strong growth is forecast for 2018, then more modest expansion in 2019 and 2020 as projects starting on site fall, exacerbated by a sizeable decline in new orders in Q4 of 2017.
The commercial market posted a similar year-on-year decline of 3% to £7.04bn in the three months to December 2017. As also reflected in the Q4 fall in new orders, the heightened uncertainty over Brexit is particularly affecting this sector – undoubtedly having led to a more cautious attitude by investors and developers to bringing new office projects forward, while the impact on disposable incomes is also placing downward pressure on the retail subsector. Annual growth in the sector is expected to decline by an average of 4% a year over the forecast period.
02 / New work output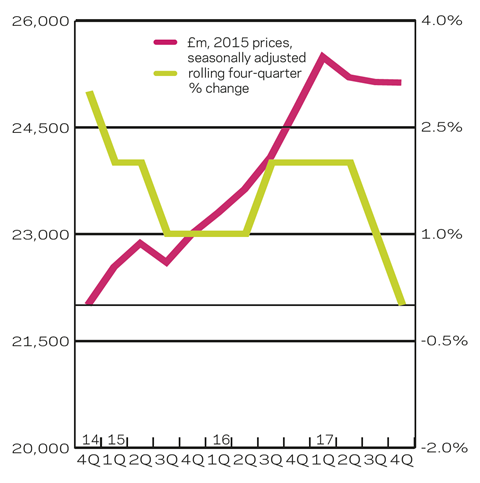 03 / R&M output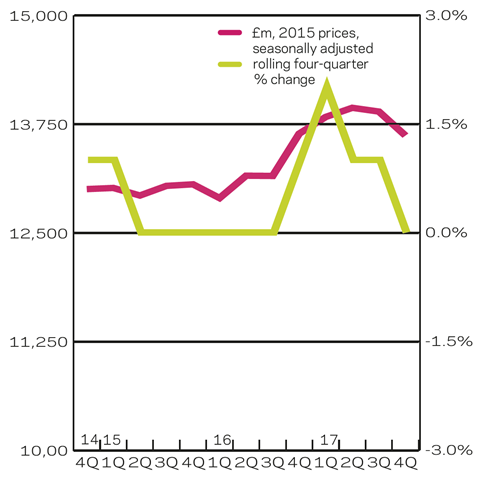 04 / New work orders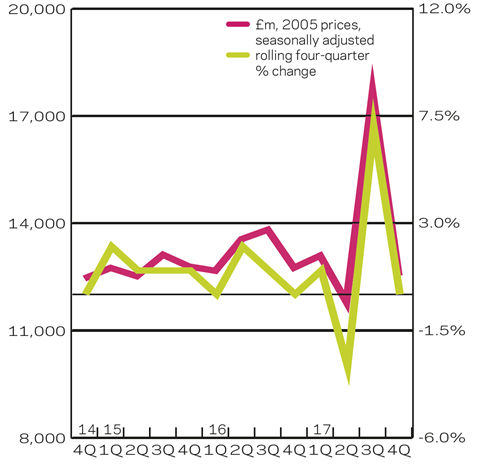 05 / 2018-20 forecasts
The public housing, private housing, infrastructure and industrial sectors are expected to post annual average growth over the forecast period, with infrastructure output growth being particularly strong. The public non-residential and private commercial sectors are expected to post average yearly declines over the same period, however.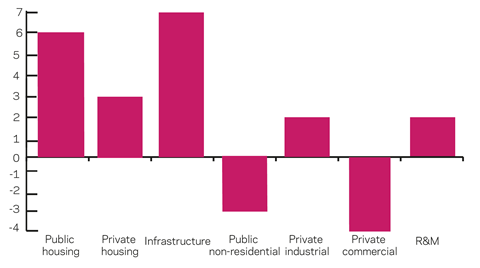 06 / Regional new work output
In the three months to December 2017, new work output in current prices increased in eight out of 11 regions and devolved nations on an annual basis.

07 / Regional R&M output
Output for the repair and maintenance sector (R&M) increased in six out of 11 regions and devolved nations on an annual basis.

08 / Regional new work orders
New work orders increased in three out of 11 regions on a yearly basis in the final quarter of 2017. Yorkshire and Humber experienced the biggest absolute rise in orders, with an increase of £2.51bn to £3.16bn. This is likely to have happened as a result of the £2.25bn TransPennine upgrade from Stalybridge to Leeds.