Following on from our piece looking at how Brexit could affect London, what do business owners across the rest of the UK think the picture will be like after Brexit? Read viewpoints from four different corners of the UK as the nation braces itself for its imminent exit from the European Union.
View from Wales:
"There are going to be initial adjustment issues but I think the transition period we've got in any deal with Europe is going to be more than adequate to cover that"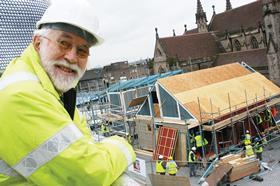 Timber frame company Benfield ATT in Cadicot, south-east Wales, employs 15 staff and up to 25 subcontractors; the 15-strong workforce are all British nationals. Managing director Dr Michael Benfield is taking a positive approach to Britain's leaving the EU. "Brexit has a lot of potential for innovation and development of new products, and new ways of collaborating with both architects and builders," he says.
"I think that there will be, after a period of adjustment, probably more opportunities than threats. There will be opportunities for the greater use of composites and other alternative materials because the timber industry is going to be impacted," he continues.
"Worldwide, there is a growing demand for timber – if the pound goes down further then that is going to push up prices beyond the 20% or so rise that we've experienced over the last six to nine months. That means we would have to be looking at substitutes, or alternative sources of markets."
Benfield says Britain produces quite a lot of timber but that timber in Wales generally grows too quickly and is not of sufficient quality. "There are moves to improve that but it's unlikely to replace the loss of imports, so we are going to be looking at other types of materials. Those are things we are exploring at the moment."
He says he doesn't have any real concerns: "I actually think Brexit is going to turn out to be a good thing for the construction industry because it will give added impetus to the drivers for change that it needs." Referencing Modernise or Die, the 2016 review of the construction industry by Mark Farmer, he says: "This really is what Farmer was talking about, change or die."
Opinion within the construction industry in Wales is divided, he states. "It's probably a fair reflection of the rest of the country, the way the vote went." (Wales voted 52.5% to leave and 47.5% to remain, against a UK average of 51.9% to leave and 48.1% to remain).
Benfield is optimistic: "Of course there are going to be some initial adjustment issues but I think the transition period that we've got in any deal we have with Europe is going to be more than adequate to cover that."
He says one of the areas of adjustment is "the issue of qualified and experienced skills, which has been an ongoing problem for us anyway. My view is that Europe was one of the reasons why we didn't properly address the training needs, which we are going to be facing anyway." Benfield claims that tackling this issue "will be given added impetus by Brexit".
He doesn't think that a no-deal scenario will change everything and argues that any further drop in activity in the commercial market in London and the South-east could have a beneficial effect on Wales in terms of workers returning home. "There's such a pent-up demand for everything to do with housing anyway that the disappearance of some of the commercial activity in the South-east could be a good thing for development in Wales."
Wales statistics
112,630 people work in construction
5% of the construction workforce are migrants
There was £5.4bn in construction output last year
A 4.6% average annual rise in construction output is predicted for 2018-22
The total value of projects starting on site in the first eight months of this year is 20% down on the same period in 2017
Sources: Construction Industry Training Board, Institute for public policy research; Glenigan