Fairy lights, Christmas trees and Santas are bedecking high streets across the country in the time-honoured tradition. But for a hardcore group of artists and designers, Christmas is more about technology than tinsel
This new kind of installation frequently harnesses the latest techniques in computer modelling, digital lighting and user interactivity to place contemporary art and modern technology right at the heart of civic celebrations.
Here we take a look at a crop of displays from recent years that feature some of the best demonstrations of these bold new techniques. In a season popularly associated with history and tradition, they provide a provocative example of how Christmas art and symbolism need not be static but can evolve with contemporary culture.
They also prove that while Christmas may well be a time of fun and festivity, it also provides a rare opportunity to re-imagine the urban landscape in a theatrical and exhilarating way. In London and other cities that traditionally take an ambivalent attitude towards the scenic illumination of their buildings and public spaces at night, Christmas is a time when architecture can come alive. And without a fairy light in sight.
1) Covent Garden Christmas Tree, London, 2010
Paul Cocksedge Studio
Covent Garden has a reputation for embracing avant-garde Christmas illuminations that contrast with the classical rhythm of its historic frontages. Last year's ethereal Constellation by United Visual Artists suspended responsive tubes of light in the central market halls. Initially, this year's large Kissmas Tree in the central piazza appears more traditional.
However the clue is in the title, for this Christmas tree only comes fully alight when two people kiss beneath it. Designer Paul Cocksedge says he is fascinated by the concept of "transmitting electricity through natural materials".
The tree's 500,000 LEDs (Trafalgar Square's tree, traditionally the UK's largest, has only 500) are powered by a tiny electrical current that is wired into a sprig of mistletoe dangling underneath. Whenever someone holds the mistletoe and kisses someone else, the circuit is completed and the tree comes alight.
As Cocksedge mischievously points out, "the human is the conductor". Every kiss raises money for charity, and the total is displayed on a digital counter at its base. But it is its potentially salacious subversion of one of the most traditional symbols of Christmas that makes the Kissmas Tree one of the most imaginative contributions to the compendium of contemporary festive art.
2) Regent Street Christmas Lights, London, 2007
Wieden + Kennedy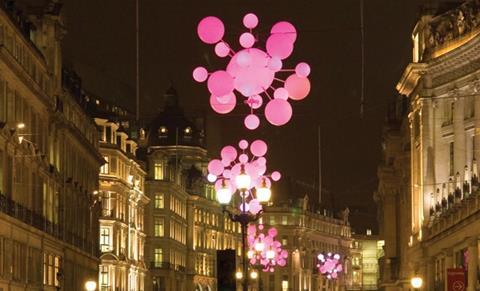 These were one of the earliest and most controversial examples of new technology being used on a large-scale Christmas display. The Regent Street Christmas lights are commonly regarded as the centrepiece of London's seasonal illuminations, so 2007's revolutionary digital installation was always bound to attract huge public interest. The piece, entitled Unity, featured 14 3D light clusters suspended in the centre of the street. Each cluster comprised a large translucent sphere surrounded by 24 smaller globes. Inside, low-energy LED cores glowed in a variety of colours and intensities determined - via motion cameras - by the movement of people underneath them.
While undeniably innovative, the spheres did lack something of a festive character and were too small to dominate the street, one of the West End's widest. Even so, they represented a brave step towards technologically inspired Christmas displays that set the standards for scale and interactivity to which several others have since aspired.
3) Carnaby Christmas Lights, London, 2009
James Glancy Design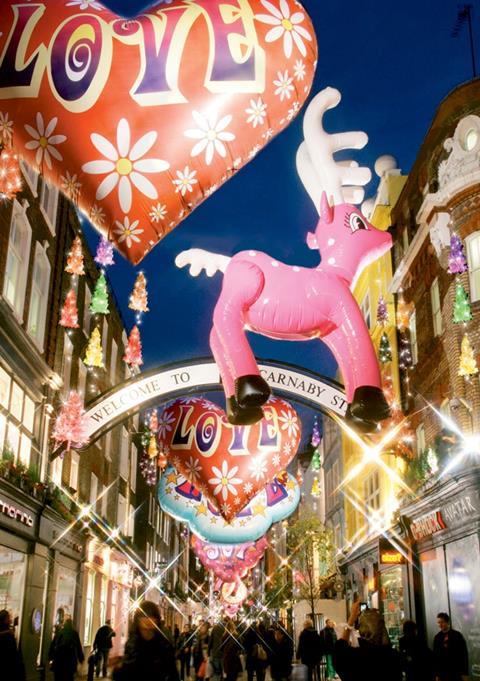 What do giant, hot-pink, inflatable, psychedelic reindeer have to do with Christmas? Quite a lot if you're the James Glancy Design studio. For over a decade it has had the coveted role of designing the Christmas lights of two of London's most famous pedestrian shopping enclaves - Soho's Carnaby Street and St Christopher's Place just off Oxford Street. This year there's a space-travel-themed installation in Carnaby Street, but previous designs have included giant inflatable snowmen, oversized fairy lights and groups of hanging light bulbs.
Last year's Carnaby Street offering was a hallucinogenic homage to the area's sixties heritage featuring huge inflatable hearts and reindeer suspended in the air. Once again it was a creative use of themes, colours and materials not traditionally associated with Christmas that provided an impressive spectacle of urban scenography. It was also satisfyingly contextual in its reflection of the quirky, yet fashionable, avant-garde spirit the street is famous for. Aptly, several of the inflatables were emblazoned with popular sixties maxims such a Peace and Love.
So they were not entirely unrelated to the traditional Christmas message after all.
4)Quad Building Installation, Winter Festival of Light, Derby, 2010
Seeper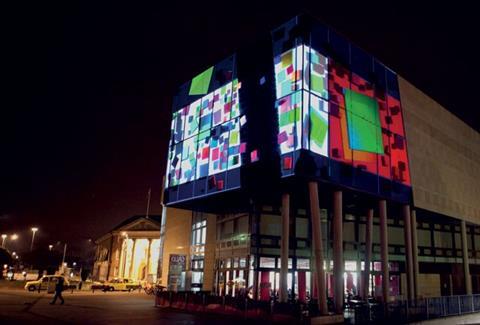 By day, Derby's Quad Building is an unassuming glass and concrete civic box. But during the city's winter Festival of Light, it morphs into a shimmering, pulsating light extravaganza by night. Its creators, "interactive arts and technology collective" Seeper, are among a new breed of light technologists committed to pushing the boundaries of environmental manipulation and sensory experience.
The Quad is literally projected back onto itself as a digitised optical illusion of infinitely morphing colours and forms. According to Seeper's founder Evan Grant, this is made possible by harnessing computer architectural modelling techniques to recreate the building in light and make it "come alive". Seeper has installed similar lighting performances on historic castles in Kent and Jersey and they are all stunning examples of how technology can enliven urban landscapes.
Is this the future of Christmas lights? Grant is convinced it could be and points out that "more and more local councils are becoming aware of the possibilities that this new technology represents." Watch this space.
Whether its urban, retail, commercial, public and private buildings and spaces, we have the lighting to fulfil your sourcing needs.
The ARC Show, dedicated to architectural, retail and commercial lighting is taking place from the 12-13 December 2011, Business Design centre, London. Register free now