Continuing our Halloween tribute to the most gruesome building designs around the globe, here's the second of our three part mini-series
To mark Halloween two years ago Building compiled a list of horrific architecture from around the world. Alas, since then, architects far and wide have spent the last two years creating new entries for our roll call of terror so, reluctantly, we have been forced to produce a sequel. You can read our first installment here but for the second of our three part mini-series read below (if you dare):
Wanda Cultural City Tourism & Exhibition Centre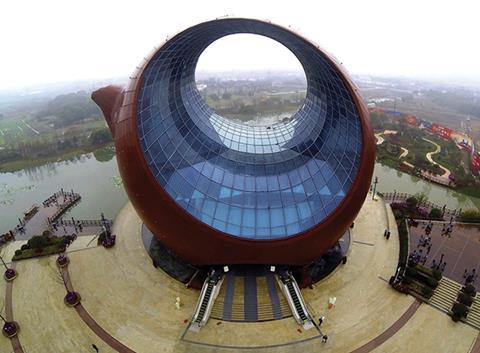 Location: Wuxi, China
Function: Museum
Completed: 2014
If Willy Wonka were an architect, this is what he would design. Inexplicably, teapot-shaped buildings are hugely popular in China. Tea has great cultural significance for the Chinese but this is hardly an excuse; multi-storey Sunday roasts are not a feature of the British urban landscape. Nonetheless, the new Wanda centre follows proudly in the tradition most flamboyantly set by the Meitan Teapot Museum of 2010 - a 74m-high inhabited teapot complete with spout, handle and three-storey milk jug annexe. Wanda's 39m-high version proceeds in a similar vein, although the inner glazed curtain wall hollowed out of its rotating 50m-diameter frame, coupled with its night-time grid illumination represent more abstract flourishes. That said, slavish literalism is never too far away - the purple aluminium panels that clad the steel frame allegedly mimic clay pottery. Somehow, three storeys and 5,000m² are squeezed into Wanda's inefficient interior, although regrettably its spout has not been utilised to eject rainwater. While titillating, Wanda scores low on the terror factor. Unless of course we consider its illustrious British pedigree. The last UK building that dared to openly harbour similar libational instincts was the roundly lambasted Sheffield National Centre for Popular Music, topped with imbecilic roof-top kettle spouts. It closed after 15 months.