White, pristine and streamlined – McLaren's sports car production centre is like no factory you've ever seen. Ike Ijeh goes for a spin at the Foster-designed facility
Think of the UK car industry and you're likely to summon glum images of strikes, closures and foreign takeovers, or grainy newsreels of grime-ridden factories belching out fumes and Ford Granadas. Well think again. McLaren's new Production Centre in Woking is rewriting the rules by injecting a huge dose of glamour and sophistication into the sector.
This is not so much a car factory as a sci-fi film set, a perfect collusion of technical sophistication and design rigour
Designed by Foster + Partners, the building is located beside Foster's last commission for the car manufacturer, the spectacular McLaren Technology Centre HQ, which opened in 2004. Cars will be manufactured on site at the facility and it will enable McLaren to accelerate their expansion from Formula One racing car construction into the highly lucrative commercial market for high-performance sports cars, the cheapest of which will set you back about £160,000.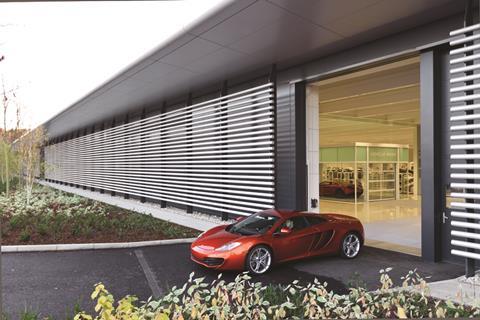 But this is like no factory you are ever likely to have seen before. Externally, with the exception of its huge size, the building cuts a fairly sober figure, a low-lying, aluminium shed sunken into the prim Surrey countryside and encased in extruded bays of horizontal steel rods. A planning height restriction meant that 180,000m2 of soil had to be excavated to lower the building before being redistributed in the sumptuous, if aggressively manicured, landscaping that surrounds it. There are also visual nods to the Technology Centre, with the same overhanging roof and metallic finish. But this is an altogether much more robust, industrial enterprise.
Internally, slick cinematic surrealism takes over. The windowless customer showroom lobby is decked out entirely in white and appears completely bare save for the wide, horizontal strips of fluorescent lighting cut into the ceiling.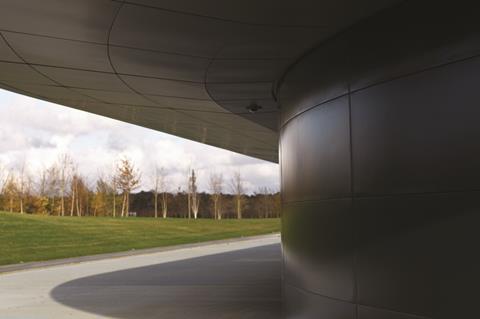 The production floor itself is finished in gleaming ceramic tiles honed to a gleaming reflective shine. Neatly arranged rows of steel plinths hoist chassis reverentially into the air. Brightly coloured components are neatly arranged in portable stacks like gallery exhibits. Sweeping rows of columns provide integrated structure and services (as on the Technology Centre) and impose the mechanised precision of a giant circuit board. And virtually everything, except for the car parts themselves, is finished in a gleaming, spotless white, which, along with the virtual lack of noise, adds to the air of clinical unreality.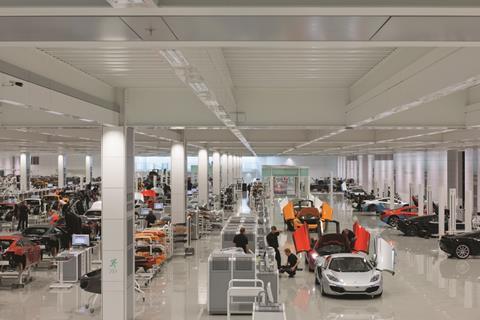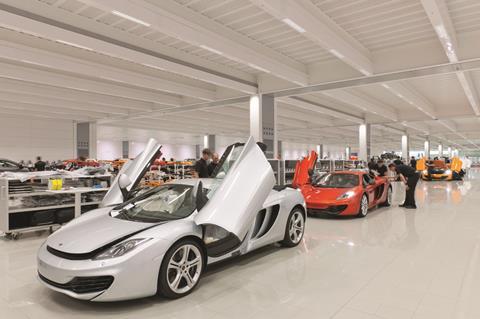 This is not so much a car factory as a sci-fi film set, a perfect collusion between the technical sophistication of McLaren and the design rigour of Foster. Accordingly, the building is as concerned with display as with production and one imagines that the ordered, antiseptic and forensically efficient world it implies is as important a brand trademark as the performance of the cars.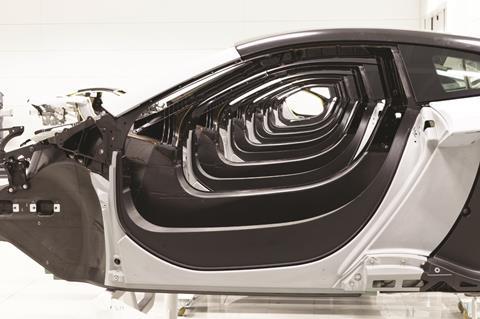 Surreal as all this may sound it is likely to be the future of British manufacturing, an endorsement proffered by the prime minister himself when he officially opened the plant last week. Mass production is now more cheaply and competitively executed in Asian markets and if British industry is to flourish, it is likely to be in highly customised and highly skilled specialised markets such as this. The architecture of the new McLaren offers no better embodiment of this trend.
Project team
client McLaren
architect Foster + Partners
structural / civil engineer Buro Happold
services engineer PHA Consult
quantity surveyor Gardiner & Theobald
landscape architect Terence O'Rourke