The Houses of Parliament are in desperate need of repair. With just 20 years of life left within their crumbling walls, proposals for renovation are being drawn up. Ike Ijeh considers other parliamentary repair jobs across the world in search of some inspiration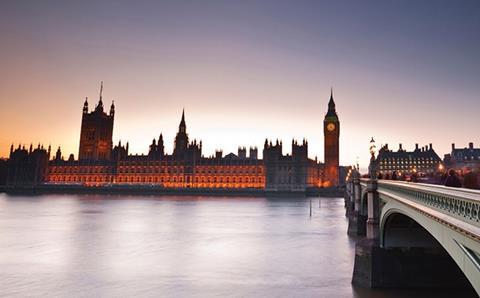 When the state opening of parliament takes place later this year it is unlikely that the condition of the Palace of Westminster will be uppermost in the new government's mind. But at some point during the next parliament the physical state of Westminster's historic seat will have to be urgently addressed and the results could have far reaching and historic implications for how and from where the British state is run.
To put it simply, the world famous Houses of Parliament are crumbling. While the building's medieval dress makes it appear ancient, the Palace of Westminster, begun in 1840, is almost half a century younger than the US Capitol building in Washington D.C. However, unlike the Capitol, the Palace of Westminster has elements that date back to 1097 - the original buildings were largely destroyed by fire in 1834 - and was built on a damp riverside site that for hundreds of years persisted as a boggy, stagnant marsh.
But parliament's current problems are even more pronounced. Its last, partial refurbishment took place in 1950. The famous Ashton limestone that gives the building its rich, sandy hue is crumbling. Leaking roofs have left the fabric riddled with mould and damp. Areas are subject to regular flooding. Walls and ceilings are filled with asbestos. Much of the Victorian structural work is deteriorating. And to top it all, the construction of a five-storey underground car park in the seventies and the Jubilee Line extension in the nineties have left Big Ben's Elizabeth Tower with an imperceptible, but glacially accelerating, 0.26-degree northwest lean.
Unless something is urgently done to arrest its deterioration, parliamentary authorities have predicted that the building will have to be abandoned in 20 years' time. Various options have been tabled for its renovation, ranging from a 20-year repair programme where the building remains occupied during works to, in the most radical move, the complete vacation of the parliamentary estate for a five-year period while works are carried out.
Alarmingly, although a decision has yet to be made, the project has already been accompanied by an advisory - but eye-watering - price tag of up to £3bn. Furthermore, the challenges any renovation programme will face are likely to be compounded by the fact that Westminster is a UNESCO World Heritage Site and that its vast, labyrinthine 300,000ft² palace hosts 1,439 lords and MPs who constitute one of the largest working legislatures in the world.
However, Britain is not alone in facing problems of this kind. With its roll call of mature democracies, Europe in particular has several governments that are grappling with the same challenge of how to update historic parliament buildings that may be symbolically sacrosanct but are increasingly functionally inadequate. As demonstrated below, some of the arguments, challenges and even price tags are remarkably similar to our own and could thereby provide some useful lessons for Westminster's renewal.
Reichstag, Germany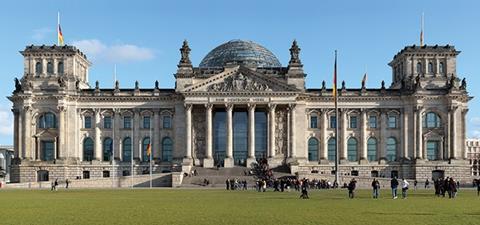 CITY: Berlin
COST: £200m (1999 prices)
RENOVATION: 1999
CONSTRUCTION: 1894
Few national parliament buildings can summon the historic sensitivities or past political infamy of the Reichstag. The impressively brooding 19th century neo-baroque pile was set alight by the Nazis in 1933, after which the German government moved elsewhere. It was then left a virtual ruin for almost 60 years, save for a piecemeal and fairly insensitive refurbishment in the sixties. The reunification of Germany in 1990 provided the perfect political pretext for its wholesale restoration, a restoration made all the more symbolically resonant by the selection of an English architect to design it. Norman Foster's feted renovation of the Reichstag is a work of true architectural inspiration. The transformation and rebuilding of its destroyed cupola into a new glass dome set a nuanced tone of transparency and reconciliation with which to represent the new Germany and combat the mythology of destruction with which the building had become mired.
The dome is placed directly over the new horseshoe debating chamber, allowing full public visual access into the space in which Germany's famously consensual federal politics, the antithesis of Westminster, are conducted. During reconstruction the entire building was gutted with just the exterior walls and the more palatable segments of Soviet and Allied graffiti retained. The Reichstag therefore represents a radical insertion of new into old, one admittedly facilitated by decades of neglect, but an approach that would nonetheless be unthinkable at Westminster.
Ironically, Foster was initially resistant to the idea of a dome and planned instead to submerge the entire building under a vast glass parasol, a possible conceptual overture to artist Christo's wildly successful wrapping of the Reichstag installation in 1995. Nonetheless, the cheaper dome version, as built, has helped make the Reichstag Germany's second most popular tourist attraction after Cologne Cathedral, a ringing endorsement of its astonishing rebirth.
Parliament Hill, Canada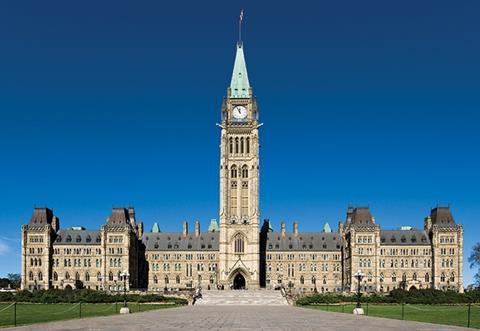 CITY: Ottawa
COST: £1.6bn
RENOVATION: 2002-2023
CONSTRUCTION: 1859-1927
Of the scores of parliaments across the world modelled on the Westminster system, the Canadian parliament is arguably the closest both legislatively and architecturally. Canada too has a green upholstered House of Commons, MPs, an impartial Speaker, Hansard and a neo-gothic building broadly inspired by the Houses of Parliament. It also has a renovation price tag to match our own (before conversion at least), a portly CAD$3bn. The fact that this figure was initially set at CAD$1bn does not bode well for Westminster's renovation but the enormous price hike has also been responsible for plunging a nation renowned for its equanimity into a firestorm of controversy. In another variation of Westminster terminology, critics have dubbed the project "the mother of all renovations".
Canada's parliamentary renovation has been sparked by similar problems to Britain's, with the intricately detailed 19th century building suffering from deteriorating masonry and an excess of asbestos. The renovation, which has allegedly been closely followed by UK parliamentary authorities, involves a phased and complicated series of closures and temporary relocations over a 20-year period. Parliament Hill comprises three main structures, Centre Block, which includes the parliamentary library, a 93m clock tower and the Commons and Senate chambers, and East and West Blocks which house administrative offices.
Refurbishment of Centre Block has largely been completed, with the exception of the key Senate and Commons chambers. Refurbishment of these is due to start in 2018 with the Commons decanting for five years into a specially constructed temporary chamber inserted into the courtyard of the West Block. This chamber, with its boldly contemporary glass roof, has provided a flashpoint for heritage and budget concerns and has been the source of much of the spiralling budget. For instance, glazing had to be replaced and re-costed when it was found to be incompatible with TV broadcast lighting requirements. Nevertheless, a recent audit found that the project is still on time and on budget (albeit a readjusted budget), a revelation that fails to impress carpenter and New Democrat MP Pat Martin. "Too many cooks in the kitchen complicates the problem," he said. "It's easy to be on time and on budget when you've projected a 20-year time frame at a cost 10 times what it should really cost."
Parliament Building, Austria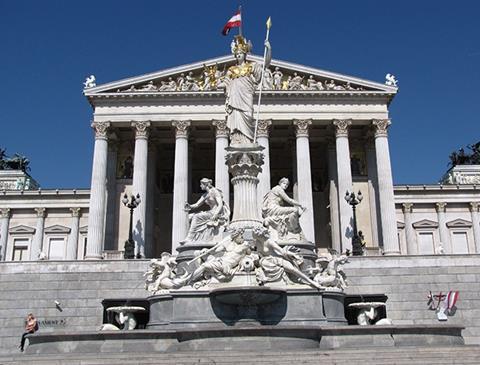 CITY: Vienna
COST: £252m
RENOVATION: 2017 onwards
CONSTRUCTION: 1874-1884
Arguably one of the most spectacularly theatrical parliament buildings in the world, Theophil Hansen's magnificent Grecian temple is one of the masterpieces of late 19th century European neo-classicism. This however has not constrained the building's vulnerability to the ravages of time and the Austrian parliament suffers from a maelstrom of maladies similar to that endured by Westminster. Leaky roofs, poor ventilation, antiquated services and inadequate insulation are some of the familiar problems its renovation will try to address. A key aim is to introduce significant sustainability measures and improve and expand accessibility and functionality. During the renovation, the Austrian parliament will relocate to the gilded Hofburg, a spare imperial palace nearby that is also home to the famous Spanish Riding School.
However, the relatively modest price tag indicates that, unlike Westminster, the structural fabric of the building is largely sound, perhaps a technical endorsement of neo-classicism over neo-gothic. Another interesting variation from Westminster is the highly unusual fact that a cross-party supported act of parliament has been passed to ensure that the budget is enshrined in law and cannot be exceeded. Such stern fiscal regulation is surely unthinkable at Westminster and while it undoubtedly represents a heroic piece of parliamentary parsimony, the act should nevertheless provoke some interesting political and contractual exchanges once costs almost inevitably rise.
Binnenhof, Netherlands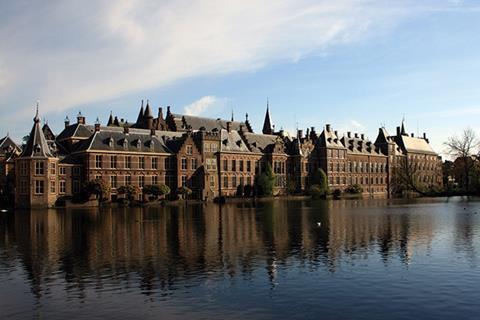 CITY: The Hague
COST: Unknown
RENOVATION: 2018 onwards
CONSTRUCTION: 1229 onwards
The 13th century Binnenhof is the oldest house of parliament in the world still in use. This alone gives a clue as to the complexity of its restoration, plans for which have still not been confirmed. Like Westminster, the Binnenhof was originally built as a medieval royal residence and occupies an imposing riverside site in the centre of the capital. Successive adaptations and expansions over the years have updated the building for its current legislature role, although, unlike Westminster, the Binnenhof is a complex amalgamation of several interconnected buildings that together retain a largely residential, albeit aristocratic, character.
Once again its catalogue of problems bears a striking similarity to Westminster's. The building is in need of extensive modernisation with services urgently in need of replacement. Cracks and flaking concrete have appeared across the structure and the reconstruction of many of the foundations is now deemed necessary. The building is also at acute risk from the lack of modern fire compartmentalisation, and functional areas such as kitchens and public facilities need updating.
Like Westminster, the Dutch parliament is considering various renovation options. A piecemeal refurbishment of the still occupied building could take 13 years, while a complete abandonment of the building for five-and-a-half years to let works proceed in one go is also being considered. Work taking place 24-hours a day has also been presented as an option in order to speed up the programme, but authorities have conceded that this will be considerably more expensive.
However, the Binnenhoff does have one experiential advantage over Westminster. While UK parliamentarians are traumatised by the prospect of possibly vacating a site they have occupied more or less continuously for 750 years, the Tweede Kamer (the lower Dutch house of parliament) already moved into a new building in 1992.
Parliament House, Finland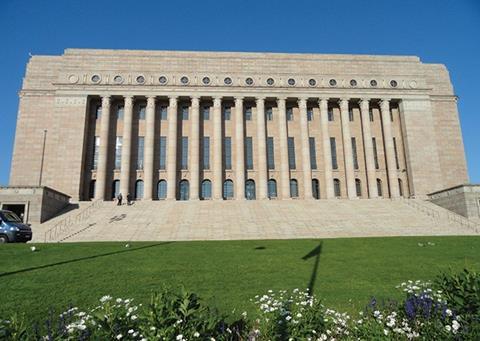 CITY: Helsinki
COST: £63m
RENOVATION: 2007-2017
CONSTRUCTION: 1926-1931
One of the few modern age national parliaments in Europe, Eduskuntatalo, or Parliament House, is a splendid temple of cool, stripped, Scandinavian neo-classicism. Its modern construction and thick muscular shell of kalvola granite have left it in a fairly robust state which means that the focus of the current renovation has less to do with structural repair than it has with improving accommodation and accessibility, hence the relatively modest budget. Another impetus has been centennial independence celebrations in 2017 with which construction has been timed to finish. During renovation, parliament will move to the nearby Sibelius Academy concert hall, which, in a seamless display of streamlined Scandinavian efficiency, will also first be refurbished by the same contractor renovating Eduskuntatalo.
Aspects of the renovation include the rebuilding of the roof, repair of windows, realignment of circulation and the modernisation of HVAC systems. A fixed price management contract procurement route has been selected, hopefully a more efficient version of the one that consigned the construction of the Scottish parliament into a cataclysm of disaster and delay. The project has been designed by architects Helin & Co. and will be built by contractors Lemminkäinen, both local firms.