Two more completed projects that impressed in 2014 - the British Museum and Heathrow's T2
2014 was notable for landmark buildings coming to completion. In the second part of our look back at six completed projects that impressed, we feature RSHP's £135m British Museum extension and Heathrow Airport Queen's Terminal 2…
British Museum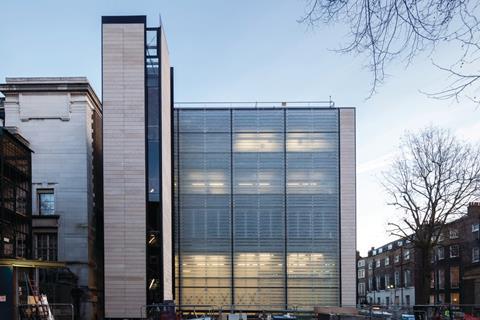 The biggest expansion to the British Museum campus since the opening of Norman Foster's Great Court in 2000 was completed by Mace this summer with the unveiling of Rogers Stirk Harbour + Partners' World Conservation and Exhibitions Centre. Unlike the Great Court, the £135m extension provides little public access with only two galleries adding to the museum's vast gallery spaces. The bulk of this project is back of house but crucial nonetheless. The new wing provides the museum with state-of-the-art research and conservation space and for the first time brings these essential curatorial disciplines under one roof - previously they were spread across converted Georgian buildings within the local Bloomsbury area. However, the extension's principal legacy will probably be a conservation one of a different kind. The final scheme emerged after a long and fractious planning battle which saw it initially rejected on the grounds that it contravened the protected historic character of the local area. The result is a muted and rather stiff compromise, RSHP's trademark structural and tectonic expressionism awkwardly tempered by the strident neo-classicsm that surrounds it. Nevertheless, the sophisticated accommodation represents yet another architectural permutation for the world's oldest public museum.
Heathrow Airport Queen's Terminal 2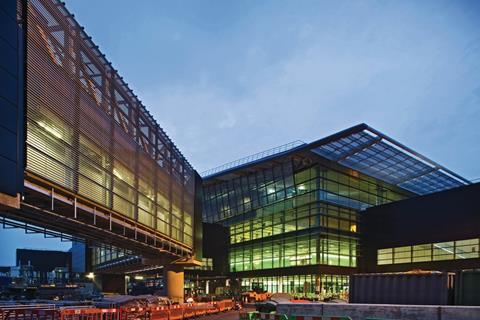 Although the debate over its proposed third terminal rages on, the world's busiest airport for international flights may find handling capacity a little easier after the completion of its sparkling new terminal. The most significant addition to the airport estate since the completion of RSHP's Terminal 5 in 2008, T2 is five times larger than its 1955 predecessor and adds another 310,000m2 of space to the airport. At a cost of about £2.5bn, it is around half the cost of T5. Part of this may be attributed to its novel procurement route. HETco is a joint venture between Spanish airport owners Ferrovial and contractor Laing O'Rourke and both were committed to realising cost savings by adopting measures like standardised design solutions and supply chain innovation. The terminal was initially designed by Foster + Partners but was delivered and realised by Spanish practice Luis Vidal. The design features an enormous glass and steel box surmounted by a series of undulating roof arches that cover its entire span. The arches are grouped into three rows, each one of which corresponds to the sequence of concourse space below, landside departures concourse, security and then airside departures concourse. This simplicity is also evident in section as well as plan: arrivals is at the lowest level, followed by baggage handling, with departures at the top. Parking and links to public transport are situated at the lowest below-ground level. While the T2 may not be a design showstopper in the manner of T5 and other recent landmark terminals across Europe and Asia, it represents a revolutionary overhaul of an infamously fragmented and disparate airport hub.
Tomorrow: King's Cross' continued decade-long transformation and Whitmore Park School in Coventry…
Original print title: Sense of an ending