Building takes a look back at the completed projects that impressed in 2014
2014 was notable for landmark buildings coming to completion. In the third and final part of our look back at six completed projects that impressed, we feature King's Cross' continued decade-long transformation and Whitmore Park School in Coventry…
King's Cross Central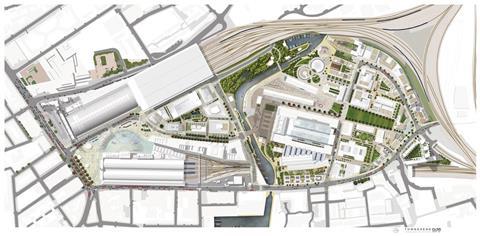 After almost a decade under wraps, one of London's biggest urban regeneration projects is finally emerging from the covers. 2014 by no means represents the completion of the King's Cross project; there is still much to come before its estimated final completion in 2017, particularly on the part of the site to the north of the Regent's Canal. But this year offered a succession of individual completed buildings and projects each of which were suggestive of the emerging character and identity of this long dormant but eagerly anticipated segment of central London. The south of the site has already been transformed with lavishly refurbished King's Cross and St Pancras stations as well as the new King's Cross Square. Granary Square and the former Granary Building, imaginatively converted into the new home for the University of the Arts London, have also been completed for some time. Other pieces of the puzzle emerged this year with the completion of office buildings around Pancras Square to the north-west of King's Cross Station by Bennett's Associates, David Chipperfield and Allies & Morrison. Each building takes a slightly different approach to how to reconcile contemporary design with the rich industrial heritage of the site and this diversity bodes well for a masterplan that aims, rightly, to seamlessly inset itself into the surrounding urban fabric, rather than differentiate itself from it. As such, King's Cross offers several lessons to the other large-scale mixed-use developments such as Vauxhall, Battersea, Bishopsgate Goodsyard and South Bank set to change London over the coming years, for better or worse.
Whitmore Park Primary School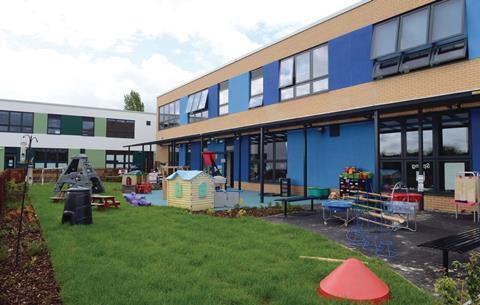 Whitmore Park School in Coventry may look like a normal everyday primary school but it set an important historic benchmark when it opened this May. It was the first completed school of the coalition government's much-discussed Priority School Building Programme (PSBP), the leaner, cheaper and more standardised successor to the scrapped Building Schools for the Future (BSF) venture. Built in just 47 weeks and for a cost of just £4.8m or £1,466/m², Whitmore exemplifies the speed, efficiency and value the government claims PSBP brings to the schools construction sector and cost around half the price of a BSF school of equivalent size. It is also an evolution of the standardised design principles that were enshrined in the landmark 2010 James Review and first implemented shortly afterwards at schools like Campsmount Technology College in Doncaster, which was incidentally delivered by the same team as Whitmore, CPMG Architects and Wates Construction. Whitmore is an altogether more sober design venture than Campsmount with a rigidly rectilinear plan and elevations. Its overtly utilitarian architecture reflects the prosaic functionality that is simultaneously heralded by supporters of PSBP as an example of lean but fit-for-purpose design and procurement but criticised by its detractors as a dull and uninspiring product of a system too heavily reliant on standardisation and prefabrication. But for others, design is just one of several factors which determine educational performance as Whitmore head teacher Caroline Kiely points out: "New schools cannot create success, but they can increase esteem." Time will tell whether schools like Whitmore Park will provide the best environment to enable this process.
Original print title: Sense of an ending