Dudley House is a £104m council-led mixed-use development that aims to encourage a more diverse community in central London by tackling the critical shortage of affordable housing. How does it work?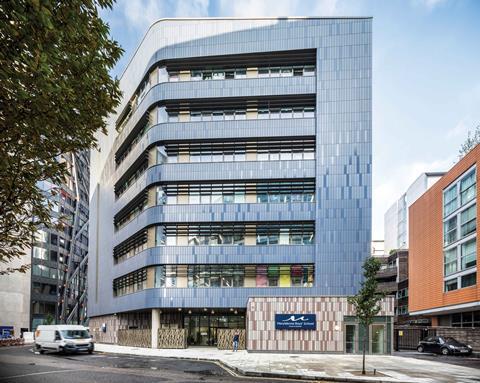 Between 2002 and 2015, the population of city centres across the UK ballooned. In this urban renaissance, the city-centre population of Manchester and Leeds increased by about 150%; in Birmingham numbers rose by 163% and in Liverpool the step-up was a staggering 181%.
While the population of London rose to its highest historic level during this period and its city-centre population also increased accordingly, it did so by a relatively paltry 22%. Why? Central London's stunted figure is clearly connected to the fact the district harbours some of the highest land and property values in the world. The capital as a whole is suffering from a lack of affordable housing provision, with this problem at its most acute in London's hyper-expensive middle.
But the City of Westminster thinks it has found a solution. Dudley House is a £104m mixed-use development within Paddington Basin designed by architect Child Graddon Lewis. Unlike most of Paddington Basin, this is not an office-led scheme but incorporates 197 residential units mainly located in a 22-storey tower, a four-form entry secondary school for 840 pupils, a new retail unit and even a church.
We need diverse andnmixed communities, not just enclaves for the super-rich and ghettos for the poor

Nickie Aiken, City of Westminster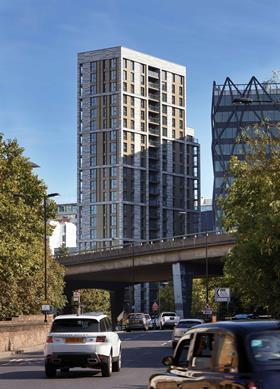 As well as being a prodigious example of mixed use in a dense inner-city location, Dudley House is significant for two further reasons. First, it is a council-led development and therefore represents the UK's growing sector of resurgent council housing. Nearby Church Street and the renewal of Ebury Bridge Estate to the south of the borough are other examples, which are part of the City of Westminster's drive to build more than 22,000 homes by 2040, 35% of which must be deemed affordable.
But second and perhaps more significantly, all 197 units are for intermediate rent, a chronically neglected housing sector in central London. As with affordable housing, definitions vary, but Westminster has classified intermediate rent as a maximum 80% of open market rent. Just 1.5% of the borough's housing stock is classed as intermediate and there are more than 2,000 people on its intermediate housing waiting list.
A surprising fact – perhaps to London's credit – is that 25% of Westminster's housing stock is social housing, despite it being one of the most affluent boroughs in the country. Westminster plans to expand this sector and of its proposed affordable housing projects between now and 2040, 60% are intended to be intermediate. Dudley House is a big step in this direction.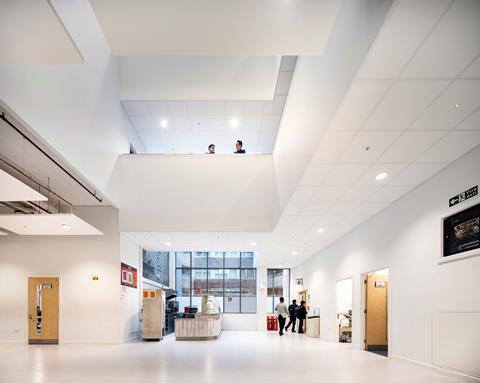 How intermediate rent works
The London Plan limits eligibility for intermediate housing to households with a gross annual salary of £90,000 and requires the applicants to have lived in the borough for a minimum of three years. Westminster has reduced the minimum borough residency requirement to one year and also specifies that applicants must not already own a home.
These financial thresholds had a conspicuous impact on the mix and design of the flats in Dudley House, which are designed for sharers as well as couples. As with a private mortgage, eligibility is determined by income but the income limit can be shared jointly across the household rather than being met by an individual. Two individuals earning £45,000 a year would be able to join their salaries in order to be eligible for a one-bedroom flat.
Equally, the rents are significantly lower than those that would be levied in local private rental properties. In Westminster the upper weekly rental range for a studio, one-bed and two-bed would be £550, £740 and a colossal £1,420 respectively.
At Dudley House, the equivalent respective weekly rents would be just £240, £320 and £550 – a reduction of around 60%. This represents a much bigger reduction than the 20% of open market rent discount the London Plan demands for housing to be classified as intermediate.
For councillor Rachael Robathan, the City of Westminster's cabinet member for finance property and regeneration, these rates are central to the market appeal and business case for Dudley House.
"We're right in the heart of London in one of the most desirable urban districts anywhere and just yards away from Paddington station, Oxford Street and Hyde Park. And we're providing properties within the income streams of the vast majority of middle-earning Londoners," she says.
"Also, because the development is owned by the City of Westminster, this gives us huge social value because we're able to retain a greater mix of residents within the borough. This enabled the business case for the development to stack up remarkably well."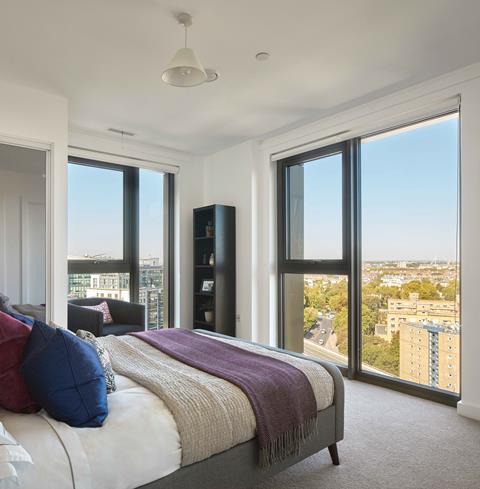 Economic use of space
The project's £104m cost was met by a variety of public and private sources. The school was funded by an Education Funding Agency grant, another grant was procured from the Affordable Housing Fund and additional borrowing was secured via Prudential from the Public Works Loan Board. These are funding streams only available to affordable housing, which help councils to de-risk projects of this kind.
Additionally, the new development replaces an inconspicuous five-storey 1935 block of flats that provided 50 affordable units. The significant increase in land use also represents a sizeable economic gain for the council.
The intermediate model and tenant income eligibility thresholds also have an impact on the design of the flats. The intermediate housing brief here tends to target younger professionals or sharing couples rather than large families.
The accommodation mix comprises studios, one-bed flats and two-bed flats. But because tenants are allowed to meet the minimum income thresholds jointly, an assumption has been made that the flats may accommodate friends and sharers as well as couples or small families.
As a result the flats incorporate a number of features that can accommodate tenants who have varying levels of familiarity. Two-bed flats have two en-suite bathrooms for sharing friends, with one normally equipped with an additional "Jack and Jill" door to enable it to be used communally for guests or visitors. There is generous provision of space standards and amenity space: every flat is equipped with a terrace or balcony and they often feature an open-plan but discreetly segregated kitchen to subtly compartmentalise units and provide an additional degree of intimacy if so required.
But for Child Graddon Lewis director James Felstead, it was important not to let the intermediate housing model overwhelm the design. "Yes, the shared household format required a slightly different layout but the fundamentals of living don't change radically. It's still about generously proportioned, naturally lit liveable spaces; it's about good design standards that can be applied to all types of accommodation."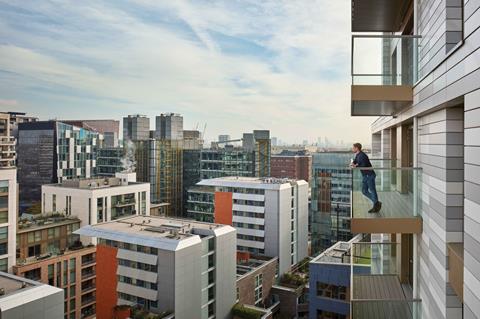 A church transformed
One aspect that Felstead admits was a challenge, however, was delivering the mix of uses the development contains. The church, which replaces an earlier terraced house converted into a church on the same site, occupies a large ground-floor room sufficient for congregational non-conformist Pentecostal worship and with a full-immersion baptismal font set into the ground. The church's pastor William Morson announces himself "overjoyed at having purpose-built premises with dedicated amenities for the first time. It represents a marked improvement to the former house conversion, which was spread over three floors rather than one".
The school proved even more challenging. Located in a separate but connected independent block to the housing, it is spread over six floors in order to accommodate a relatively tight urban site where the low-rise horizontal spread one usually associates with schools was impossible.
In recent years there have been a number of projects incorporating schools and housing – they are increasingly seen as a useful component in maintaining high densities in mixed inner cities.
Rock Townsend's Holy Trinity School in east London and the Plimsoll Building in King's Cross by David Morley Architects are two examples. In both those cases, multistorey housing is placed above the school with
high-level playground areas fitted between the two – but as Felstead explains, this was an option expressly rejected here.
"The problem with placing housing above the school is that the layout of the school is inevitably constrained by the structural configuration of the housing above. Also, having playground amenity space between floors means they're not strictly open-air spaces."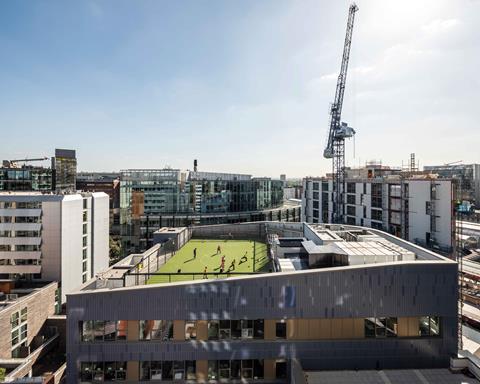 Football on the roof
The solution at Dudley House is to separate the school and housing and have the school assume what is in effect a high-rise format. While this still does not allow for a playground, an admirably vertiginous football pitch is placed on the roof.
The six-storey format obviously marks a departure from conventional low-rise school design but for headmaster Richard Ardron, it is all a question of management.
"Circulation becomes critical," he says. "We have two main staircases and depending on the time of the day, we can allocate them as one-way up or down staircases so we don't get bottlenecks of pupils racing up and down at the same time. Although we have a huge basement sports hall, our dining hall is smaller, so we stagger times for pupils to eat. The lack of a playground is challenging but we have large sports pitches above and below."
The presence of a school enhances the sense of pioneering ingenuity that has been applied to the land assembly and housing mix of Dudley House. More schemes like this will be required in central areas if London is to address its critical shortage of affordable housing – and enable the capital's centre to start approaching the levels of population growth enjoyed by other British cities over the past two decades.
Councillor Nickie Aiken, leader of the City of Westminster, says Dudley House is part of a wider challenge to make her borough more liveable and accessible: "We need diverse and mixed communities, not just enclaves for the super-rich and ghettos for the poor. Cities thrive if they are places where working families can live comfortably and they die if people desert them.
"That is why Westminster's priority is to put residents first and to encourage mix and diversity – that's the challenge of liveability."
Project team
Architect: Child Graddon Lewis
Client: City of Westminster
Main contractor: Willmott Dixon
Structural engineer: Structa
Landscape architecture: Keary Design Associates