2012 has been an important year for public spaces, and most significant was the radical shared-space scheme at Exhibition Road
EXHIBITION ROAD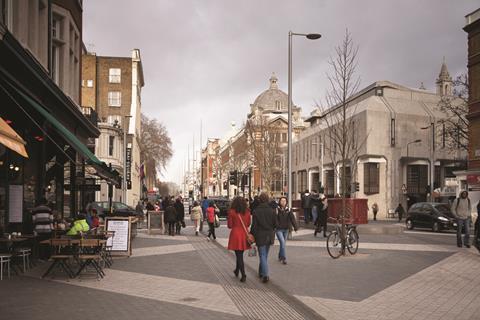 In a measured, reticent and very British way, 2012 has been an important year for new public spaces. Bradford's Centenary Square opened with the UK's largest city-centre water feature, while major public space competitions advanced in Glasgow and Aberdeen. In London, both the newly redesigned Leicester Square and King's Cross Central's mighty Granary Square were completed. And Jubilee Gardens – a formerly forlorn stretch of prime riverside land on London's South Bank, whose stubborn, decades-long refusal to yield to improvement symbolised the fractured ownership and municipal indifference that often afflict public spaces in the capital - was finally redeveloped.
Prime among these was the February reopening of Exhibition Road in South Kensington, nominated for the biennial European Prize for Urban Public Space and arguably the most significant reorganisation of public space in central London since Foster + Partners' redevelopment of Trafalgar Square in 2003.
Designed by Dixon Jones Architects, the radical shared-space scheme - the largest in the UK - banished kerbs and installed uniform decorative paving across the full width of the thoroughfare to create a unified car and pedestrian zone. While the concept has been employed extensively before, the scale of the project and the application of the shared-space methodology to a major city-centre thoroughfare, set precedents that could well extend across the capital and beyond.
But with Parliament Square still an inaccessible void, the symbolism of the Cenotaph neutered by its tarmac setting, and Marble Arch and Hyde Park Corner both strangled by rings of traffic, London is still a long way away from the radical redistribution of car and pedestrian priority required to truly enhance its public realm.