Hounslow's £150m school rebuilding programme aims to give children under Heathrow's flight path quieter classrooms and better ventilation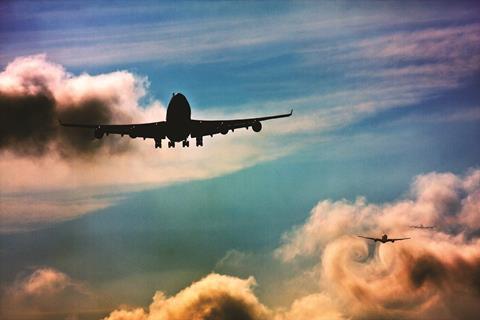 There is a part of the world where children are so used to aircraft taking off that when they draw aeroplanes they often depict them with the undercarriages down. These children do not live near some distant US military airbase or near one of the 30 major new airports built in China in the past five years. They live in the rather more innocuous suburban confines of the London Borough of Hounslow. And the source of their pictorial precision is none other than Heathrow Airport.
Heathrow isn't in Hounslow; it's in the neighbouring west London borough of Hillingdon. But as Heathrow is in Hillingdon's southern tip and its flight path runs in an east-westerly direction, it is Hounslow lying directly to the east that bears the brunt of its aviation impact.
And it's quite an impact too. Despite the protracted wrangling over expansion, Heathrow just about retains its position as the world's busiest airport for international passengers and is the fourth busiest for overall traffic. This means that around 1,400 flights a day land or take off from the airport, approximately one plane every 45 seconds. And most of these descend or ascend over Hounslow.
This has obvious consequences for urban development and lifestyle within the borough with noise levels being arguably the most contentious issue. A normal conversation in a quiet room is usually around 50 decibels loud. Yet an overhead plane can omit up to 100 decibels, roughly equivalent to a domestic stereo turned up to maximum volume. This situation has led Hounslow council to frequently dub itself the "noisiest" borough in the UK.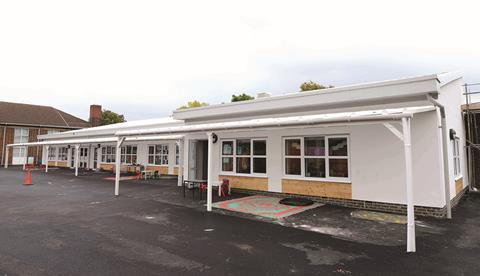 While there is an obvious argument to suggest that the vast majority of people who live under Heathrow's flight path chose to do so in the full knowledge of the airport's proximity, clearly children attending local schools enjoyed no such choice. Dee Scott, head teacher at Beavers Primary School which is around 2,000m away from the airport's south runway, describes the highly disruptive effect noise has on the teaching environment. "We're in classrooms where we have to shut the blinds, we have to stop speaking, the air quality's not very good and in the summer the temperature soars. But you can't open the windows because of the noise, so it's like we're in a greenhouse melting."
Heathrow does invest considerable sums in surrounding areas to mitigate these effects but Hounslow itself has now initiated an even more ambitious scheme. Its new £150m school rebuilding programme aims to deliver 40 new or refurbished schools over a five-year period with acoustic remediation twinned with an efficient ventilation strategy placed at the heart of the design proposals. Pick Everard was appointed as architects just before Christmas 2012.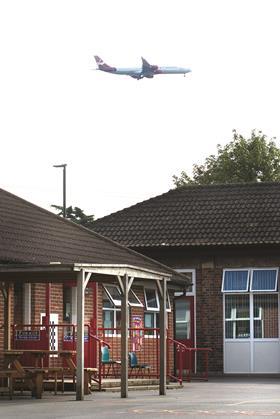 Many of these schools included in the programme are located directly underneath Heathrow's congested flight path and therefore suffer the worst effects of acoustic disruption. The schools include primary, secondary and SEN (special educational needs) schools - children who go to the last of these are particularly sensitive to excessive noise levels.
Schools are being delivered in annual phases aligned with the start of the academic year in September. Around 20 largely newbuild primary school extensions have been built so far while the remaining tranche will also include entirely newbuild secondary free schools. Due to the highly specialised nature of their acoustic requirements, all schools are being delivered via traditional contracts where a high level of design control can be exerted throughout the project.
As associate architect Steve Cummings explains, the first step was to conduct extensive acoustic surveys of each school site to indicate the level of soundproofing required at each location. "We looked at where the noise impacts the learning environment and then worked closely with our acoustic consultant who visits the different sites to measure noise at different times of the day.
"Depending on the prevailing wind direction, which can be very temperamental, aircraft may need to take off and land from an easterly or westerly direction, which has a different area of noise effect that needs to be measured and mitigated. Once the survey data was gathered, we calculated the level of sound reduction required, which informed the technical specification of the building fabric for the proposed building."
Through this process the team made an important discovery that was to have a major impact on all subsequent design decisions. Although the method of construction chosen was clearly important, the key to achieving an acceptable acoustic environment for the school while realising cost savings at the same time was more to do with developing solutions that were both standardised and contextual.
Consequently, a standardised solution was developed for the schools but one that could be moulded to each site. The solution is refreshingly simple and low-tech. It essentially deploys a heavyweight construction approach that incorporates a highly insulated concrete structural envelope for new and extended schools. This even extends to internal blockwork walls and could be applied to existing buildings via over-cladding solutions.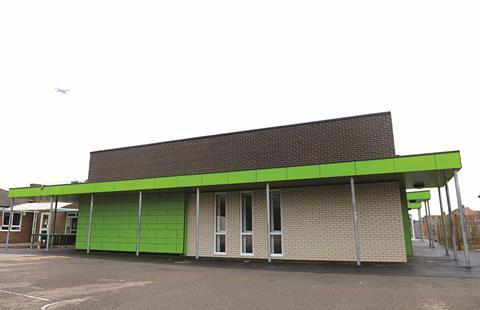 This approach provided two benefits. First the heavy concrete envelope reduces internal noise impact. And second, this structure's high thermal mass enables it to retain heat during the day and naturally cool down at night by opening the windows. The result is less reliance on mechanical ventilation to cool the building which reduces the building's energy consumption and maintenance running costs.
Under such a strategy, despite external noise levels, windows are still obviously designed to be opened. Moreover, while this ensures that the new schools are naturally ventilated, mechanical ventilation is still deployed for the instances when outside noise still makes opening a window impossible.
But, as partner David Nisbet explains, "mechanical ventilation doesn't provide cooling, just fresh air exchange. It's not an overly complex solution; the mechanical ventilation is always ticking over in the background but does not require heavily serviced plant or infrastructure. We didn't want to put teachers and pupils in an hermetically sealed box; it's about providing an environment in which they still have choice and flexibility."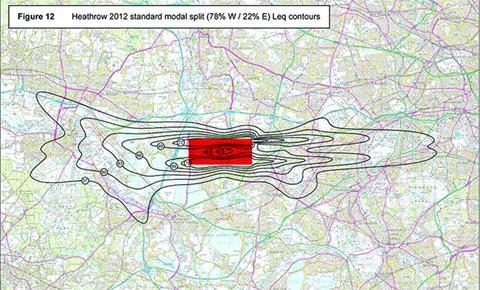 Cummings describes the design and ventilation strategies as a "fabric first approach that is designed to be as close to Passivhaus as possible." He points out that by "increasingly the u-values of the walls and roof", they were able to "design out" many of the thermal and acoustic problems the schools previously faced while still meeting BB93 (acoustics), BB101 (ventilation) and Building Regulations requirements.
As well as the heavyweight construction approach, other remedial measures to reduce noise impact included improved window specifications including triple-glazing and in some cases secondary glazing.
For Nisbet, while the heavyweight construction solution was a standardised solution, he insists that a unique design response was developed for each school that sought to give each one a unique architectural identity while satisfying its onerous acoustic requirements.
"There wasn't one solution, each school was different and was closely engineered to meet its specific contextual as well as acoustic requirements. Standardisation was limited to construction, acoustics, fit-outs and fixtures but beyond that, there was plenty of opportunity for each school to project its own individual identity and style."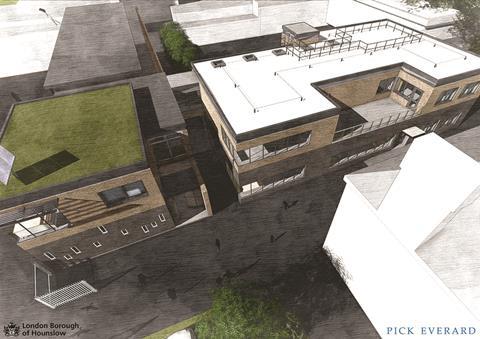 In support of this argument, Cummings points out that the heavy concrete mass was an "internal leaf approach", therefore all manner of external finishes, such as timber or brickwork, could be applied above it without compromising its thermal or acoustic performance.
Nonetheless, with 40 schools across a borough of 275,000 people, repetition was inevitably a part of the project's approach. But Nisbet insists it was used to its advantage. "Yes, there were definite benefits from economies of scale and from the repetition of components and materials. But it's not just about cost efficiency; it's about developing a series of design principles rather than specific standards and applying these as flexibly as possible across a large area."