Nottingham Trent first year students tackle the perfect chair with three cardboard designs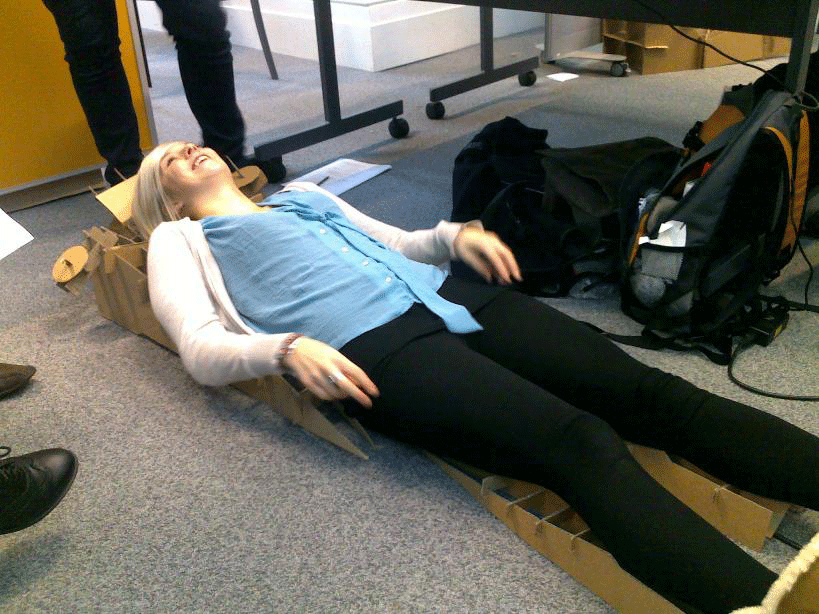 First year architecture students from Nottingham Trent University were set the task to design the perfect chair in the shape of cardboard concepts.Divided into three groups here are their responses:
The Sundialer
Students: Matthew Ashley, Adrian Cohen, Jenny Etheridge, Joseph Bennion
Proposal: The aim of the project was to explore ergonomics and anthropometrics; we thought that a sunlounger would be a good way to look at a variety of body positions. The Sundialer included separate leg rests which could be removed and placed underneath the main section to change the resting angle. It uses as little card as possible to produce a strong structure out of an A0 board, with the remaining material being used for details such as the sundials and a self-supporting headrest that slots into the back of the main structure.
The Sketchair
Students: Tina Humphreys, Sam Hayes, Matthew Mahandru, Thomas Moore
Proposal: The Sketchair is made out 3mm thick A0 cardboard. It slots together easily, without the aid of glue and can take the weight of a person, with the user sitting with his or her legs either side of the sketching support. Designed in order to assist an artist to sketch, the chair - which is quite low to the ground - provides the user with a unique worms eye view. The chair itself incorporates a handle for seamless transport, storage for pens and pencils and adjustable sketching surface which can readily accommodate an A4 sketch pad.
Starseat Enterprise
Students: Jay Panchal, Joseph Stooke, Usman Razaque, Richard Whittingham
Proposal: The main design style of the chair came from a specific tailored design need - that of a required, comfortable and easily disposable chair which could be used by festival goers in order to replace the metal alternatives of the present day. The chair design incorporates a triangular shaped base allowing for several to be positioned around a camp fire, for the 'ultimate social engagement' between friends during their festival outings. All the card sections that interlock, angle perfectly outwards from the centre allowing for a great structural and stable seating area (harnessing the key construction principles of a pyramid).