Elisabeth Selk and Girish Ramachandran of Arcadis consider the growth of Kuala Lumpur as an attractive FDI destination and its rapid transformation as Asia's next major regional hub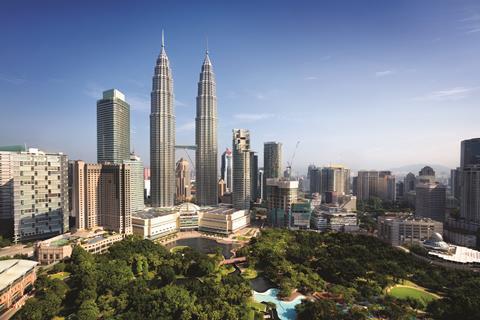 01 / Introduction
Malaysia is engaged in a national Economic Transformation Programme that will see the country reach developed country status by 2020. Kuala Lumpur, the capital city and country's preeminent economic and cultural centre, is at the core of the national growth strategy.
In a city of 243km2 with a population of 1.7 million people – expected to grow to 2.2m by 2020 and triple to 4.8 million by 2050 – the challenge for Kuala Lumpur is to grow economically and physically without creating an urban dystopia.
By 2025, the skyline of Greater Kuala Lumpur will have changed dramatically with the completions among others, of the 118-storey Merdeka PNB118 standing at 630m and the 92-storey Signature Tower (Indonesia's Mulia Group) in the financial district of Tun Razak Exchange (TRX). A programme of infrastructure investment is bringing the metropolitan area the rail and road transportation systems it needs, including the Mass Rapid Transit (MRT) and proposed high speed rail link to Singapore.
Table 1: City indicators

| City-region indicator | Data |
| --- | --- |
| Arcadis Sustainable Cities Index | 55th |
| GVA | £33bn |
| GVA per head | £13,266 |
| Year-on-year economic growth (2016) | 4.5% |
| Unemployment rate | 3.4% |
| Population growth rate (annual) (2016) | 6.1% |
| Population density (people per km2, 2016) | 6,890 |
| Overnight stays (2016) | 12.02 million |
02 / Economic and political overview
Governance
Malaysia's government system closely mirrors the Westminster model – with a bicameral parliament, prime minister and cabinet executive, and a constitutional monarchy. Although Malaysia has a written federal constitution and practices separation of powers, in reality the executive holds most of the power. General elections are planned for mid-2018.
Issues related to corruption, highlighted by the US investigation of Malaysia's sovereign investment vehicle 1MDB, have recently cast a shadow over
the political landscape. The authorities are putting in place the Government Transformation Programme 2.0 aimed at tackling the spread of corruption in the country. In July, Malaysia set up an integrity and governance unit under the supervision of the Malaysian Anti-Corruption Commission overseeing all government-linked companies and state and ministry-owned business entities.
Economy: investment destination
Malaysia is one of the most attractive emerging markets for infrastructure investment, and the country ranks highly in the World Bank's listing of business-friendly countries. Malaysia has an upper-middle income economy currently undergoing metamorphosis, driven by the Economic Transformation Programme set to turn it into a developed nation by 2020.
GDP grew by 5.6% year on year in the first quarter 2017. The IMF has raised Malaysia's full-year GDP growth projection for 2017 to 4.8% – from an initial calculation of 4.5% – on the back of savvy economic management and commendable monetary policies.
Greater Kuala Lumpur is strategically well positioned as a regional hub at the heart of the Association of South East Asian Nations (ASEAN) economic community. In 2016, the Kuala Lumpur metropolitan area accounted for 35% of Malaysia's total GDP. Kuala Lumpur's disposable income per household is approximately 70% higher than the average for the rest of Malaysia. This is a result of a greater concentration of higher value-added services in the metropolitan economy.
Various stakeholders, both in public and private sectors, are making strides in attracting global multinational companies (MNCs) to set up regional hubs in Kuala Lumpur. InvestKL is an agency set up in 2011 specifically with this aim – with an overall target of 100 MNC relocations by 2020. InvestKL has so far attracted 64 MNCs – with total approved/committed investments of $2.13bn – and has created more than 9,300 high-skilled jobs. For 2017, reflecting the uncertain global climate and a more cautious approach from companies, InvestKL has set a more conservative target of 10 MNCs.
The next-generation economic development strategy, the National Transformation 2050 (TN50) programme, is expected to be rolled out by end-2018. TN50 has laid out plans for Malaysia to rank among the top countries in terms of economic development, citizen wellbeing and innovation by 2050.
03 / Innovation and Sustainability
Malaysia is moving towards a high-value, knowledge-based economy with a strong focus on fostering innovation in the services and manufacturing sectors. The government set up MaGIC (Malaysian Global Innovation and Creativity Centre) in 2014 as the catalyst for creativity and innovation for entrepreneurs, positioning Malaysia as the start-up capital of Asia. Programmes focus on training entrepreneurs and accelerating a sustainable entrepreneurial culture.
One of the prominent initiatives by the government is the launch of Malaysia's National e-Commerce Strategic Roadmap by prime minister Najib Razak with Malaysia Digital Economy Corporation.
This roadmap recognises the need to increase e-commerce – only 5% of Malaysian businesses had an e-commerce portal in 2015 – and to improve fulfilment experience in the online sector. Malaysia's strategic geographical location at the heart of South-east Asia, its developed infrastructure, increasingly tech-savvy population and rising mobile and broadband penetration rates, point to strong potential for the country's e-commerce market.
In March 2017, e-commerce company Alibaba signed an agreement with the government to set up an e-fulfilment hub in Kuala Lumpur to act as a one-stop online cross-border trading platform. This includes co-operation on digital payment and financing, as well as developing IT skills. Malaysia's e-commerce market is expected to grow to reach $4.9bn in 2017, a 28.2% year-on-year increase.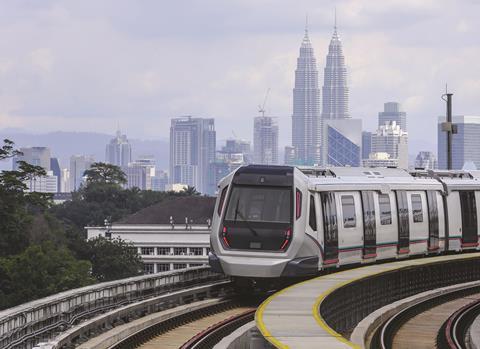 04 / Infrastructure
Public transport in Kuala Lumpur accounts for 20% of journeys in the city, which is criss-crossed with major roads that get congested, particularly on weekdays. As Kuala Lumpur city development activities expanded from the city to the periphery area – across the state of Selangor known as
Klang Valley or Greater Kuala Lumpur – traffic congestion, limited parking space and environmental pollution have become prominent concerns in the metropolitan area.
Keeping pace with rapid urbanisation, development in transport infrastructure is being stepped up in Greater Kuala Lumpur with the creation of a new inner ring road and the expansion of the Metropolitan Rail System. Kuala Lumpur is fast gaining a global reputation as the rail projects capital of the world, with
more rail investment here than anywhere else in the world.
Heavy investment in the rail network from 1990 to the recent launching of MRT Phase 1 in July 2017 is expected to increase the modal share of public transport versus private vehicles use to a 60:40 ratio as it connects most suburban areas in Greater Kuala Lumpur, eases congestion and improves air quality
The Klang Valley Integrated Transportation System, which was begun in 2010, aimed to build an MRT network with three different phases, and extend the existing = Rail Transit. Phase One of the MRT project, which is 51km long and has a total of 31 stations and two depots, became operational in July 2017. The second phase of the MRT involves a 52.2km link with a 13.5km underground line, for a total of 37 stations.
The government has been taking further steps to address last mile problems in public transport services (mobility from a transportation hub to a final destination such as workplace) with the introduction of bicycle-sharing services and segregated pedestrian bridges.
The Bukit Bintang – KLCC Pedestrian Walkway, for example, built in 2012, is 1.2km long, connecting business hubs such as Pavilion KL and the Kuala Lumpur Convention Centre. More walkways have been proposed, according to PEMANDU, an agency under the Prime Minister's Department of Malaysia.
Other measures currently considered to incentivise a faster modal shift include the introduction of car-free zones in high-density areas, and parking restrictions in new housing developments and dedicated cycle lanes. The city mayor also alluded to tougher measures such as the introduction of a congestion charge, similar to those in London and Singapore.
There is ongoing preparatory work for the MYR60bn ($13.8bn) Singapore-Malaysia High Speed Rail (HSR) development, which is set to start operations in 2026. Though the 350km
HSR railway line is primarily aimed at connecting the capitals of the two countries, it is also expected to unlock vast socioeconomic activities along the stations of the HSR and development strategies are being planned out to maximise the economic benefits.
Discussions have been under way over the last couple of years regarding the possible expansion of Kuala Lumpur International Airport – the addition of a third terminal could grow capacity by 30%.
05 / Construction and Real Estate Markets
The Malaysian building and construction industry is a key economic engine for the overall economy. It provides a significant component of Malaysia's Gross Domestic Product (GDP), standing at around 4% in 2013 and expected to contribute 5.5% by 2020. The sector is expected to grow at 10.3% per year, outpacing Malaysia's overall economy, which is forecast to grow at a steady rate of 5%-6% per year.
Around 50% of the construction sector's output is for infrastructure, while 23% is focused on housing, and the non-residential sector focused on commercial and social infrastructure accounts for around 25%.
The industry provides significant employment opportunities with a registered workforce of 1.2 million people, representing 9.5% of Malaysia's total workforce. A total of 75% of the workforce in the construction industry are resident Malaysians.
The industry demonstrates strong correlation with economic development, and more than 120 other industries rely on construction for their growth and sustainability. Despite rapid and continuing growth in output over the past five years, construction prices have remained fairly steady since 2015, rising by about 3% per year, according to government indices.
Table 2: Pipeline of larger commercial developments 2018-2029

| Project | Developer | Location | Size | [Sector/Stars?] | Completion/Opening? |
| --- | --- | --- | --- | --- | --- |
| The Exchange 106 (aka Signature Tower) | Indonesia's Mulia Group | Jalan Tun Razak | Part of TRX 70 acre | Office | 2018 |
| Bukit Bintang City Centre | Eco World Development Berhad | Jalan Hang Tuah | 19.4 acres | Entertainment, hotel, serviced apartment | Dec 2020 |
| Pavilion Damansara Heights | Malton Bhd | Pusat Bandar Damansara | 15.84 acres | Offices, serviced apartment, hotel, retail podium | 2021 |
| KL Eco City | SP Setia | Bangsar, Seputeh and Pantai | 24.38 acres | Integrated development | Early 2021 |
| KL118 | Permodalan Nasional Bhd | Petaling Hill | 400,000 m2 | Integrated mixed development | 2024 |
| KL Metropolis | Naza TTDI | Jalan Duta | 75.5 acres | Integrated mixed evelopment | Q3 2027 |
| Tun Tazak Exchange (TRX) | TRX City Sdn Bhd | KLCC | 70 acre | Integrated mixed development | Phases to complete from 2018 |
| Kg Baru Redevelopment | Kg Baru Development Corporation | Kampung Baru | 121.9 hectares | Integrated mixed development | Facelift for the next 20 years |
| Bandar Malaysia | Ministry of Finance & JV Partner | Simpang Airport site | 197 hectares | Integrated mixed development | Still under discussion |
06 / Residential
Residential construction is expected to grow by an average of 6.6% annually between 2017 and 2021. The current projected housing supply is expected to meet the increased demand of an additional 2 million residents in the metropolitan area by 2020. The challenge lies in providing the right mix of housing, increasing the share of upper-middle cost housing from 81% in 2009 to 85% in 2020 in line with increasing income levels of the Greater Kuala Lumpur population.
Affordability of housing continues to be an issue, even as the spending power of residents increases. Kuala Lumpur's median house prices are 5.4x the average annual household income, compared with a national average of 4.4x. According to the Ministry of Urban Well Being Housing and Local Government, this indicates a "seriously unaffordable" housing market. The definition of "affordability" is a median multiple no higher than 3.0x average annual income.
Malaysian public-sector housing policy is focused on either the direct provision of low-cost housing, or on subsidising the cost of housing for low-income home-buyers, particularly those buying homes for the first time. Initiatives including Projek Perumahan Rakyat (PPR) (People's Housing Projects) and the Malaysia My First Home Scheme channel this support.
Under the 2017 budget, the government will aim to improve affordability for first-time home buyers by providing empty land in strategic locations, on which government-linked companies promise to build more than 30,000 houses priced at MYR150,000–300,000 ($35,000–70,000) under the PR1MA social housing programme. Meanwhile, home financing will be made easier and more accessible, and first-time buyers will be exempted from stamp duties.
By contrast, the Kuala Lumpur high-end condominium market has remained subdued recently, with reduced levels of market activity, which has resulted in a scaling back of new property launches by developers. Secondary pricing remains flat while rentals continue to be under pressure.
Table 3: Residential construction demand and activity

City

Construction activity

Demand for construction p.a. until 2020

Demand for construction p.a. until 2030

Kuala Lumpur

7.26% y-o-y

(£29.89 billion)

10.3%

4.7 %

Singapore

- 2.7% y-o-y

(£19.14 billion)

n.a.

5.6%
07 / Commercial
Despite an improving outlook for the economy as a whole, commercial real estate in Kuala Lumpur remains affected by oversupply. This is mostly the result of subdued levels of demand in key sectors.
Multinational companies in the oil and gas as well as finance sector have been restructuring and downsizing. As a result, they have tended to sublease or reduce office spaces.
Amid this soft-demand environment in the Central Business District (cbd) as additional office space supply comes to market, vacancy rates for office buildings have been rising, putting pressure on average gross rents.
Developments in the rail infrastructure in Greater KL (MRT, LRT, HSR) are expected to bring positive economic impacts outside of the CBD, leading over the mid to long-term to an increase in demand for offices, and benefiting decentralised areas of Greater Kuala Lumpur.
The overall vacancy rate is expected to rise as more projects come on stream in 2017. Average rents in the CBD submarket are expected to continue their downward trend, particularly the lower grade office buildings. In contrast, average rents in Kuala Lumpur are likely to grow at a stable pace as the submarket continues to see healthy take-up on the back of its increasing popularity.
Table 4: Office space supply

| Year | 10-year average | 2016 | 2017 | 2018 est. | 2019 est. | 2020 est. |
| --- | --- | --- | --- | --- | --- | --- |
| Office space supply ('000 m2) | n.a. | 6,949 | 9,197 | 10,293 | n.a. | n.a. |
08 / Hospitality and leisure
Around 26.7 million international tourists visited Malaysia in 2016, mainly from Singapore, Indonesia, China, Brunei and Thailand. Tourism in Kuala Lumpur has performed at a more moderate pace over recent years relative to the country as a whole and to other best-in-class cities.
The average length of visitor stay in the city is only 3.1 nights, lower than comparable benchmarks globally. Compared with best-in-class cities, Kuala Lumpur also fares low in terms of average spend per tourist.
This combination of low yield and short stay is an issue for the tourism industry in Kuala Lumpur. The tourist receipts for 2016 were MYR82.1bn ($19.5bn), an increase of 18.8% over 2015. The stronger tourism performance in 2016 is attributed to improved flight accessibility and easier travel, as well as positive exchange rate effects.
Meanwhile, global luxury hospitality operators continue to see Malaysia and its melting pot of cultures as an attractive tourist destination in the region.
Several well-known brands have recently arrived on the scene: the famed St Regis at KL Sentral (and Langkawi Island), Kempinski Hotel Group (8 Conlay project), AccorHotel's Sofitel and Sofitel. With the suite of luxury offerings in place, Kuala Lumpur is positioning itself as a playground for the rich and famous.
09 / Conclusion
According to the Arcadis' Sustainable Cities Index 2016, Kuala Lumpur finishes 55th overall globally and seventh in Asia. The city performs better when it comes to income inequality, work-life balance and affordability.
Kuala Lumpur 's transformation into a world-class city by 2020 is a key element of the domestic growth strategy for Malaysia under the Economic Transformation Programme. In 2018, the KL City Competitiveness Masterplan aims to propel the city into the global top 20 by 2030.
Numerous government initiatives are supporting the rapid modernisation of Kuala Lumpur into a major regional hub. Specific large projects are being implemented to improve Kuala Lumpur's ranking, ranging from the 118 Tower to the Kuala Lumpur-Singapore High Speed Rail, Tun Razak Exchange, Bukit Bintang City Centre, Kg Baru Development and Bandar Malaysia. InvestKL claims it is offering global businesses access to a growing workforce, a sophisticated business ecosystem, world-class infrastructure and connectivity, competitive cost advantage and a principal hub tax incentive that caters to their business models.