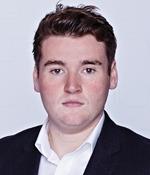 Jamie McGovern, assistant quantity surveyor, Gleeds
Q Has the year since you started in construction lived up to expectations?
A Absolutely! By joining the industry at the top of the market I feel like I've really seen it at its best – in terms of projects, clients and social events.
Q Have you achieved what you said you wanted to in the time?
A I have – I've completed my university conversion course and am well on my way to becoming chartered. I've also run my own smaller jobs and am settling into assisting on some great, big developments now.
Q What has been the biggest challenge you've faced in your job?
A Balancing the pressures of the day job with both my uni course and APC study, all while trying to have some semblance of a social life.
Q In your experience so far, does the industry encourage and nurture new talent?
A Without a doubt, at Gleeds there is an academy geared around getting younger employees chartered. On a personal level, I've really been thrown in at the deep end and feel like my managers are not afraid to give me a fair amount of responsibility despite my age and relative lack of experience.
Q What's your view on the government appearing to backtrack on green built environment policies such as the zero carbon target, the Green Deal, and subsidies for wind farms and solar power?
A I was a bit surprised that the apparent change in direction came so quickly following the election result, especially since green issues seem to be foremost in other European countries. Nevertheless, I think sustainability is built into the DNA of most clients now and the industry will be forced to continue the drive for more fuel efficient homes, for instance, by the market. There are maybe parallels with the car manufacturers who have had to develop more fuel efficient engines to get greater sales – so will home builders, regardless of subsidies.
Q Do you sense clients are less interested in sustainability following the recent policy shifts?
A Not really, sustainability it still a big selling point for clients so they aren't going to ignore it over night – just this morning I was at a BREEAM meeting with my client to see how we could make sure our project ticks the sustainability box.
Q Has the attitude of your firm to sustainability changed at all?
A Not since the change in government policy, we are still striving to cut omissions and to become paperless wherever possible. I don't think it takes government policies to make businesses realise that we need to be more sustainable and think about the future – it's not a particularly new issue!
Q Will you get a summer holiday? – if so, where?
A I had mine a bit early in May, I jetted off to Vietnam and Doha – both were rather warm. I'm desk bound for the rest of summer though, whilst everyone else is having their fun in the sun!