The Crown Estate is that rare thing: a public body steeped in history that is at the same time a highly efficient profit-making machine. Alastair Smart is its head of development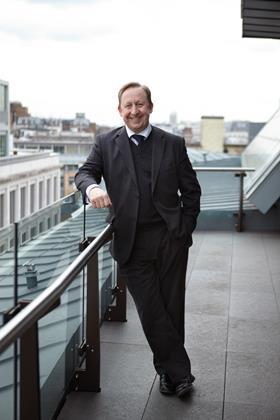 The Crown Estate is a great example of the UK's fabled eccentricity. Put simply, it comprises the bits of the country that William the Conqueror seized in 1066 and that haven't at one stage or another left the monarch's ownership.
Following the Norman invasion, all land belonged to Bill. Over the centuries, parcels of it were given over to various noblemen and the crown's portfolio diminished, alongside its ability to generate an income from it. Finally, on the ascension of George III in 1760, a deal was struck between the government and the monarch, under which all profits generated from the crown's estate would be passed to the exchequer and in exchange the government would pay the monarch a fixed annual sum - what has become known as the civil list.
The organisation established to administer the British monarchy's remaining land is the Crown Estate, which is now hunkered down in a relatively new office just off Regent Street - appropriate, as it owns most of this prestigious central London neighbourhood. Building sat down with Alastair Smart, the Crown Estate's head of development and project management to find out what its plans are and more about the organisation's relevance to the construction industry in the modern era.
According to the Crown Estate's accounts, its portfolio is worth around £8.1bn, up from £4bn 10 years ago. (Over the same period the body has returned just over £2bn to the Treasury.) Such assets would allow a purely commercial organisation to borrow significantly in order to fund new developments, but the Crown Estate is unable to borrow, according to the rules established with the last Crown Estate Act that was passed when Elizabeth II acceded to the throne. Isn't that a bit frustrating for somebody with a strong commercial background? "To date it hasn't been an issue," replies Smart, a jovial man with a ready smile. "We've managed to maintain and improve on our return to the Treasury, make sure that we're developing in a prudent manner and we've had the funds available [that we've needed]."
We've managed to maintain and improve on our return to the Treasury, make sure that we're developing in a prudent manner and we've had the funds available
Hence the last decade or so has seen some fairly substantial changes to the Crown Estate's portfolio, with the body selling off large parts of its assets in Greater London in order to invest in projects in the regions. For instance, it invested £56m in the MK1 Retail Park, which was completed late last year and provides 118,00ft2 of retail space in Milton Keynes. According to Smart, this strategy was partly intended to bring greater diversity to the Estate's investments. "We wanted to rebalance the portfolio," he says. "There was a large weighting in London and a traditional portfolio would have a wider spread, either geographically or by sector."
Some of this "rebalancing" has been controversial - the £150m sale of homes in London, for example - but the sale of assets in Greater London and the income from the Crown Estate's other investments have also allowed it to invest seriously in the quality of its property in the capital's West End. The Crown Estate owns the vast majority of property on Regent Street and almost 50% of the St James's district to the south. A £1bn programme of regeneration began on Regent Street around 10 years ago and the Crown Estate is now extending the strategy into St James's, a move that will provoke the most significant opportunities for the construction industry in the medium term.
"It is a good thing to have property in London and the bulk of our portfolio is still in London," says Smart, who has been in his post since joining from Lend Lease in 2009. "What we've done is to concentrate [investment] into our core portfolio in Regent Street and St James's.
A lot of what's behind what are stunning facades are poor quality buildings. We can take a poor performing building and, okay, take it out of revenue generation for a couple of years, but when we get it back it will generate much more money. So, we have a very prudent development pipeline."
It is a pipeline that the Crown Estate, as you'd expect, has already been working with some of the biggest names in the business on, from construction managers such as Mace and Stanhope, to Lend Lease's construction arm and contractor Sir Robert McAlpine. However, such is the scale of some of the projects that it has needed outside assistance. Unable to borrow, it has instead embarked on a series of partnerships with private sector developers and investors. For instance, for its St James's Gateway development on Piccadilly, the Crown Estate brought in the Healthcare of Ontario Pension Plan (HOOPP) as a 50/50 partner. The scheme is expected to be completed in late spring this year when it will provide 35,500ft² of office accommodation and 14,500ft² of retail space. While HOOPP has taken a long lease on its half of the development, the freehold will remain with the Crown Estate in perpetuity. The partnership model is also being used outside London, where the Crown Estate has formed joint ventures with Land Securities for the redevelopment of the Oxford Westgate shopping centre and the Princesshay shopping centre in Exeter. Both projects are currently at a pre-planning stage, but Smart says that an application for the Oxford scheme will be submitted this year, which, if successful, should provide opportunities for construction firms in 2014.
It's actually very nice to be able to work commercially knowing that there is a return going back, effectively, to yourself as a taxpayer
Most recently, it was announced that the Crown Estate is currently "testing the market" for potential partners on its huge St James's Market project, designed by architect Make with help from Paul Davis & Partners, Tate Hindle and Burwell Deakins.
Westminster council resolved to grant planning permission for St James's Market in mid-January (subject to section 106 negotiations and the results of a judicial review) and Smart says the final scheme, comprising one new build commercial building, one refurbished commercial building and two residential projects, will be worth around £450m. Clearly, it should provide significant opportunities for the construction industry, although Smart will not be drawn on the specific value of the contract to a main contractor.
"We'll be on site in September and we're yet to go out to the procurement supply chain," says Smart. "We obviously have a project team at the moment and we're going through our design stage. We'd expect integrity from any firm that's going to work on that project and that we can work with them in a true partnership … We're just refining the procurement strategy and we will be going out to the market in the summer." Smart adds that the Crown Estate will always look to set a fixed price with a main contractor for each project.
Another oddity of the way in which the Crown Estate is constituted is the fact that while the reigning monarch of the day technically owns the estate, they cannot draw an income directly from it, nor do they have any influence over the management of the portfolio. "It's a funny sort of ownership," agrees Smart, "but you've got to look at it in terms of the greater benefit to the wider community. It takes a while for you to understand the philanthropic nature of the work here. It's actually very nice to be able to work commercially knowing that there is a return going back, effectively, to yourself as a taxpayer."

While unusual, Smart says this arrangement is at the heart of its relationship with its suppliers. Smart says that there is something about working for the Crown Estate that engenders a great sense of loyalty among contractors and subcontractors alike. "It also breeds within our supply chain a high level of integrity, which we would command anyway from them, but you just get a different approach," he says. "I can't put my finger on it, but from being a developer with Lend Lease to coming here, it's the same supply chain, but they just act in a much more …" Smart trails off.

Just halfway through its £1bn revamp of Regents Street, there's no doubt the organisation is a significant client. It is also unusual, not just in terms of its history but because it has a dual focus: to return a profit to the Treasury and to safeguard and enhance its historic portfolio. That makes a difference, as a trip to Oxford Circus quickly confirms. Look north and south - Regent Street is a preserved wonder; a representation of the power and swagger of the British Empire at its peak. To the west and east lies Oxford Street - in multiple ownership and singularly lacking in architectural coherence or grace.