We've had 475 judgments since adjudication first came in and it's a very different beast today. So the second edition of Peter Coulson's tome on the subject is a must-read
When I reviewed Mr Justice Coulson's first edition of Coulson on Construction Adjudication, we had 325 High Court judgements in the bag. We needed this second edition not only because we now have 475 judgments, but because adjudication has moved on. Some say it has lost its way. Peter Coulson's book will tell you all you need to know about adjudication and where we are today, like it or not.
Peter Coulson QC was a construction industry barrister boy and man. He saw our building disputes business as a litigator, as counsel in arbitrations, as a representative in adjudications. He was then hoisted out of the barrister job into judging; mostly he judges construction industry matters. He has seen adjudication mostly through the spyglass of what we call enforcement proceedings. In other words the winning party in the adjudication complains to him or his fellow Technology and Construction Court judges that the loser won't pay up. So he listens to the excuses for not obeying the adjudicator. That's how he is qualified to write this textbook. In short, he says what Construction Act adjudication is and then says whether the adjudicator's efforts were in accordance with what it is. I have been asking what construction contract adjudication is since it arrived via parliament 13 years ago.
In short the book says what adjudication is. I have been asking what construction contract adjudication is since it arrived via parliament 13 years ago
Right at the front of the book is the list of judgments which the book goes on to probe and winkle out. I looked to see which cases are mentioned lots. Macob vs Morrison [1999] is high on the list. So too is Bouygues vs Dahl-Jensen [1999] and Carillion vs Devonport [2005]. Others, which tickle my fancy, are Discain [2000] and Amex vs Whitefriars [2004]. They are all mentioned lots because they were the baseline cases on "what is it?" And for me that very first case, Macob, sets the scene. This 28-day quadrille was not a dispute resolution system, not a judicial process. It was, said Mr Justice Dyson, a "speedy mechanism for settling disputes on a provisional interim basis". He also said the "timetable for adjudication is very tight … and likely to result in injustice", "parliament must be taken to be aware of this" and "it is merely a provisional interim stage in the dispute resolution process". True, there was a need for impartiality, but not a hint of procedural constraints such as "natural justice", as found in litigation or arbitration. Then in Bouygues a few months later in 1999, Justice Dyson said that adjudication is analogous to "expert determination"; so did the Court of Appeal. And do you know that expert determination is a fully and finally binding dispute-deciding system that has no hint of rules, of procedural "natural justice", save for impartiality. And in the later Carillion vs Devonport case, the "what is it?" question was explained by saying: "the need to have the 'right' answer has been subordinated to the need to have an answer quickly". The recurring phrase in adjudication is "pay now, argue later". It was a job for an outside, impartial QS or architect or engineer to "cast an eye" over the quarrels and adjudicate as best they could, in whatever way they could, who should have the money for the time being. Cheap and cheerful stuff.
Woe betide any adjudicator who doesn't adopt natural justice procedures in his 28-day square dance
Read this book and you soon have it explained to you that those of us who thought adjudication was a cheap look and sniff were wrong. Edition one mentioned "natural justice" in the due process and procedure for adjudicating. That's because cases like Discain had introduced the phrase and so now edition two of this learned book has three whole chapters on this judicial ingredient. And damn right too, if construction contract adjudication is in truth a judicial system. Woe betide any adjudicator who doesn't adopt natural justice procedures in his 28-day square dance. And if you are a QS, or architect or engineer adjudicator, join the queue to become a solicitor or barrister, since that's where the adjudicator appointments have gone.
The trick is to remind yourself that disputes go with the territory; the trick is to be ready; the trick is to know what adjudication is in 2011. That's what the book does. Buy it.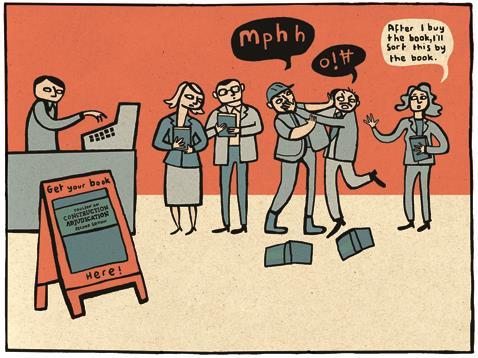 Tony Bingham is a barrister and arbitrator at 3 Paper Buildings Temple.
Follow Tony on Twitter @TonyBingham2