Doha's Industrial Zone is the side of Qatar the government doesn't want you to see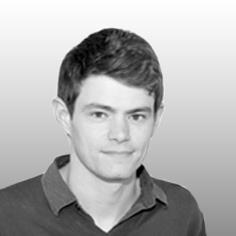 It's blocked from view from Qataris speeding down the Salwa motorway out of town towards the Saudi border by a long wall running the length of the zone.
Yet the inhabitants on the other side have been the subject of intense media scrutiny in recent months (see previous page).
The Industrial Zone is home to hundreds of thousands of migrant labourers working in Qatar's booming construction sector.
Few journalists have actually visited the Industrial Zone. It is reached via a slip road, throwing you into a hubbub of traffic, with construction vehicles competing on unmade roads with lorries full of aggregates and buses and cars full of labourers. The first few blocks are mostly commercial, comprising of shabby shops for the labourers and vehicle depots.
The Industrial Zone is not only home to construction labourers. It is also full of bulky aggregates factories producing materials like concrete, as well as materials suppliers and machinery depots.
Workers go about their business grimly, while broken down cranes and oil tankers litter some of the roadsides
The bustle of industry, coupled with the traffic, makes the air thick with dust and it gets worse the further in you go.
After a few blocks you see the first labour camps. They are almost without exception dilapidated and cramped.
One worker told me - through our taxi driver, who translated - that he was living in a small room shared with seven other people.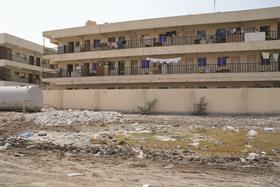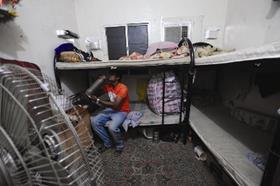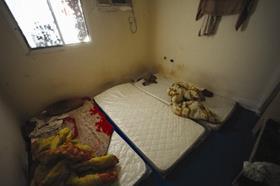 Some do not have plumbing, I was told, and while most appear to sport air conditioning units, these look knackered and insufficient for adequately cooling cramped living quarters.
Some of the labour camps are branded with the name of the construction company that owns them, and therefore effectively the workers that live there - under the kafala system of employment used for migrant workers - these construction workers are unable to leave the country or change jobs without their employers' permission.
Densely populated blocks are either walled off from the road, built a few metres apart or backed up against aggregates factories or depots.
There are some signs things could improve - a new labour city for 80,000 workers is being built in one part of the zone.
But there are signs of attrition everywhere - workers go about their business grimly, while broken down cranes and oil tankers litter some of the roadsides.
It's a world away from the glittering skyscrapers of Doha's West Bay financial district, yet these labourers are carrying out the back-breaking work enabling these towers to rise out of the sand.
Images courtesy of Amnesty International

Qatar migrant workers who spoke to Building
All workers requested to remain anonymous

Worker 1
I migrated here from Kerala, India, two years ago to work in the construction sector. It's eight to a room here, in small rooms. We have air conditioning. But it is a very bad place to live. I'm fearful to talk to you further about this.

Worker 2
In the summer you can't breathe here because it is so hot. One of my co-workers died of a heart attack because of the heat. When I went to identify his body at the hospital, a Filipino there told me there were 2,000 unclaimed dead bodies of construction workers there - their friends and family are back home.

Worker 3
There's no plumbing in my labour camp. There are a couple of taps for the whole block and we take buckets of water up to the bathrooms. People are attracted here by newspaper advertisements that promise a salary, food and accommodation, but they often find less here than they were promised. I'm here to fight to support my family back home in India.