Advances in data capturing are providing new insight into how people use and react to city spaces. David Partridge believes this information could be a powerful tool in the future of construction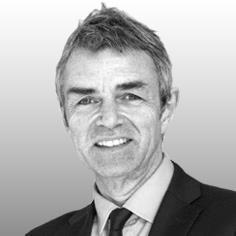 It is easy to forget that just a generation ago, at the start of the nineties, businesses and their employees were flocking away from our cities to escape from the crowded, polluted city centres that were as unappealing to individuals as they were to enterprises. Today, that flight has truly reversed: our cities are transformed, attracting people back with revitalised infrastructure and a better quality of life.
Over the past 25 years, technology has entirely changed the way we live and work. The internet and the interactions created by a mobile, connected population have not only revolutionised old industries but have created entirely new ones. Technology is now embedded in every facet of our lives, opening up new possibilities - built on a wealth of data - to better understand how we live and work.
We are only beginning to scratch the surface in applying that understanding to the way we plan, design and build our cities and workplaces. This presents a considerable challenge and opportunity for the people that shape our built environment: the planners, architects, developers, engineers and occupiers.
As an industry we need to better understand the power of big data: how can we collect, analyse and use it to shape the way that cities, city regions and workplaces are designed and serviced? With an ever-increasing volume and speed of data becoming obtainable, there's an invaluable source of insight to be translated into knowledge that can inform intelligent building design.
Chicago is an inspiring example to take notice of when looking at data-led planning. The Burnham Plan of 1909 is one of the first examples of civic planning at scale, and reshaped the city through comprehensive, systematic urban development that aligned to a clear vision.
Over a century later, a comparable sense of rigour is still being applied in Chicago with big data embraced with the aim of making the city a more liveable place. The city of Chicago's data portal promotes access to over 200 government datasets to encourage the development of creative tools that engage and serve its diverse community. This transparency of data creates a powerful context to explore ways to innovate around the performance of Chicago's services, facilities and city departments.
As an industry we need to better understand the power of big data: how can we collect, analyse and use it to shape the way that cities, city regions and workplaces are designed and serviced?
At street level, The Array of Things (AoT) is a network of interactive, modular sensor boxes around the city collecting real-time data on the environment, infrastructure, and activity for research and public use. By collecting data and making it freely available to residents, software developers, scientists, and policy makers, the vision is to understand the built environment better, in order to make the city healthier, more liveable and more efficient.
The value of embracing this innovation comes from the answers that data can provide, rather than the data itself. Collecting and analysing data allows us to build knowledge that deepens our understanding of something. In the context of our industry, this may be about better understanding the complexities and nuances of the people that use and engage with our buildings, so that we create spaces that can be tuned to their ever-evolving needs.
The availability and richness of data in the UK led geographer James Cheshire and designer Oliver Uberti to co-author The Information Capital - a book which shows us London in an entirely new way, illustrating data in an extraordinary way through the use of stunning design and graphics. Through these data visualisations, we're able to interpret and understand aspects of how people live in
and use London that otherwise wouldn't have been shared or understood. This can be anything from using Oyster card data to show where most Londoners exit the transport network, to measuring the feelings of life satisfaction, purpose, happiness and anxiety using ONS data.
James Cheshire is one of many speakers at the BCO Annual Conference, where he will be part of a panel discussing what makes an intelligent city and how Chicago's experience has influenced others around the world. The conference, which I will be chairing next month, is an opportunity for the industry to come together to think about the future of our cities and the buildings we are shaping them with. Among other issues, we will be discussing the powerful opportunity to use big data to improve design, efficiency, effectiveness and the future proofing of the workplaces we create - I'm calling on the industry to embrace this moment and work together to realise the potential that we are only beginning to scratch the surface of.
David Partridge is managing partner of Argent (Property Development) Services and chairman of the BCO Annual Conference 2015.
In the year of the BCO's 25th anniversary, its annual conference takes place in Chicago on 20-22 May 2015. Tickets are available to purchase from bco.org.uk/Conference.