Having a common industry platform, like Australia does, would go some way to solving BIM problems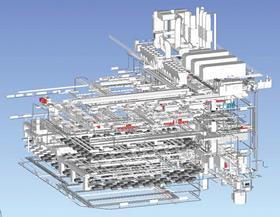 As chair of CIBSE's BIM steering group I was interested in Peter Trebilcock's article ("BIM and MEP consultants - what is hindering progress?" 4 July, www.building.co.uk).

I won't quibble with the article's analysis and I wholeheartedly support its recommendations, but Peter overlooks one important elephant in the room. MEP is the only stream of construction where designers and installers/fabricators typically use different BIM platforms.

Consultants work predominantly in Revit, the BIM tool most used by architects, structural and services engineers and building trades, while MEP contractors still often prefer CADmep, because it is superior in fabrication and installation. While CADmep affords the geometrical exactness central to Peter's thesis, it does not support Level 2 BIM - the destination of the wider industry which offers far bigger "wins" for our clients and other players.

With translation from Revit to CADmep still somewhat clunky, many MEP contractors do not see a consultant's Revit model as helpful - indeed often the reverse. Hence there is some truth in consultants' feedback that creating a BIM is somewhat fatuous if it doesn't carry forward into the contractor's technical design model.

What's clear is that the MEP industry cannot continue to bifurcate indefinitely. One solution may lie in following Australia's example, where construction leaders have mandated Revit as the common industry platform. There, the MEP contractor now uses the designer's BIM to develop its technical design - all in Revit. The Australian model, however, has significant implications, and is not a solution open to central government under EU procurement rules.

CIBSE BIM group members, and I'm sure many others, welcome Peter's proposed BIM workshop to air all these issues and to find better ways to move the industry forward together.

Paddy Conaghan, knowledge editor, CIBSE, via email