This was George Osborne's last chance to give Plan B a go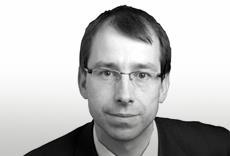 I am trying to imagine the sense of desperation that must have surrounded those close to the chancellor in the run up to this year's Budget. Despite absolute determination in the government to drive growth, it has proved as elusive as willo'-the-wisp.
So it was not surprising that the first part of the chancellor's speech was dominated by telling us (again) it would be getting worse before it gets better.
Now over half-way through the parliament, this was George Osborne's last chance to tell the British public that Plan A had looked like a good idea, but on reflection he was minded to give Plan B a go.
But anyone who thought that was even a remote possibility underestimates the chancellor's determination to stick to his course. With repeated references to living within our means and controlling spending it is clear that pigs will fly before this government embraces public spending as a main stimulus to growth.
The extra £3bn a year for infrastructure investment is of course welcome but let's not get carried away. Against an infrastructure investment requirement of at least £400bn over the next 10 years, £3bn a year is a drop in the ocean. The government is making a deliberate choice for private infrastructure investment to get the economy moving again.
In the detail on infrastructure you had to look hard to find anything new. Had agreement been reached last week with EDF then the centre-piece of the Budget would no doubt have been our new nuclear future.
But in the absence of that agreement the chancellor found his "get-out-of-jail" card in his new "Help to Buy" scheme. It's a bold move that recognises that housing should offer fast-acting pain relief for our economic woes, and the sooner that effect is felt in the construction industry and all the supporting trades the better.
Richard Threlfall is KPMG's head of infrastructure, building and construction