Positive steps are being taken towards the government's Construction 2025 goals but there is still a huge amount to do if we are to cut carbon, find better processes of working and inspire new talent. Progress on BIM and payments is just the start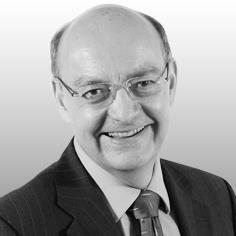 Since the launch of Construction 2025 last July I've spoken at a large number of industry events, spreading its message as widely as I can. The interest and support from across the industry is very encouraging. By now, most people know the five key strands of People, Smart, Sustainable, Growth and Leadership. These themes have broad buy-in.
As I said back in January, we seem to be creating momentum - and it's starting to feel good. But I'm very conscious that publishing strategies don't in themselves result in change. We need to move quickly to the next stage, which is making it happen. And that means in partnership, with the construction industry playing a full part in the process.
Over the last few months, the government and industry have been working together to create an implementation plan for Construction 2025. This seeks to link the four joint ambitions of lower whole-life cost, faster construction, improved carbon efficiency and a reduced trade gap, to individual workstreams. In particular, it's moving the focus to what we need to achieve over the next three years, setting us off in the right direction for 2025 - if we're to conquer the summit, we first need to reach Base Camp One.
Some key work is already under way. An important task is to improve the image of construction.
We need to inspire people to work in the built environment — from young people considering where to pursue their careers, to those that have left the industry during the recession and need to be encouraged to come back. As readers of Building, we already know what we enjoy about this industry - so let's shout about it.
This is a challenge that the Construction Leadership Council has picked up. The housebuilders on the council have taken the lead in developing a campaign to improve the image of the housebuilding sector. Alongside this they are identifying critical skills and capacity gaps, in areas including training provision. We want to expand this work to cover other parts of construction. This is a good example of the industry starting to take the lead.
TrustMark was relaunched last week. This is another important contributor to improving the image of the industry.
BIM and Government Soft Landings are taking root across the industry. Not everyone fully understands BIM yet, but everyone seems to accept that it is a vital ingredient in achieving the efficiencies that this industry desperately needs. And work is progressing on developing Level 3 BIM - in time this will bring a massive step change.
Not everyone fully understands BIM yet, but everyone seems to accept that it is a vital ingredient in achieving the efficiencies that this industry desperately needs
The Green Construction Board is focusing its work on what we need to do to meet the target of 50% carbon reduction by 2025. As part of this work, the retail and lighting industries are coming together to pilot LED lighting for retail retrofits. This should result in significant energy and cost savings, as well as contributing to the ambition for reduced carbon emissions.
The next big thing on the horizon will be the publication of an industry-wide supply chain payment charter. This subject has featured strongly in the Construction Leadership Council discussions and I'm expecting the charter to be launched next week.
This will make a big change to our industry over coming years. Again, this is a good example of leadership.
And these are just the start. Other areas of priority include moving to a common standard for industry competence cards, embracing smartcard functionality. This will enable much more effective tracking of training and skills acquisition and will help to drive up competence levels across the industry. We want to focus industry-wide research on achieving whole-life value by fully embracing new technology - there are massive opportunities in this area.
We need to progress adoption of procurement best practice, with particular focus on simplified prequalification - far too much time and cost is wasted through inefficient and inappropriate procurement. The pipeline of future work opportunities needs to be expanded to include the work of local government and private clients. That way supply chain members can get a better indication of the workload ahead, giving them greater confidence to invest in people, plant and processes. And we need to find ways to reduce imports and increase exports in construction. So the agenda is wide.
In all this work, we need to remember that a key feature of Construction 2025 is that it's a partnership between industry and government with both parties taking joint ownership of the strategy and its ambitions. To be truly effective, the changes need to become much more industry led.
As government chief construction adviser, I will keep spreading the word. I will continue working with both government departments and industry bodies to make the implementation plan happen. It's now time for the industry to step up to the plate and to drive the change forward.
Peter Hansford is the government's chief construction adviser