This week's mix of unexploded bombs, books from beyond the grave and a lucky person benefiting from lockdown
Stuck in the slow lane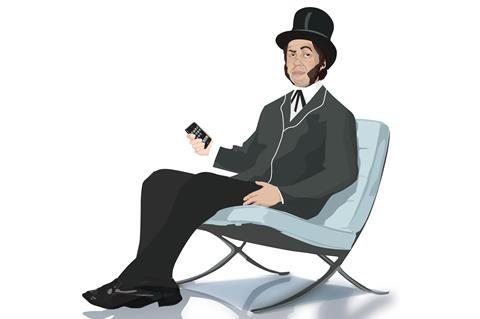 Anyone who has driven on a motorway in the past few years will be familiar with the dreaded sign "smart motorway". It seems that great stretches of road, whether it be 23 miles of the M1 or 32 miles of the M4, are being upgraded at any one time. Do they have to be in such great chunks and do they have to take so long to finish? Anyway, Balfour Beatty and Vinci is doing the bit of the M4 between junction 3 coming out of west London and junction 12 near Reading. Balfour's boss, Leo Quinn, is impressed at the speed of progress the JV is making. "Work is going like a train," he says, mixing his modes of transport. Clearly he hasn't taken a train in the past five years.
A good read
Meanwhile, Hank Dittmar has just published a book from beyond the grave. The former Prince's Foundation chief executive and Building Design columnist died in April 2018 and a group of followers have banded together to publish a new book by the American-born urban planner. Called DIY City: The Collective Power of Small Actions, the book explains why individual initiatives, local businesses and small-scale developments matter in building a community. Prescient, I would say, in these current times. Now available in the US, it is out in the UK at the end of this month.
Scents and sensibility
Here's a sentence I never expected to read: "With the world now coming to terms with 'staying at home', candles have become a must have essential." In a blurb about limited-edition scented candles – priced £65 – the scents, apparently, "have been drawn from the atmosphere behind the scenes at McQueens Floristry HQ in Bethnal Green, London. Each of the candles represent different elements of the bustling workshop, whilst staying relevant to the purity of flowers and foilage [sic]." One candle, Green Stem, is "where the magic happens and designers with sap-stained hands …" Enough!
Blade Runner – the final cut
The past, the saying goes, is a foreign country – but the future seems to be in Bristol. Willmott Dixon is building a green office block in the city that will include all sorts of wizardry, such as a drone landing pad. Developer Cubex wants to future-proof schemes – tricky, given a virus no one had heard of a year ago has ripped up the way we work in a matter of months, but there we go – and on the Bristol job proposals were even floated to build a landing pad for flying taxis. Sadly, the idea didn't quite take off.
More bucks for your bang
Speaking of future-proofing, one reader is unconvinced by a London housing developer's explanation that asking consultants to find unexploded bombs at would-be developments is "part of the future-proofing of our overall plan". The somewhat cynical reader offers a different take. "Future-proofing? It's an excellent way to find land you can chip the price on." The very idea.
The fast track
You might remember earlier this year seeing striking images of a stone barrel-vaulted extension that was planned for Westminster Coroner's Court on Horseferry Road, the scene of many famous inquests including Grenfell and 7/7. It was designed by Lynch Architects and led by newly qualified part III Eleanor Grierson. The job is about to go out for tender but back at the start of lockdown they had just reached detailed design, all of which had to be done via Zoom. Patrick Lynch was so impressed by how 29-year-old Grierson steered the project that he has just announced her promotion to associate. Lockdown has had some benefits, then.
Don't panic!
They say a picture is worth a thousand words so I'm going to leave it there. Suffice to say, this was spotted on a domestic building site near former deputy prime minister Nick Clegg's previous residence in Putney, south-west London.
Send any juicy industry gossip to Mr Joseph Aloysius Hansom, who founded Building in 1843, at hansom@building.co.uk