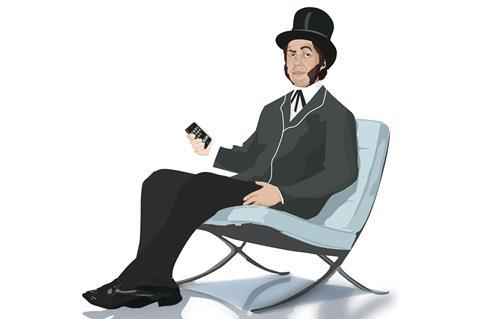 The home front
House of Commons leader Jacob Rees-Mogg thinks there's no need to move MPs and peers out of the Palace of Westminster while work to upgrade it is carried out. Last month, a review of the plan suggested otherwise. Doing so, it said, would save billions in taxpayers' money and mean the job is done more quickly. Rees-Mogg made clear what he thought of the idea. "For the birds," he said. Instead, he thinks virtual sessions of parliament could continue by video link. Problem solved. Was this the same Rees-Mogg who last year wanted to recall MPs to parliament during lockdown to demonstrate "British resolution and fortitude"?
Till the Cowes come home
Former RIBA president and keen sailor Jack Pringle tells me he's hoping to compete in this year's bi-annual Fastnet sailing race in August. Starting in Cowes, it heads off to the coast of Ireland and around the Fastnet Rock before heading back and finishing in Cherbourg. (Apparently, the French port promised a more enthusiastic welcome than traditional finish Plymouth – sacré bleu!) Anyway, Pringle's 50ft boat has been stuck in Corfu the past year because of covid. Getting it back to Blighty will take four weeks, and Fastnet qualifying starts in May. So he needs to get his skates on if he's to compete in an event he's already done four times. Mind you, in the 2007 edition a gale caused £10,000-worth of damage to his boat. "It was in danger of sinking," Pringle adds. Perhaps keeping it moored on a Greek island isn't such a bad idea after all.
Come fly with me
A chat between one of my hacks and Ian King, boss of products firm ZeroIgnition, took an unexpected turn recently. Asked why he was posing next to a small plane in his LinkedIn profile, the Northern Irishman replied he was a flying instructor in his spare time. He offered to take my hack for a spin over the skies of southern England, adding he could have a go at flying the plane himself if he fancied. I suspect my hack's mumblings about bringing a parachute along might have brought King back down to earth. Just what parachutes were invented for.
Red faces go green
The RIBA has been busy on LinkedIn. Above a picture of a shiny red car, it wrote: "This year may have made you reconsider the options you can provide staff for their commute to work. Company cars are a solution to reduce public transport and keep staff happy and safe," it said, pointing readers to a vehicle leasing deal. That all sounds covid secure but not so great for the planet which architects spend most of their waking hours angsting over. A social media frenzy later and the RIBA quickly deleted its post, admitting: "The messaging did not properly reflect our commitment to climate action." It said anyone taking up the offer could select a hybrid or all-electric vehicle – or pick an electric bike. All of them come with a reverse gear, I suppose.
Set phasers to stun
Housing minister Chris Pincher used his 10-minute slot at this year's virtual Mipim conference to say precisely nothing, but there was one noteworthy moment. He took the opportunity to boldly go where no housing minister has gone before by launching into an unexpected Star Trek analogy. Musing on how the UK housing market has "defied gravity" during the pandemic, he said: "Chief officer Scott used to like to grumble to Captain Kirk that you can't change the laws of physics. Well, it seems to me that the Starship Enterprise might want to set a course for the UK property market to find that Mr Scott is wrong." Aye, aye, minister.
Jaw dropping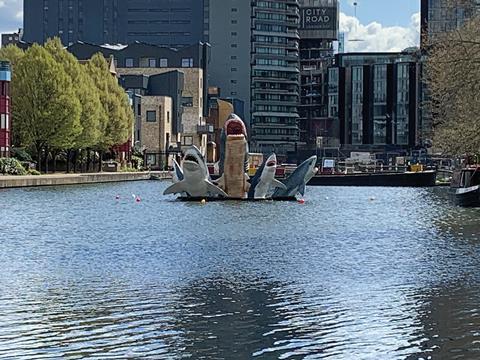 To paraphrase Jaws, you're gonna need a bigger planning permission. Five singing sharks – it says here – were removed from the Regent's Canal at Haggerston last November after falling foul of planning regs. The fibreglass art installation, designed by architect Jaimie Shorten, was deemed by Hackney council to have broken the rules. But there's a happy ending – they've just been relocated a few miles upriver to Islington's City Road Basin, giving passers-by something to chew over.
Send any juicy industry gossip to Mr Joseph Aloysius Hansom, who founded Building in 1843, at hansom@building.co.uk