It's a cautiously welcome and encouraging start
Construction got off to a promising start in 2012 according to the latest contract awards data from Barbour ABI. The CPA/Barbour ABI overall building (excluding infrastructure) index, including contract awards for projects worth up to £250m, climbed to 130 in January, up 9% on December and more than a third higher than a year ago.
The bullishness of these data is somewhat at odds with the more lacklustre consensus among forecasters. Mutually exclusive, however, these sources are not. Experts indicate that this activity is largely pre-emptive. Clients are keen to get contracts in place, with work ready to go at short notice when conditions are right. Of course not all of these projects are guaranteed to start on site. However, if the risks to economic stability subside in 2012, this data suggests that the industry could once again be poised to make a significant contribution to growth in the economy.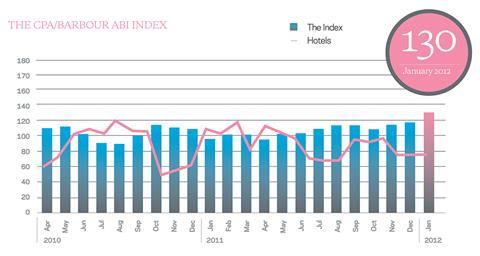 Kelly Forrest is a senior economist at the Construction Products Association