Public austerity squeezes pipeline of work
The building contract awards index (excluding infrastructure) fell in March for the second consecutive month to 117 - 5% lower than in February.
Public contracts were in much shorter supply, as the pre-empted cuts in capital budgets started to have a tangible impact on the pipeline of work.
Privately-financed sectors were generally stronger. The commercial offices index was particularly high and contract awards for factories made a bullish recovery after the sector's weakness in January and February.
Contract awards provide a good indicator of future activity, but projects logged at this stage are not guaranteed to start on site. Economic indicators have stabilised, but are subdued and risks remain high. Problems in the eurozone have subsided, but uncertainty in the area will continue to affect the macroeconomic environment over the next year.
Should uncertainty about the stability of economic growth increase, projects are likely to be postponed.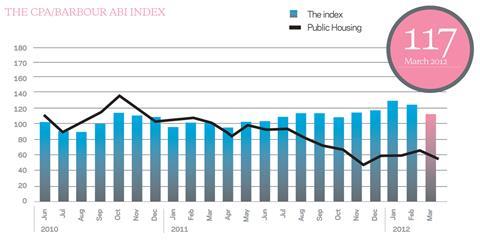 Public Housing Index
Budget cuts threaten affordable housing programme
The communities department's capital budget bore the brunt of the chancellor's axe during the 2010 spending review, and the CPA/Barbour ABI new public housing contract awards index has declined steadily since early 2011. In March it fell to 54, a 46% contraction on the same time last year and 17% lower than the previous month.
Despite the budget cuts, the housing minister has pledged to increase the delivery of affordable homes. To do this, social housing providers need to find alternative sources of finance.
Institutional investment (a consultation into the potential for a social housing real estate investment trust was announced in the 2012 Budget) and the wholesale bond market are likely to be among the options.
Amendments to the regulatory framework for social housing in England to reflect the Localism Bill paves the way for affordable housing providers to charge rents of up to 80% of market levels for dwellings delivered via the 2011-15 Affordable Homes Programme. It is expected that this will increase providers' ability to leverage finance on their existing assets.
Delivery has much further to fall before a recovery comes into sight.
Kelly Forrest is a senior economist at the Construction Products Association