The agility and speed of cost consultants is put to the test in Day 3 of the charity cycle ride from London to the BCO conference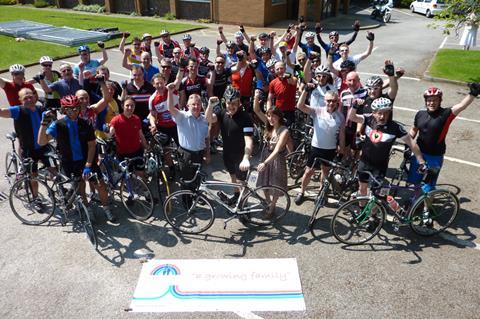 BCO Ride to Manchester Day 3
Buxton to Manchester (only) 32 miles (but) 1,635ft of climbing
Well, we have made it, bar one departure due to long suffering injury all the riders have made it safely from London to Manchester.
It seems a very long time since we left London now, but we have all dug in and found the strength to get to Manchester. Along the way we have really enjoyed each other's company and really clicked as a group. I'm so glad to have been part of such a great ride.
The Palace Hotel in Buxton made us all feel very welcome, the Victorian grandeur of the building provided a welcome change to the more modern chain hotel. Despite the long ride, all of us struggled to eat too much last night, perhaps it is the amount of liquid we had to take on board. The chat around the tables all agreed that it had been a special day and we all woke up to yet another sunny morning.
I must admit I felt tired this morning, I haven't been to Manchester for over twenty years since I was a student and in order to get me motivated for the ride I made a special Manchester based soundtrack to ease me through the morning. As a result I have had '24 Hour Party People' going through my head all day, perhaps it will act as a soundtrack for some of the Manchester delegates?
Like a scene from Withnail and I the 'London Types' are all struggling without decent cappuccino, rumours of a Costa Coffee or Starbucks soon had everyone running into town for a pre ride shot of caffeine. Honestly you would have thought we can go longer than a couple of days on Nescafe.
The riders set off at 10.00am on the dot, I was anxious to make sure that we made the Francis House hospice by 12.30. Coming out of Buxton we hit a climb straight away, tired legs meant that we didn't go for it to hard. A local on her sit up and beg bike speeding downhill made me think, well if she can do it, so can I.
Turning left out of Buxton we hit the climb and the races started. I'm pleased to report that in the cost consultant stakes, the younger legs of Davis Langdon easily beat EC Harris team and Mark Tillet proved too strong for Marco Panini, I mean Sean Hatcher in the GPE stakes. Nothing but good fun. The climb itself wasn't too hard, more Alpine in that it was long but not too steep. I was still last though! A quick photo opportunity at the Cat and Fiddle pub (second highest in Britain, sadly closed) and we got back on our bikes.
The descent was amazing, I really enjoyed it, lead out by Ralph from the Wheels in Wheels organiser, 60 years of age, doesn't look a day over 40 had us descending like mad men at 42.5 mph.
Hitting the outskirts of Macclesfield we had a very unwelcome and brief climb (another Cat 4 climb - see how flippant I am about them now!) back into the Peaks followed by another descent into Handbridge and the Surrey Hills of Manchester, Wilmslow and Alderley Edge.
By this time I was anxious to get to the Hospice on time as I didn't want to keep them waiting. The excellent Wheels in Wheels team got us to the hospice as a bunch on the dot of 12.30. It was a very special visit, they made us feel most welcome laying on drinks, bananas, biscuits and tea and coffee. A quick interview with the Manchester Evening News and we were back on the bikes into the City. I think James Wates idea of choosing Francis House as a charity has been inspired. Delegates at the conference will hear more about their work tomorrow night, but for those of us with children, you cannot imagine a worse thing that watching your child die in front of your eyes. To make this more bearable has been the aim of the charity for many years. It has been a privilege to help them a little. Please excuse the begging, but you can too by following the link, the fact that we have met our target doesn't matter, please help if you can.
http://www.justgiving.com/BCOCycletoManchester2012.
After that kind hospitality, it was but a short hop into Manchester, it is great to be back here, even if parts of the City are unrecognisable. I guess that is what we are here to find out - the Pheonix Effect. A short lap around Albert Square for the photo opp and there we were at the finish.
I have been so proud of all the riders, it has been a great event and one to remember. I don't know if cycling is the new golf, but I do know that it is definitely more fun!
Now into conference mode. More to come later.