Aecom's multidisciplinary team helped build Glasgow's new covid-19 hospital in just three weeks, project director Graeme Watson explains how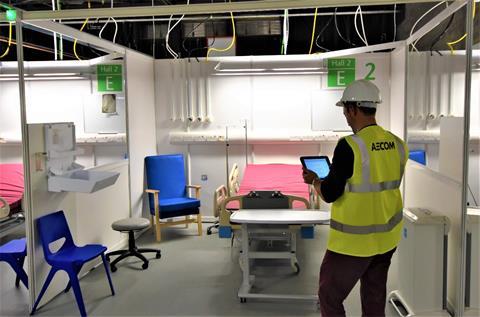 It was a project born out of the worst of circumstances, but the delivery of Glasgow's new covid-19 hospital NHS Louisa Jordan has demonstrated the construction industry at its best.
Aecom's multi-disciplinary work included project management, cost management, CDM principal designer, electrical engineering and IT design, civil and structural engineering, mechanical design review, a supervisor team of building surveyors, and health and safety advice.
The facility was delivered in just three weeks and the team pulled together, worked extremely long hours, undertook a major co-ordination and technical effort and in short, achieved minor miracles. These are the team's reflections on what we can learn for future projects.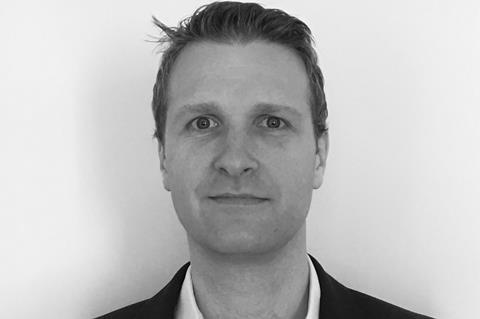 1. Collaboration, engagement and a focus on first principles
These unique circumstances produced collaboration like we have never seen, and realistically will not be able to reproduce – thankfully, as most projects are not a case of life or death. The absence of commercial hinderances and a motivation for success drove forward all aspects of the project, from speed of decision-making to willingness to take on risk, and rapid implementation of health and safety measures. For example, we implemented new Construction Leadership Council safety guidance and covid-19 protocols for several hundred operatives by day two.
Right from the start, everyone was engaged: designers, health and safety advisers, NEC3 supervisers, authorising engineers, main contractors, FM contractors, subcontractors and sub subs, and importantly, clinicians – often in the same office. It meant we could move at the pace necessary to meet the delivery date and we all better understood each other's perspectives.
Collaboration, engagement and a focus on first principles should be given more emphasis on all construction projects. Our concept of what good collaboration looks like has changed dramatically and we will raise the bar on future projects.
From day one design transparency and digital information exchange was key
2. Design transparency and quality control
From day one design transparency and digital information exchange was key. The client, technical leads, authorising engineers and NEC3 supervisers met daily, while maintaining social distancing. Compliance work was discussed, documented, assessed and everyone from the contractors to the clinicians knew how these decisions affected them.
This project saw work reviewed constantly. Sensibly building in more milestone reviews, and having someone responsible for that review work early on, is now a bit of a no-brainer. Increased quality assurance may have more of an upfront cost, but it could save significant time and money down the line.
Repeatable design also sped up procurement. We assessed what we needed the most of and procured those products in the first couple of days
3. Repeatable design and rapid procurement
Speed of delivery was the design priority for this project. Repeatable design and standardisation for elements such as patient bed bays and ancillary accommodation such as clean utility rooms brought huge benefits from day one. It freed up time to enable us to concentrate on more complicated technical work and we were able to drive through the design phases quicker. It also meant we got a better level of cost certainty early on.
In the future, wider use of repeatable design will enable more modular design, which will have immediate benefits in terms of social distancing on construction sites. If we design with more repeatable elements, it can help with fabrication, sign-off and project quality.
Repeatable design also sped up procurement. We assessed what we needed the most of and procured those products in the first couple of days. Having immediate access to clinicians meant they were able to see and touch the bedhead luminaires and make decisions there and then, so we could order 1,200 luminaires within minutes.
Traditionally healthcare projects have initially been architecturally led, but incorporation of repeatable design, modular and off-site from the start brings quality, speed of delivery and safety benefits.
4. Using digital tools to record defects
We are proud to say this project was delivered with zero defects and one of the reasons we achieved this was by really embedding dynamic digital tools such as BIM360 to record/monitor defects in real time.
We used a BIM Field iPad-based system for raising and closing out defects and snags and it worked brilliantly. Any defects were recorded using the app, the contractor got a notification, was able to rectify it and then we could go back for inspection and sign off. It saved hours of time, particularly in the run-up to handing over different halls and where there were several supervisers covering fabric, mechanical and electrical aspects. It helped manage and maintain quality throughout and was dynamic and transparent, giving assurance about how contractors and subcontractors were maintaining their own quality.
5. Building for greater flexibility and repurposing
How we design buildings in the future will change immensely. We will be designing more hybrid spaces for greater flexibility and repurposing. We think the healthcare sector, and other sectors, will now have an eye on future emergencies and adaptability when commissioning and designing facilities, especially with enhanced emergency resilience in the event of pandemics.
Graeme Watson, Aecom project director
The Aecom team of around 40 was led by:
Graeme Watson - Project management
Euan McKie – Health & safety
Neil Granger and Thomas Rodger – Electrical and other MEP design
Robert Rankin – Cost management
Stephen Pope – Supervisor
Trevor Stone – Co-ordinator of services inputs
David Galloway – IT
Alistair McPhail and Ciaran Camplisson – Civil and structural
Tell us about the projects that make you proud to help
Building has launched its Proud to Help campaign to highlight all the work construction is doing to support the country's public services, critical works and supply chains, as well as setting it back on the road to recovery. Contact us at newsdesk@building.co.uk with the subject line 'Proud to help' or via LinkedIn or Twitter with your #ProudtoHelp stories