We operate in a fragmented industry and we must raise our game. Clear reporting by companies could serve to transparently build up trust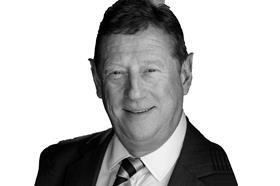 For most businesses these days, an ever-increasing burden of reporting requirements is a fact of life. Recently we saw theclatest cycle of payment-performance figures submitted to government under the "duty to report" requirement.
This comes on top of annual gender pay gap reporting, another recently introduced requirement for which construction companies have come under significant scrutiny.
The prompt for much of the government-mandated reporting is the failure of the business world to establish and maintain trust
What's more, in last year's Companies (Miscellaneous Reporting) Regulations, the government introduced a host of new reporting requirements, and these additional disclosures will start in early 2020.
One of them is for certain companies (those that are already required to produce a strategic report) to include a statement in their annual reports on how their directors meet the requirements of Section 172 of the Companies Act 2006, which says that company directors need to "promote the success of the company for the benefit of its members as a whole", including the workforce, suppliers, customers, and the environment.
Also part of the new regulations is that all quoted companies with more than 250 UK employees will be required to publish the ratio of their chief executive's total remuneration to the 25th, 50th and 75th percentiles of their employees' full-time equivalent pay.
So taken together, we've seen some substantial new requirements, and the risk is to view them all purely as an administrative burden. However, not all reporting requirements are the same.
Last year's legislation also includes a provision for "large private companies" to report on their corporate governance arrangements. The legislation doesn't say explicitly how they must do this, but if a company has 2,000 employees or a £2bn balance sheet and £200m in turnover, then, beginning with the 2019 financial year, it must include a section in its annual director's report that explains how it applies a code for corporate governance.
Many readers of Building will immediately recognise that their own companies will be caught by this legislation. Family or other types of private ownership is still very common in construction – including the Wates Group, which I chair.
However, owing to the way the legislation is written, "private" companies also include wholly-owned subsidiaries of listed companies (including foreign-listed ones). This nearly triples the number of companies caught by the reporting requirement and means that many homebuilders, contractors, construction product suppliers, and consultants in the construction sector will be having to report on their corporate governance in their 2019 annual reports.
This catchment was actually not a surprise, and it was one of the reasons why – when I was working with a coalition group in developing a set of corporate governance principles that companies could use in complying with the legislation – we came up with a very broad and flexible tool.
That tool, which has become known as the Wates Corporate Governance Principles for Large Private Companies, is not strictly a "code"; it is not a set of boxes to tick. It is a description of six principles essential for good management, under these headings:
Purpose and leadership
Board composition
Director responsibilities
Opportunity and risk
Remuneration
Stakeholder relationships and engagement
By applying those principles (and drawing from guidance in the document published on the website of the Financial Reporting Council), companies can see where they are doing well and where they need to improve.
It's more than a numerical reporting requirement – and therefore very different from most of the other reporting requirements I described earlier – it's a genuine opportunity to speak directly to stakeholders and explain transparently and in one's own words how the company is managed.
The Wates Principles are particularly relevant to us in the construction sector. We operate in a fragmented industry in which a lot of inefficiencies arise because of antagonistic relationships. Better collaboration is essential.
Fortunately, there is a lot of good work being done to fix this – bringing clients, contractors and the supply chain together around the same table to come up with solutions that promote competition and benefit everybody – helping to meet society's considerable needs for housing and infrastructure. The Wates Principles give companies a structure by which to explain the good work they are doing to work more closely with stakeholders.
In a world where public perception of the construction sector is being shaped by high-profile stories – whether company failures such as Carillion or projects that run over deadline and over budget – clear reporting can actually serve to counter negative perceptions and transparently build trust.
Keep in mind that the prompt for much of the government-mandated reporting is the failure of the business world to establish and maintain trust. There's a tendency for government to have a knee-jerk reaction and respond with regulation – which may include yet more intrusive reporting requirements that add more red tape, increase costs and build restrictions. So it's incumbent upon us to prevent that from happening by raising our game collectively.
James Wates is chairman of the Wates Group, the BRE Trust and the CBI Construction Council