Something fishy is going on in Gibraltar and an otter takes against HS2, but birds and ready mix concrete find themselves oddly at ease with each other - plus, the future has hoverbuses but no tea breaks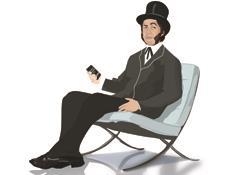 Rock and a hard place
Tensions have died down a little at the Rock of Gibraltar, the southern tip of the Iberian peninsula incongruously owned by Britain. Britain and Spain spent months bickering over the territory last year, with Spain reacting angrily with heightened border controls after the Gibraltan government built an artificial reef off the coast that the Spanish felt would block its fishing vessels. Now it emerges the government of Gibraltar was engaged in another battle with Spain last year, in the form of a £20m-plus legal claim brought by Spanish contractor OHL over termination of its contract to extend Gibraltar's airport, heard in London's High Court. The judge ruled Gibraltar was entitled to terminate OHL's contract in a ruling last month.
Breaking with tradition
You might have thought nothing could come between a builder and his or her tea break. But mechanical operatives in the building engineering services sector have voluntarily agreed to forgo their right to an afternoon tea break as part of a new pay deal. The deal - struck between the Building & Engineering Services Association (B&ES) and union Unite - will also see their morning break restricted to 15 minutes. In return their working week is reduced by 30 minutes. The B&ES claims the reforms will "significantly enhance productive time", but speaking for myself, without a cup of tea I'm no use to anyone.
The pecking order
Bird-mad aggregates firm Cemex – which is working with the RSPB to survey bird habitats at its quarries throughout the UK – has got in touch with an update on birds of prey sightings. A year after being toppled from their top perch by buzzards, kestrels have regained their place as the most commonly seen bird of prey, having been seen at an impressive 74% of Cemex's sites. There was clear blue sky between them and the buzzards (68%), the barn owl (30%) and the marsh harrier (11%). Birds are attracted to quarries because of their "rocky ledges, open spaces and areas of wild grasses", Cemex says, instead of the clouds of dust and clatter of drills and machinery.
Capital ideas
As a custodian of this esteemed journal for 171 years, I am pleased to hear New London Architecture and London & Quadrant have concluded their competition inviting youth groups across London to imagine how the city will work in 50 years' time, with joint winners Oasis Adventure Playground and Triangle Adventure Playground collecting their prize at London's Building Centre. Suggestions included hoverbuses, treehouses and a glut of ferris wheels. I doff my hat to the organisers and the winners.
HS2's wild card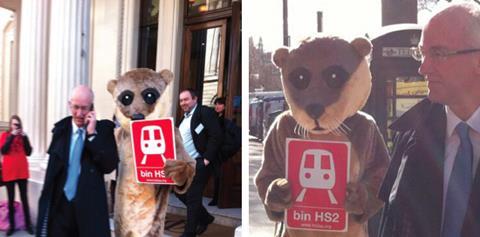 The collection of campaign groups opposing the HS2 rail link - HS2 Action Alliance - has helpfully got in touch with our newsdesk to provide a selection of "alternative stock photos" to illustrate our ongoing news coverage of the high-speed trainline. They include several photos of an "otter" photobombing civil servants in Whitehall, including HS2 chairman David Higgins (see left). Presumably the otter has taken to this as it fears its habitat is endangered by HS2's construction. We happily reproduce the otter photos here, but I'm not sure it's quite what we're after for the news pages.