This week, we find people with an incredible gift for predicting the past, architects get an offer they can't refuse, Renzo Piano finds boat building isn't plain sailing, and German existentialism gets a new lease of life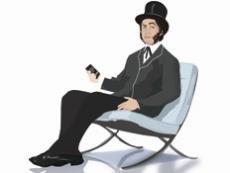 Patrik, bitte, halt deinen Mund
I know there's been a bit of a brouhaha over an email Patrik Schumacher, the face of Zaha Hadid Architects, sent to staff last November. It was a response to the media storm which he created when, among other things, he suggested social housing be scrapped, Hyde Park built on and all public space privatised. In his email, which has been leaked, Schumacher promises to learn lessons but I fear staff may have been left bewildered by his final comments. He says: "Politics and professional service don't mix. I have written about this at length. How these aspects of a meaningful and ambitious life might co-exist peacefully, without compromising and subverting each other remains to be carefully defined and (most cautiously!!!) probed in due time (not now !!!)." Perhaps the lesson he should learn is to stop talking gobbledygook and concentrate on running the business instead.
Loved by all
Some architects might be interested to know that the Arb, the statutory body set up for the registration of architects in the UK, has now more than 38,000 members. Basically, to be a practising architect in the UK you have to be Arb registered – otherwise you can't. So some might think Arb chief Karen Holmes is pushing it when she says 97% of those paying their annual retention fee on time "clearly reflects the value that architects place on their regulated status". That and the fact that it's the law.
Sticking the boat in
In a new book (see below) Renzo Piano, who hails from the port city of Genoa, talks about his passion for sailing. He's designed six boats in all and goes into some detail about the very first boat he came up with, a 7.2m long vessel made out of marine plywood. He adds: "When I'd finished her she wouldn't fit through the door (I had to demolish it)." It's not clear whether he meant the boat or door but typical architect, I say, getting his sizes wrong.
Profit of doom
Cenkos analyst Kevin Cammack thinks this week's news that David Ritchie, the chief executive of Bovis, is leaving was not a huge surprise, given its profit warning over the Christmas period. "Okay," begins his daily briefing note, "hands up who saw this one coming? Okay, wow that's a lot of hands." The writing, I conclude from this, was on the wall, then. The question is whether Ritchie read the writing on the wall before the board pointed to it.
New right hand man
And now for something puerile. One of my hacks has been sent a release from Savills announcing the appointment of a new director for its fund management arm in Singapore. His name? Volker Wanka. I'll leave it there, save to say Mr Wanka is in good company with that surname. Did you know that there is a Peruvian football club called Deportivo Wanka? I didn't.
After they're gone
With Laing O'Rourke chairman Ray O'Rourke pledging to fix things after posting an overall £246m loss, it's good to know some of our readers have faith in the promise. "Knowing Mr O'Rourke and Ms Anna Stewart, if they say they will turn it around in 2017, they will," I noticed one had written on our website after we had reported that the UK construction arm racked up a £141m loss. It seems churlish to point out that Anna Stewart, the former chief executive, left the role 13 months ago.
Shard times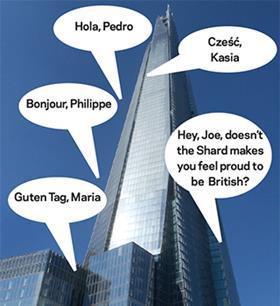 Here's a sobering statistic that should worry anyone concerned about the impact of Brexit on the construction industry. In his new, retrospective book, detailing 50 projects carried out by Renzo Piano over the last half a century, the Italian architect reveals that people from 60 different countries worked on his most famous UK project, the Shard.
I think a copy should be sent to Theresa May.
Send any juicy industry gossip to hansom@ubm.com