Boris prepares to invade France, Sir Michael Lyons suffers from sleep deprivation and wet underwear, Kate Barker blames herself, and the City of Westminster is in the money. Plus, HS2 is watching the detectives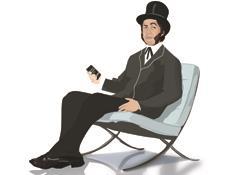 Stooping to conquer
Ambition is usually a laudable trait but Boris Johnson, speaking at a London First conference on infrastructure last week, had some very fanciful goals for the capital to reach by 2050. Some of which - including towers bigger than the Shard - had been heard before, but others including a "Tube line to the suburb of Birmingham" were new, at least to my hacks. The one that got the most applause was his plan for the city's housing expansion. "By 2050 we will have a new road tunnel across the channel to allow us to relieve the overcrowding of the South-east and re-colonise the relatively sparsely inhabited area of northern France," he said. Now we just have to find some foreign investors to pay for this "re-colonisation".
Uncomfortable underwear
Another argument in favour of infrastructure last week came from the unlikely quarter of Sir Michael Lyons, leader of the Labour-party review into housing policy. Speaking at the Home Builders Federation's annual policy conference in London first thing on a Tuesday morning, Lyons apologised in advance for any grumpiness he might exhibit. The reason? He said he had been unable to make his return journey to Birmingham the previous night because of problems on the train line between Birmingham and Euston, and had ended up kipping on a friend's sofa and getting very little sleep. His unhappiness was exacerbated, he said, by the fact the socks he was wearing - which he had dutifully hand-washed the night before - were still wet. Thankfully he didn't share whether the same was true of his undies.
Regrets? I've had a few …
Speaking at the same HBF event, the former Bank of England monetary policy committee member Kate Barker began by assuring the assembled housebuilders that her socks, and indeed all her clothes, were entirely dry. The much-respected economist was, you'll remember, an adviser to the last Labour government, and was there to discuss the legacy of her influential 2004 Barker report into housing, which called for more than 200,000 private sector homes to be built each year, and set the agenda for housing policy ever since. But she confessed to a sense of guilt over a recession which saw housing output collapse by more than 50% and tens of thousands laid off. "I fear I may have left you in a bit of trouble," she admitted. "Not only did I encourage you to invest in land before the crisis, which you all subsequently had to write down dramatically, but while on the Monetary Policy Committee I also totally failed to spot the banking crisis coming." If only politicians were so open about their failures.
An embarrassment of riches
The London high-end resi market gets a bad press for, variously, inflating house prices, attracting oligarchs and sheikhs who trade them as investment assets and don't actually move in, and pushing ordinary Londoners out of the city centre. But delegates to New London Architecture's event on Westminster last week were offered a silver lining. Rob Harris of property analysts Ramidus Consulting told the conference sales of prime properties in Westminster helped the government rake in £350m on stamp duty in 2012-13 - more than the biggest 29 UK boroughs outside London combined. If, as the City of Westminster has itself argued, this money was devolved to councils and ringfenced for affordable housing, it could make a huge difference.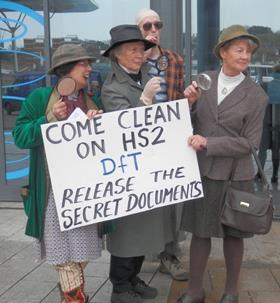 Elementary …
I suspect the vast majority of my readers will have little patience for protesters against HS2, particularly as the project means some £50bn of fees down the line. But you have to hand it to these protesters outside a meeting in Hastings on Monday attended by transport secretary Patrick McLoughlin. The protesters dressed as famous detectives including Sherlock Holmes, Miss Marple, Inspector Poirot and Kojak to highlight their efforts to unearth a government-suppressed 2011 Cabinet Office report that raised "major concerns" about the "risky" north-south line. The campaigners said their "crack detectives" will continue in their work.
Send any juicy industry gossip to hansom@ubm.com