Film crews horse around at Heathrow, there are Luddites at the palace, and at least one person is pleased HS2 is coming through Birmingham. Plus, analyst in Alpine holiday shock and a TV titan returns to White City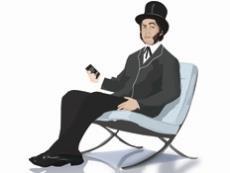 Horses on a plane?
My hack hiked down to Heathrow the other week only to stay very much on terra firma. He was visiting to learn more about the airport's £17.6bn expansion plans and got a behind-the-scenes tour of the airport thrown in. With Heathrow's PR behind the wheel – you need a special licence to drive "airside" (the bit where the planes are) – my reporter saw a variety of jumbo jets up close – rather like Harrison Ford – and enjoyed an impressive view of the sprawling airport from the top of its Richard Rogers-designed air traffic control tower. He tells me the most difficult PR assignments at Heathrow are the numerous requests from TV production companies to use the site, with requests to film horses there surprisingly popular.
The hills are alive
I missed the daily briefing notes from Cenkos analyst Kevin Cammack last week. I wondered what on earth could have happened to him. Perhaps a new career at his beloved West Ham down at Upton Park, er, I mean the London Stadium, had come calling? But I needn't have worried. It was half term in his neck of the woods and he was rather pleased, it being a week later than much of the country. "It certainly made my flights to Austria a damn sight cheaper," he says.
The Queen and I(Pad?)
Her Majesty is reported to be tech-savvy and have her own iPad but the royal household still insisted on consultants submitting pre-qualification questionnaires in good old-fashioned hard copy. The Queen's Buckingham Palace home is to begin a £369m revamp from next month and consultants hoping to land a role were told to get to the palace in order to hand in submissions – as the pomp and pageantry of the Changing of the Guard meant they'd be stuck outside with the tourists.
All in the timing
I'm sure one or two wags could make a joke out of news that Alinea gave each of its partners a branded watch at Christmas. Word reaches me that they have caused quite a stir at meetings with some developers suggesting that they might follow suit. I guess there's now no excuse for the consultant's staff to be late for anything – unless the watches came out of a Christmas cracker.
Trainspotting
Ping! I've just received a press release from a firm that specialises in advising businesses that are about to see their buildings knocked down by things like, for example, HS2. Birmingham property firm Gateley Hamer – which describes itself as "a specialist property consultancy providing expert advice relating to easements and wayleaves for utilities infrastructure, and compulsory purchase and compensation" (snappy, it ain't) – is warning there will be an almighty scramble for property in the city with all those homeless firms displaced by HS2 looking for new premises. The company's boss Jonathan Stott says it is advising a number of those businesses affected on what to do next. He says the length of time to get to royal assent on the matter is probably why more haven't made a beeline for his services up to this point and adds: "Some probably thought this day would never come!" Including, I suspect, Stott himself.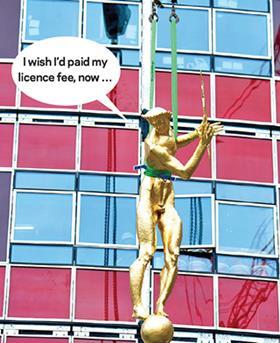 Back home to Auntie
Mace has safely returned a bronze figure of the titan Helios to the Television Centre "doughnut" after the statue's repair and renovation. The firm is construction manager on the Stanhope scheme in west London, which will see the former headquarters of BBC Television at White City being turned into 950 homes, as well as office space, a hotel, restaurants and cafes. The statue was designed by British sculptor TB Huxley-Jones and erected in 1960 to mark the opening of Television Centre, which was bought by Stanhope five years ago. The BBC has not completely left the site with BBC Worldwide moving back two years ago and the corporation returning to three studios this September.
Send any juicy industry gossip to hansom@ubm.com