There are lessons to be learnt as one firm backs publicly disgraced figures, a despot is credited with building monstrosities and a property tycoon may regret reaching for the shaving foam
Broken Britannia
"All publicity is good publicity" the saying goes, but try telling that to Cheltenham-based Britannia Construction. The specialist contractor and civil engineer found itself starring in the Guardian's satirical column Lost in Showbiz before Christmas thanks to its dubious support for former Sky Sports presenters Richard Keys and Andy Gray. Keys and Gray were sacked from Sky at the beginning of last year for sexism but have now set up an after dinner speaking business under the delightful name "Smash it" - a reference to one of Keys' most off-colour remarks. A promotional leaflet for the venture quotes Britannia Construction's admiration thus: "There is just no one better in the business, just like the old days, quality banter with football expertise." Britannia's listed parent company Renew Holdings will be pleased!
Sardines n' chips
Pringle Brandon seemed chuffed after its decision to pull forward its annual Christmas champagne and chips party by a week was rewarded by a bumper attendance. The firm's offices in Old Street were packed to the rafters as the entire London fit-out industry seemed to have gathered for the party marking its 25th anniversary year, and the launch of its new new-build arm Pringle Brandon Drew. The only possible concern was that the party was almost too popular for the building to take. As former RIBA president and practice co-founder Jack Pringle joked in his speech: "I'd appreciate it if no one shouts 'fire' at any point this evening."
Vocally challenged
Urban Splash founder Tom Bloxham appeared in a celebrity version of University Challenge before Christmas and saw his team of Manchester University alumni achieve a nail-biting victory over rival York University by 125 points to 120. Hansom offers his congratulations despite the fact that Bloxham - who was competing alongside professional poker player Liv Boeree, art critic Waldemir Januszczak and media commentator Steve Hewlett - was virtually mute throughout the half an hour programme.
A close shave
The tabloid press predicted it might get messy when property tycoon Nick Candy made his foray into the world of showbiz, as his girlfriend and former soap star Holly Valance competed in the BBC's Strictly Come Dancing. But their prediction came literally true as a "last supper" for contestants before the final of the contest ended in a shaving foam fight between Candy and dancer James Jordan. Shaving foam aside, Candy appears to have had a good season - Valance may not have taken the Strictly crown, but his relationship with her has survived, confounding the expectations of many gossip columns that Valance would get swept off her feet by her "heartthrob" professional dance partner Artem Chigvintsev.
Il-conceived buildings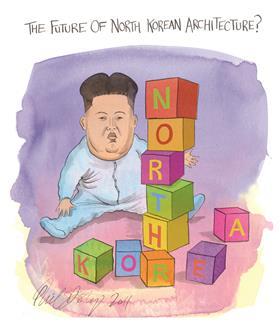 On hearing of the death of North Korea's beloved leader Kim Jong-Il, was I alone in wondering what this might mean for the future of the built environment in the despotic communist state? Jong-Il, who counted architecture as one of his many careers, is credited with commissioning some seriously dodgy monstrosities, including the 330m-tall pyramid-shaped Ryugyong Hotel in the capital Pyongyang, once dubbed by Esquire magazine "the worst building in the history of mankind". Jong-Il is also credited as the official architect of the equally aesthetically dubious 170m-tall Tower of the Juche Idea in the capital. Perhaps 2012 will bring news of his successor Kim Jong-Un's architectural sensibilities.