This week, Building comes clean about its involvement in the 2012 Olympics and Arnie throws his weight behind the government's Energy Efficiency Policy. Plus, there seems to be a lot of cycling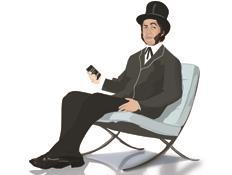 We don't actually build things
Building likes to think it's close to the industry, but we were surprised to be contacted by the British Olympic Association last week informing us that as a supplier to the London 2012 Olympic Games we could now apply for a licence to publicise our involvement. Although we were at the forefront of the campaign to overturn the No Marketing Rights Protocol, last time we checked we weren't actually pouring concrete, erecting steel, or wiring electrics during the £7bn construction effort.
He's not really a relentless cyborg killer
You might want to think twice before criticising the government's Energy Efficiency Strategy - it turns out former "governator" and all-round-hard-man Arnold Schwarzenegger is a fan. In a video message to stakeholders attending workshops on the government Energy Efficiency Strategy Arnie said he was proud of the UK government for pursuing energy efficiency "relentlessly". Sporting an eye-catching skull-shaped ring, he apologised for being unable to attend because he was at a meeting in Vienna and "couldn't be in two places at once". "They don't clone people yet. I'm not a machine. I'm not really the Terminator," he quipped, hilariously.
Strangers on a plane
Last week there was a brace of book launches as architects Jestico + Whiles and Ryder rolled out retrospectives of their projects. Among the reminiscences, Jestico + Whiles director John Whiles recalled a plane trip during which he met a gentleman from the US defence department specialising in nanotechnology. Soon the passenger was bemoaning US' progress in this field and praising the Mountbatten lab in Southampton for its design and forward-thinking approach. When Whiles revealed it was his firm that designed it, he was promptly offered a drink, though his pleasure in drinking it was strictly "for the team", he says.
On your bikes
In more cycling news (see below), the industry's hardy cycling enthusiasts are once more working the pedals in training for the annual Cycle to Cannes charity ride ahead of the Mipim property conference in the south of France. More than 40 riders braved the bitter weather last week for the first official training ride round Regent's Park in London ahead of the 1,500km ride in March, which aims to raise £200,000 for charities. I'd also like to doff my hat to Ella Brocklebank of quantity surveyor Woodley Coles, who has already begun a gruelling 13-event challenge - including over 270 miles of cycling and running - to raise money for Pilgrims Hospice in Kent. See www.cycle2cannes.org and www.justgiving.com/ellas-magic-thirteen for more info.
Off your rockers
Architects have been letting their imaginations run wild so far this year, whether it be Foster + Partners' designs for a moon base made of lunar soil, MVRDV's concept for "porous" (read: holey) flood-proof skyscrapers, or Dutch practice Universe Architecture's plans for the world's first 3D printed building. We're not sure if these concepts are a reflection of a lack of real work out there but they're keeping us entertained, so do keep them coming.
On the buses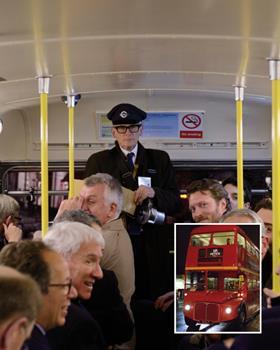 Preparations for the delightfully potty Portland to Portland charity cycle ride continue in earnest. To recap: New London Architecture chair Peter Murray (pictured dressed as a conductor) has thrown down the gauntlet to property-types to cycle from Portland, Oregan to RIBA's Portland Place HQ in London between April and July this year.
The intrepid team will raise money for charities and will research cycling provision in 12 cities along the 4,000-mile route. As part of the fundraising effort, the team roped in Sir Peter Hendy, commissioner of Transport for London, to give property bigwigs a special tour of London in his restored Routemaster bus last month.
See www.portlandtoportland.org for more info.
Send any juicy industry gossip to hansom@ubm.com