The Considerate Constructors Scheme finally puts women centre site, a great deal of fuss about Apple's office move, an invitation to design buildings that few people will see, and a team raises cash for charity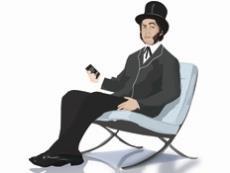 Honor-bound
A mere 13 years after it introduced male mascot site manager Ivor Goodsite to improve the industry's image, the Considerate Constructors Scheme (CCS) has launched a female version. Honor Goodsite is a structural engineer and has been launched at a time when just 6% of parents surveyed by the Institution of Engineering and Technology said an engineering career would be attractive to their daughters. CCS chief executive Edward Hardy says: "Honor will encourage schoolchildren to understand the wide range of careers available, while helping to change perceptions of the sector as male-orientated." It would have been nice to see Honor back in 2003 - she could have been running a business by now – but better late than never, I suppose.
Niche market
Here's a job I can't see too many flocking to bid for. The RIBA's competitions office was behind an ideas competition to redesign buildings on the world's most remote inhabited island. To get to Tristan da Cunha, which is in the South Atlantic 1,750 miles west of Cape Town, takes up to 10 days on a boat and the island is only accessible for around 60 days a year. I was shocked to discover that close to 300 people live in a place like this which is known, for a reason I can't fathom, as the Edinburgh of the Seven Seas. Tristan da Cunha is made up of four islands, in fact. Rather prophetically, one is called Inaccessible.
Apple's power play
This being Apple, the firm isn't moving into new offices – it's moving into an Apple campus. Apple's new London campus, in fact. The iPhone creator is bringing all of its 1,400 London employees into one new office – I simply cannot bring myself to type campus anymore – at the redeveloped Battersea Power Station. It's taking around 500,000ft2 in the power station's central Boiler House, about 40% of total office space in the whole development. No wonder London mayor Sadiq Khan was wheeled out to send his best for what is, essentially, an office move.
Expect the unexpected
Analysts aren't holding out much hope for Jeremy Corbyn to win the next general election. They join large parts of the country in thinking that too - as one wag put it to me the other week, the only thing that stands between Corbyn and victory is the voters. Still, analysts wouldn't be doing their job if they didn't factor in a Corbyn win, not that Cenkos' Kevin Cammack is expecting it to happen. In a daily briefing note sent last week, he begins: "In the astonishing event that he leads the party to an election victory …"
Spanish guitar
To a hipster bar in Madrid and a Gleeds event to celebrate 25 years working in the Spanish capital - and going from strength to strength, I hear. Two of my hacks, who were in the capital to report on Spain's recovery and the locals' views on Brexit (look out for the report in the coming weeks) were also in attendance. The British Ambassador to Spain, Simon Marley, had a spring in his step following the signing of contracts on Hinkley that day, telling my reporter the nuclear deal was evidence Brexit could work and "no country has the same appetite for foreign investment". Entertainment was in the form of a local band, with a cameo appearance by Gleeds' Western Europe director David Johnson, who it turns out is a dab hand on the guitar.

A revelation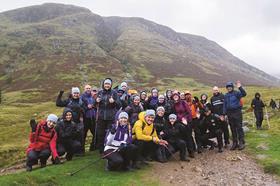 Mace chief executive Mark Reynolds is promising to reveal what he wanted to be when he was growing up - provided he hits the magic £2,000 mark on his Just Giving page. He is raising money for youth homeless charity LandAid. Promising is now a bit past tense, in fact. I checked and he's passed that figure. Reynolds will be revealing footage acting out what he wanted to be next week. I hope when he was growing up he didn't want to be a company boss because that just seems a little too focused. Meanwhile, more than £30,000 was raised by the Mace Foundation last month with staff taking part in the London to Brighton bike ride and trekking Ben Nevis (pictured).
Send any juicy industry gossip to hansom@ubm.com