Control freakery at the DfE, competition on and off the field for two leading architects, a Stirling Prize clash and construction UK gives two charities a run for their money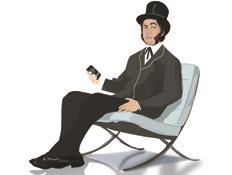 Splash, bang, wallop
No party worth its salt is complete without some sort of bust-up and the Stirling Prize ceremony was no exception. Before announcing the winner of the Manser Medal for one-off house design last week, architect Michael Manser launched into an attack on housebuilders saying they had done more harm to the environment and people's comfort of living than anyone else in recent years. This didn't go down too well with Tom Bloxham, chair of developer Urban Splash, who took to the stage right after Manser to announce the winner of RIBA Client of the Year. He said he'd like to tell Manser "what most developers would like to do with a room full of architects in Manchester". I suspect he didn't mean they'd like to buy them all a drink.
In our beginning is our end
Rarely are industry events as bacchanalian as the recent party organised by consultant WYG. To be fair, the event - held earlier this month - was a wine-tasting and was held at the aptly-named Vivat Bacchus in London's Farringdon, but the sheer volume of champagne consumed was something to behold. Having sampled nearly five glasses of a variety of bubblies, our hack turned to leave - only for a member of staff to announce that the wine tasting "would now begin". WYG clearly know how organise a piss-up in a wine bar.
Schools discipline
A contractor, who shall remain nameless, was recently given a severe rap over the knuckles by education secretary Michael Gove's officials for daring to approach one of the schools that are part of the government's £2bn PFI schools programme to market its services. The firm was told in no uncertain terms that if it approached another school it would be blacklisted by Gove's team and would have no chance of winning school building work. "Such is the Soviet nature of the operation they're running," one wag observed.
Settling scores
It's good to see that the competition between leading lights of British architecture Grimshaw and Foster + Partners doesn't stop at the end of the working day. Indeed, I'm reliably informed it was alive and well during a five-a-side football match last week where Foster's well-drilled side trounced a plucky Grimshaw team 12-5 - the first time the practice has ever beaten Grimshaw, apparently. No doubt it'll also be a prized scalp for Lord Foster's players, given the fact they lost out to Grimshaw in a contest to masterplan a huge redevelopment of Los Angeles Union Station back in June.
To some a job, to others a calling
Writer and star of BBC sitcom Rev, Tom Hollander, has become a target for wags on construction sites, he has revealed. In an interview, Hollander admitted that the success of the show, which centres on the struggles of hapless London vicar Adam Smallbone, has meant he is now recognised by vocal builders. "Weirdly, in the first episode, we had a joke in which the scaffolders would shout, 'Oi, it's the Vicar of Dibley' to Adam Smallbone until he told them to eff off," Hollander told the Times. "And in a horrible ironic twist, [real builders] now shout, 'Oi, Rev' at me."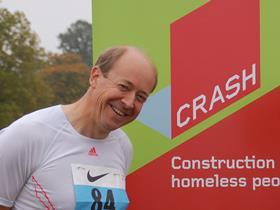 Born to run
Hansom would like to give a big thumbs-up this week to those in the industry who took part in the Windsor half marathon for charity. The 13-mile run - for homelessness charity CRASH and the Prince Philip Trust - took place earlier this month. More than 4,000 runners participated, many from construction firms, including Balfour Beatty, Aecom, Arup, Osborne and MTech. The runners included Balfour chief executive Ian Tyler (pictured), who completed the race in 1hr 48mins. Also taking part was CRASH trustee and British Gypsum managing director Mike Chaldecott, who ran even faster - finishing in 1hr 32 minutes.