A brief excursion to the moon this week to sniff out energy supply possibilities; back on earth, we limber up for a bit of festive fisticuffs and are aghast at the cost of postage. Meanwhile, Mace takes the biscuit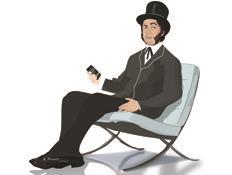 One for the lunatics
With Japan ruling out nuclear power from its future energy mix post-Fukushima, the country has been looking far and wide for answers to its energy problems. Indeed, construction firm Shimizu Corporation has come up with a plan to lay a belt of solar panels 250 miles wide and 6,800 miles long around the equator of the moon. The "luna ring", as the plan has been dubbed, would beam back 13,000 terawatts of power to earth a year via laser or microwave transmission - more than three times the amount of power the US generates in a year. But before the UK solar industry gets carried away at the prospect of such a healthy pipeline of work, a note of caution: the plan involves the solar panels being constructed using robots, with all the products created in situ from materials mined on the moon. Humans need not apply.
Rocky, it ain't
With Christmas fast approaching, my thoughts inevitably turn to charity - and pugilism. As you read this, a boxing-themed contest between senior industry executives is taking place in east London. To be known henceforth as Building's Boxing Day, the event is a fundraiser for the Boxing Academy (www.theboxingacademy.co.uk), which provides an education for teenagers who would otherwise be excluded from school. Confirmed contenders so far include EC Harris' Simon Light, Trustmark's Liz Male, Rise's Gareth Stapleton, HLM's Chris Liddle, Blue Sky Building's Julian Daniels, Certsure's Emma Clancy, Urbanis' Bola Abisogun and our very own Allister "thunder from down under" Hayman. There won't be blood, but sweat, tears and beers are inevitable. Please sponsor the bout of the century at www.building.co.uk/buildingboxingday.
Master of the roles
Senior member of the judiciary Steven Whitaker has a key role in the blacklisting saga as the judge who will rule on the application to combine the four High Court compensation cases into one next spring. Readers may also be interested to know that Whitaker, senior master at the Royal Courts of Justice, boasts another illustrious title as the Queen's Remembrancer. The post was created in 1154 by King Henry II and was originally responsible for keeping records of taxes paid to the Crown.
Get licking
When you've got to distribute a 50,000-page hybrid bill, as HS2 Ltd had to do last week, you can run into a few logistical issues. Apparently the firm had to get a special shipment of ultra-large 64GB memory sticks from abroad after buying up all the ones its UK supplier had. Meanwhile, to get the mammoth bundles of the bill out to the various stakeholders under strict regulatory deadlines, HS2 Ltd had to ensure delivery vans were stationed across the country. But even that pales in comparison to the cost of postage to the stakeholders. HS2 will have to fork out around £25,000 on postage for all the communications going out to stakeholders on the day the bill was put before parliament. Whichever way you cut it, that's a hell of a lot of stamps.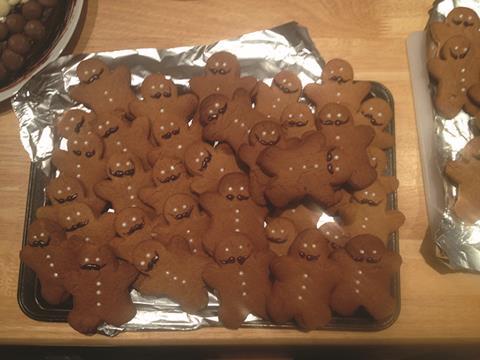 Ginger whiskers
Mace's commitment to Movember, the annual moustache growing event in aid of men's health charities, knows no bounds.
Keen Hansom readers may remember I recently wrote about the contractor's "Macetache", a picture of a moustache in Mace livery, which was hanging from its sites last month. Well, last week the firm rounded off its fundraising activities with a charity bake sale and I was charmed to see these gingerbread men sporting moustaches too.
Presumably they'd just got back from constructing a gingerbread house in the woods.
Send any juicy industry gossip to hansom@ubm.com