Do you have a ringing in your ears like a siren going off, having trouble saying certain words? Maybe the lastest housing stats are making you feel a little lightheaded? Don't worry, it's nothing a cycle on the Thames won't cure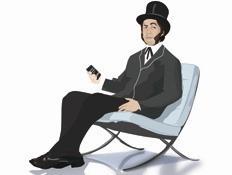 Impaired hearing
One of my hacks got a tour of Singapore's newly opened state-of-the-art National Stadium last week. A team of experts from the stadium project team, from consultants Arup, Aecom and DP Architects, ran through the 55,000-seat venue's innovative features, which include a striking domed roof, part of which is retractable, and an energy-efficient cooling system to pump cold air into the stands. However, the experts had their work cut out, as during the presentation they had to compete with a deafening siren blasted through the stadium to test its acoustics ahead of a Mariah Carey gig later this month. One of the project team quipped: "At least it's better than Mariah Carey."
Status anxiety
I like it when people show pride in the building profession as Great British Bake Off contestant and builder Richard Burr did last week. The
fourth-generation builder had been "exposed" as merely a "manager" of his family firm by newspapers. They said he wasn't the working
class builder the programme portrayed him as because he had a degree and had attended a grammar school. But Burr proved he's not
afraid to get his hands dirty, tweeting pictures of himself and his father fixing a roof. He tweeted: "Me and my dad in our 'managerial' roles. #massivetoffs".
Stunted development
Last week's speech by communities secretary Eric Pickles to the Tory party conference was notable for the revelation that planning permission for 230,000 homes had been granted in the last 12 months in England - close to the mythical 240,000 figure that most cite as the number of homes we should be building. The figures did not come from Pickles' own department, but a private data company, and aren't figures the communities department (DCLG) usually produces. Asked about them, the DCLG eventually said they were from an analysis of private data, which will be published in Hansard when parliament rises. Whether accurate or not, the most important omission from Pickles' speech was the fact that for the last year or so, the number of homes built has been running at about half the level of planning permissions granted, somewhat diminishing the impact of his claim.
Mild irritation
Meanwhile, it seems Redrow founder Steve Morgan has ruffled feathers with his comments to Building last week. The housebuilder said the industry should start building "the type of housing that people want to live in", by which he meant cul-de-sacs rather than high-density housing. But writing for Building's sister title Building Design this week urbanist Hank Dittmar attacked Morgan for wanting to build "noddy boxes" and said he was catering for a nuclear family idea that is no longer the prevailing way people live. Dittmar signed off with a Bob Dylan quote: "Something is happening here and you don't know what it is, do you, Mr Jones?" Ouch.
Viral mouthful
I always enjoy seeing someone turn something that appears to be a disadvantage into an advantage. Ironmongery supplier Häfele is revelling in the fact that its name is completely unpronounceable by asking people to compete for prizes simply by filming themselves saying the firm's name. It's such a daft concept that it seems to have captured the imagination of the UK industry and a couple of weeks into the competition there are scores of entries on the firm's Facebook page. Do have a go.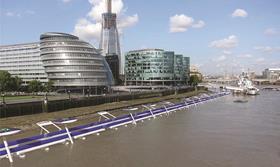 Spokes on the water
The price for economic recovery seems to be evermore bizarre schemes coming to market. First we had the garden bridge, not two things you would usually put together, now we have the floating cycleway. Last week a consortium of Arup and Hugh Broughton Architects unveiled plans for a floating cycleway on the Thames between Battersea and Canary Wharf. The £600m Thames Deckway would be privately funded and move up and down the bank of the river with the tide. The consortium says safety will be "the number one priority" but still the prospect of being thrown from my saddle into the water would prompt me to tell them: "On yer bike."