Modern classicism shows its colours (anything you like as long as it's white), while those who should be blushing a beautiful shade of pink include Cabe, Jarvis, and, ahem, a few of our colleagues
That's a beauty, Cabe
As Cabe desperately tries to find new forms of funding, it again proved its public worth last week with research entitled "Eight out of 10 people think beauty matters". This vague and unscientific insight, for which pollster Ipsos Mori presumably earned a nice little taxpayer-subsidised fee, is just the start. The work found "only" fewer than one in five people think beauty is less important if you're poor. A worrying insight into what some think of the poor, perhaps, but it doesn't tell us much else.
Cabe also found that only two-thirds of people say they've experienced beauty (any chance of a definition?) in their natural environment. As chief executive Richard Simmons asks, "why not use [beauty] explicitly to have conversations about how to improve places?" Indeed. Some might say Cabe would still have its public funding had it better heeded that very advice.
No colours red
Architect Robert Adam's book, The Search for a Modern Classicism, was launched last week in the design gem that is Sir John Soane's Museum in High Holborn. Although a pair or two of red trousers were to be seen there, matching drinks were strictly forbidden. It was a cold evening, but when I pleaded for a warming glass of red wine, rather than the chilled white on offer, the waiter responded "No coloured drinks allowed" as he looked pointedly at the beautiful carpets underfoot - no doubt hundreds of years old and irreplaceable.
The ornate chairs were equally treasured if the thistles placed on each and every seat were anything to go by …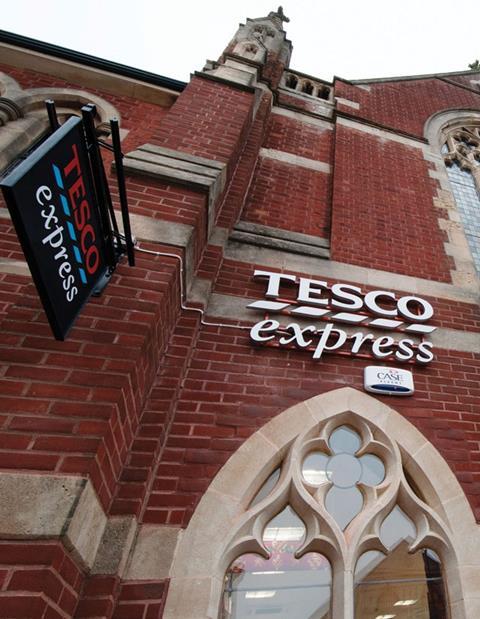 Packing 'em in the aisles
Does anybody remember the Keep Sunday Special campaign in the 1980s? It was formed by church groups worried about the impact Sunday trading would have on their congregations. What nonsense. The Sunday Trading Act of 1994 has actually offered an opportunity to boost church attendances. Just look at this picture of the first church in England to be converted into a Tesco Express. I bet church-going in the parish of Westbourne in Dorset has never been higher. "Give us this day our daily bread!"
Some Js are OK
Which uncommon name of uncertain pronunciation dominated the world of corporate failure this week? That's right: Garvis. Or Jarvis. Or Jervis. Garvis Snook, the motorbike-riding boss of the now-collapsed Rok, is lying low after being told not to speak to the media. Jarvis, the long-defunct rail maintenance firm, was last week finally charged with breaching health and safety law over the Potters Bar disaster. But one member of the Jarvii is doing rather well: Mike Jervis, an administrator for PwC, is picking up the pieces at Rok.
Give or take £1.4bn
Setting Capita Symonds' restructuring bash in the colourful, if surreal, surrounds of the London Transport Museum last week was a masterstroke, as it gave the rejigged consultant a chance to boast that it was "taking part in the £15.9bn Crossrail scheme" on giant screens to hundreds of minglers. Was this the same Crossrail scheme that was value-engineered down to £14.5bn in time for the CSR? Perhaps Capita Symonds' failure to update was a subtle dig at the delays to the scheme …
Hacks run amok with puns
Headline writers were thrilled with the collapse of Rok last week. "Trowbridge Hall hits Rok bottom" was a good one from the Wiltshire Times, while Aberdeen's Press and Journal contributed "Hundreds of jobs at risk as triple blow rocks builders". Investors Chronicle coined "Rok stops rolling". And, inevitably, countless newspapers used a variation on "Between a Rok and a hard place", including, er, Building. Twice.