As the planning minister clashes with the countryside, the construction adviser hangs out in a field, the energy minister contemplates the Green Deal desert, and Davis Langdon moves further from a mountain
Boles' field day
It was always going to be a tough gig. Nick Boles, the planning minister, was up in front of the Campaign to Protect Rural England (CPRE) at a meeting in London last week to give a speech on the need for more houses to be built in the countryside. The minister, who has claimed that houses bring more happiness than fields and that "uninteresting fields" should be developed, at least acknowledged that he was "probably the CPRE's least favourite minister". Heckled through his speech, Boles, who has been dubbed Boles the Builder by CPRE chairman Andrew Motion, ploughed on nevertheless, urging his audience not to "fossilise" "embalm" or "freeze-dry" rural England, saying building was vital because villages need "noise and bustle" - not to mention "teenagers nervously flirting". It was all a bit much for his audience, with some delegates walking out and others branding Boles a "liar" and "a fool". And who said planning was dull?
Hanso does Glasto
Ahead of this week's Government Construction Summit (GCS) and the launch of the construction industrial strategy, you might have expected chief construction adviser Peter Hansford to be putting the final touches to the plan and his speech over the preceding weekend. Far from it. Hansford was partying with 170,000 other revellers at Glastonbury, taking in headliners the Rolling Stones, among others. Hansford told Building he did not launch the industrial strategy at the festival nor did he perform despite unconfirmed reports that he was asked to close it with a speech on BIM.
Four and counting
Last week we finally found out how well the government's flagship energy efficiency programme is performing. And the news wasn't good, with a measly four Green Deal finance plans signed to date. This has to be well short of energy minister Greg Barker's expectations given that earlier this year he said he "wouldn't be sleeping if we didn't have 10,000" in place by the end of the year. Nevertheless, Barker promptly took to Twitter to claim the Green Deal was "totally confounding" critics. Perhaps his attention might be better focused on persuading his colleagues to sign up: with 360 coalition MPs and around 1,200 civil servants in the Department of Energy and Climate Change, that would be a healthy start.
Peaks and troughs
So, farewell Davis Langdon. I've been musing on the venerable history of the brand, whose roots stretch back to 1919, after parent company Aecom announced its decision to phase it out from October. Old hands like me know that this is but the latest in a series of name changes down the decades. The most significant rebrand before this was in 2004, when the firm dropped "Everest" from 16-year-old brand Davis Langdon & Everest. The Everest who lent his name to this firm was a close relation of Sir George Everest, the man who carried out the original survey of the world's highest mountain and saw it named after him. The company was clearly proud of this as it used to display a photograph of the peak in its reception. The Aecom name is an acronym for "architecture, engineering, consulting, operations and maintenance". Somewhat less romantic, I think.
Fab prefab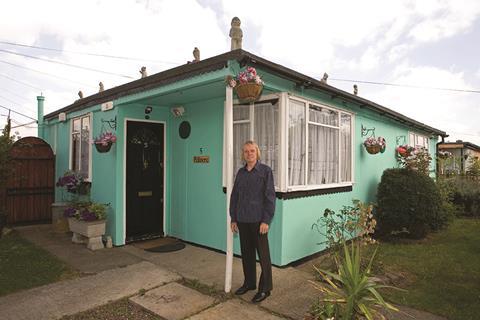 There's much talk of the housing crisis now but just over 60 years ago the Blitz and the post-war baby boom left many young families with nowhere to go. The answer: prefabricated homes. Intended as a temporary solution, many people lived out the rest of their lives in these "palaces for the people". The latter phrase lends its name to an exhibition running at the Photofusion gallery in Brixton, London, which chronicles the lives of those still living in prefabs, despite (it seems) largely commercially-driven efforts to rehouse them. One 90-something resident, of the Excalibur Estate in Lewisham, left little doubt over his feelings when, at a private view for the exhibition, he said: "The mayor of Lewisham should be throttled. He talks about giving us decent homes. But I've already got one …" Take note! An Englishman's home is his castle!
Send any juicy industry gossip to hansom@ubm.com