It's been beastly in Eastleigh, but at least architects are finding some novel ways to de-stress. Meanwhile, the PR team at WYG refuses to let a good story be ruined by the horsemeat scandal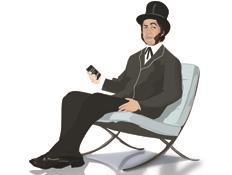 Off with their Ed
There was much disappointment last week when the Department for Culture, Media and Sport sent out a missive informing journalists that the launch of an independent review into architecture policy, led by Sir Terry Farrell, had without explanation been cancelled. Had the review been aborted? No, for we were later advised it had only been rescheduled due to culture secretary Ed Vaizey being called away on unexplained party political business, which surely could have had nothing to do with the urgent business of pressing Vote Conservative flyers into the hands of constituents in Eastleigh. And a lot of good that did …
The underdogs
But it did seem every man and his dog was down Eastleigh way last week. Apart from the party leaders, of course, there was energy secretary Ed Davey - fighting for the Lib Dems - as well as his junior minister Greg Barker, complete with his cute companion Otto the dachshund who, as regular readers of these pages will know, accompanies the energy minister to work each day, with a basket and toys in the minister's office. Yet even Otto, replete with Tory Blue rosette, failed to win over the voters - though I'm sure he later came in use for licking the Tories' wounds.
Flogging a dead horse
Bandwagon jumping is a precarious game and I couldn't help but feel that consultant WYG may have picked the wrong one when a press release proclaiming "WYG speeds through planning for new meat processing facility," arrived last week. "The project is particularly pertinent in view of the current controversy over reports of horsemeat appearing in the food chain," it added, though I'm not sure the speed of the planning process is the meat processing sector's primary concern right now.
More R&R for architects?
Spare a thought for the architects. Results of a study by office supplier Viking reached us which showed that stress levels among architects are on the rise, with nearly a third admitting that they "gorge" themselves on food after a tough day at work, with another third saying they have health problems as a result of stress. How to remedy this situation? The survey
said "by far the most popular" suggestions were free massages, yoga classes, and "rooms of scented candles". Whatever would a survey of contractors come up with? Do let us know.
East meets Club Med
An ambitious approach to what can be achieved in our ever-shrinking global village is all well and good but there are occasions when ambition can go too far. One Chinese developer, who was keen to sign up Building's Architect of the Year Astudio to work on his new project, flew out the firm's director of Asia, Sean Weston, to a site in a town near China's northern border with Mongolia. There, in the grey, drab, freezing cold, he declared he wanted Astudio to design him 0some "Spanish villas" - presumably not to make the most of the weather. Perhaps mindful of the principles of sustainable development, Weston politely declined.
All up in the air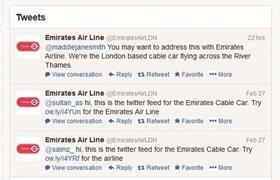 Mayor of London Boris Johnson's seven-month-old cable car across the Thames in east London is starting to attract some bad press. Columnist Owen Hatherley wrote on the Guardian website last week that the piece of infrastructure - named the Emirates Air Line after its corporate sponsor - was evidence of an "overbearing whimsy" and dubbed it a "total financial failure". Recent reports estimate it is losing £50,000 a week due to a lack of customers. The corporate branding also appears to be bamboozling Twitter users, some of whom are mistaking the cable car's @EmiratesAirLDN account for the actual long-haul airline. Three consecutive tweets from @EmiratesAirLDN here tell the story …

Send any juicy industry gossip to hansom@ubm.com