A rapper sings a rainbow in the name of architecture, the game is afoot for the Rail Accident Investigation Branch, there's more marathon news, and has Balfour Beatty offended the gods?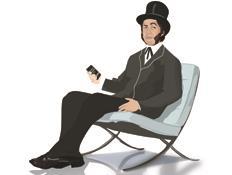 That's a rap
The ranks of hip hop stars with an interest in architecture swells. Last June Kanye West designed a pyramid to show a multi-screen music video at Cannes Film Festival. Before that, in December 2011, we learned Ice Cube studied architecture and is a fan of Charles and Ray Eames. Now it has emerged that musician and producer Tyler the Creator wants to find architects to design buildings with. On BBC Radio 1 last week he said: "I hate square buildings. I want to see more circle buildings." He added: "Dude, we was [in] Pittsburgh. I was noticing a lot of the building colours are yellows and these shades of blue and hues of pink and it's so sick." Quite.
Powers of deduction
Readers may have noted our report earlier this month about a London rail tunnel where two piling drills pierced the wall, forcing a train driver to take evasive action. Now the Rail Accident Investigation Branch has released initial findings of its investigation into the incident, which confirm that "two large metallic objects that had apparently fallen from a hole in the roof of the tunnel" were indeed piling drills. "[The operation] was associated with construction activity on land about 13 metres above the top of the tunnel," the report concludes. Sherlock Holmes would be proud.
Going for a song
Avid readers of Hansom will have been waiting with baited breath for more news of the first album by planning campaign group the Town and Country Planning Association (TCPA), as announced here in November. Well the wait is over! Hansom's gleaming copy of Love, Life and Liberty arrived last week, all 28 tracks of it, bursting with the history of English radical politics and land reform from the 17th century onwards. Inexplicably, the TCPA hasn't included my request: A Change [of Use] Is Gonna Come, by Sam Cooke. More's the pity. However, there is room for some Woody Guthrie and Bruce Springsteen and you can get your own copy for just £10 from the TCPA website www.tcpa.org.uk
Sprinting ahead
While we wish our news editor Allister Hayman the best of luck in his first ever marathon next month - mentioned in this column last week - his endeavour has been eclipsed somewhat by Building reader John McDonald. McDonald writes in to tell us that this year's London race will be his 21st participation in the event and his 230th marathon overall. "They don't get any easier," he explains. McDonald, who is proprietor of construction consultant Tara Management Services, is running this year's London event in aid of poverty charity the Lighthouse Club. For more information or to donate visit www.justgiving.com/John-McDonald4.
It's my party
Building held its annual Building Awards shortlisting party at London's Sky Bar last week, kicking off our 170th birthday celebrations in style. The bar recently caught public attention for being cyclist Bradley Wiggins' chosen venue for celebrating his BBC Sports Personality of the Year victory - and some attendees proved almost as speedy, arriving nearly a full hour early for the event. We appreciated the enthusiasm, but Team Building were left a little red-faced on being surprised while setting up to a soundtrack of Olly Murs' music. Don't judge us, readers …
By the beard of Zeus!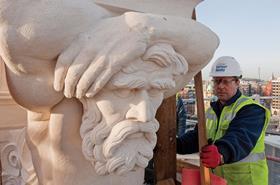 Greek gods have it tough. Atlas the Titan was condemned by Zeus to hold up the sky for eternity. If that wasn't enough, he seems to have had his name misspelled by Balfour Beatty. The firm issued a press release celebrating the installation of a sculpture of the mythological globe-toter at its £60m Sixty London scheme (pictured), but incorrectly named him "Atlantes". Or did they? A Balfour Beatty spokesperson pointed out that there were two statues and "Atlantes" is the plural of Atlas. Our sub-editors, in turn, prefer the English "Atlases", rather than use a Latin plural (for a Greek figure). I do so enjoy a juicy linguistic debate. Now, perhaps we can return to less academic matters …