This week, a little boy waits 60 years for Santa to turn up, there are Christmas logs aplenty, plus some DIY advice for the holiday period - and if even cement delivery tankers can get into the festive spirit, anyone can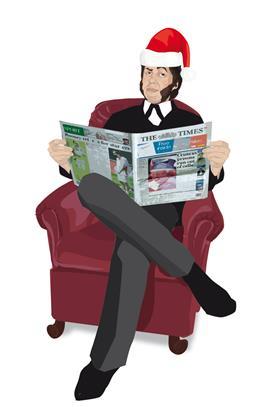 All I want for Christmas…
A builder who discovered a little boy's 60-year-old Christmas list in a chimney has succeeded in tracking down the author. The well-preserved letter to Father Christmas was found at ahouse in Reading as the builder demolished the fireplace. In the note, a young boy named David sweetly asks for old-fashioned presents that would be unlikely to thrill today's youngsters, including a Rupert annual, a drum box of chalks, soldiers and indians, slippers, a silk tie and a pencil box. The builder found the man by speaking to his former neighbours and met the grown-up David to return the letter last week.
Watch this space
How much is a car park in Mayfair worth these days? A cool £70m, apparently. The billionaire Reuben brothers have bought Mayfair's oldest car park - the 175-bay Carrington Street car park - at a figure that works out at £400,000 per space. They plan to redevelop the site into a £500m development and have drafted in Stirling prize-winner AHMM to draw up potential schemes, according to the Evening Standard. When the site first went on sale, it triggered a bidding frenzy for the "once in a lifetime" chance to build new luxury apartments in London's most elite neighbourhood. It's not known how many flats will be built in the development - or whether residents will have anywhere to park.
Cement - ho, ho, ho
Hope Construction is spreading festive cheer this Christmas after unveiling cement delivery tankers featuring happy elves preparing parcels for Father Christmas. The firm is encouraging people to snap and share images of its new festive powder tankers - which hit the UK's roads last week - with the promise of giving one lucky snapper an Apple TV. Clive Roberts, Hope's national logistics manager, said: "Christmas is a time for fun and we hope our trucks give motorists throughout Britain that festive feeling."
Work, rest and play
Norwegian furniture brand HÅG recently commissioned a workshop with young Londoners to discover how Generation Z imagines their future workplace. Innovative ideas suggested by the bright young sparks included hanging pods to work in, interactive tablet desks which turn into beds, virtual reality rooms and communal vegetable allotments to provide ingredients for a healthy lunch. A clear trend from the workshop was blurring work and personal life, with many stressing the need for relaxation at work. This involved creating an underground "holiday room" which contained a beach and swimming pool, a "Netflix area" and holograms that could project a tranquil environment on the walls.
If you want a job done well… get someone in
UK homeowners are spending an additional £42m a year to salvage work around the home that they've tried to do themselves or abandoned mid-way through. Research by the Federation of Master Builders shows that more than a quarter of homeowners admit they have started and then abandoned home improvement jobs, with almost one-third (30%) calling in a tradesperson to finish or rescue the job - costing £871 more on average than it would have cost if they'd hired professionals at the start.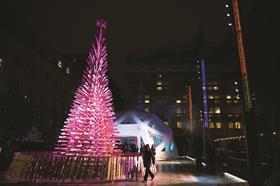 At a branch near you
An 11m high Christmas tree designed by leading Hungarian architect Hello Wood has been commissioned by NOMA to launch Manchester's first new public square this century. Sitting at the centre of Sadler's Yard, the installation weighs almost 8 tonnes and will be fully recycled after Christmas to construct a pub being built by local volunteers. The branches of the tree are formed of sawn logs stacked in a spiral formation around a conical base frame, using pine and oak. The installation took three weeks to prepare in Hungary and five days to build in Manchester. Let's hope the fairy that goes on top isn't afraid of heights.