No mealy-mouthed timidity this week as architect Simon Allford tells it like it is, Stephen Fry confronts the 'bag lady' faux pas head on, and the Spanish bemoan the 'heritage massacre' of a castle's recent restoration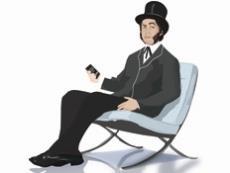 Hitting the G spot
Architects can often be accused of being wishy-washy. Not Simon Allford. The director of the Stirling Prize-winning practice Allford Hall Monaghan Morris told an audience at Ecobuild last week about some of the schemes he wouldn't be prepared to take on. "I can't design a shopping centre because I don't like them. I can't design a new town because I couldn't live in one." Given he's just announced his firm is no longer working on the Google UK headquarters job, Hansom wonders what his thoughts are on US tech firms beginning with G?
Fry pulls a joke out of the bag
Elsewhere at Ecobuild, TV personality, actor and national treasure Stephen Fry took to the stage for a keynote interview with broadcaster Will Gompertz. Fry - who later presented the Architect of the Year Awards - was keen to confront the controversy sparked by his "bag lady" remark at the BAFTAs last month head on. He told the audience: "I have deliberately come dressed as a bag man myself, in case there's any misunderstanding."
Battle of the airways
Hostilities were meant to be suspended between arch rivals Heathrow and Gatwick at an airports panel debate at the London Infrastructure Summit last week. But instead the airports - which are, you might have heard, locked in a bitter battle to gain government support for expansion - resorted to dastardly tactics to get their points across. Gatwick boss Stewart Wingate went first by brazenly starting his presentation with a Powerpoint slide sporting the logo for Gatwick's PR campaign for a new runway. "Gatwick Obviously", it read. Heathrow chief John Holland-Kaye was up next, and used an equally underhand tactic - talking for as long as possible (and overrunning) on the topic of how sustainable the airport's credentials are, before he was stopped by the panel chair. As always, the air is thick with bickering bosses rather than, say, planes.
Build it online
We all know the folks at the Chartered Institute of Building (CIOB) go mad for Minecraft, championing the online game as a way to get more people into the construction industry. Now they're hoping it will help tackle the housing shortage, launching a "future housing challenge" where entrants design and build a three-bedroom house on Minecraft, with environment and energy considerations part of the brief. The competition is open until 26 April and open to all ages. Entrants will need a copy of Minecraft (PC version) to take part in the challenge. The competition can be found at www.ciob.org/ICMD. The winning entry will receive a 3D print of their design from the CIOB.
Restoration drama
Built on a hilltop in the ninth century, an ancient castle in Spain has stood tall for a thousand years against the force of nature and the onslaught of armies. But now in the 21st century the Castillo de Matrera is under another attack. Following a recent project to fortify the Andalusian castle after it was damaged by torrential rain, the renovation - which features a startling contrast between new and old materials - has provoked outrage from locals and conservation groups. One local resident told a Spanish TV station: "They cocked it up". A conservation group said it left locals and tourists "deeply shocked" and described it as a "heritage massacre".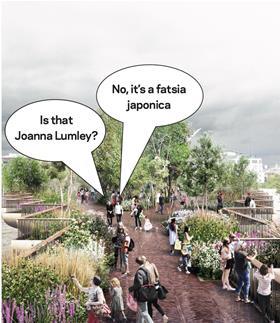 All that glitters …
To Glitter in the Garden, where luxury fashion brands Burberry and Tiffany & Co helped put on a sparkling spread which raised £1m for Thomas Heatherwick's controversial Garden Bridge in London. A star-studded crowd, including world-renowned designers Sir Terence Conran and Christian Louboutin, bid for prizes including a new Fiat 500 filled with luxury treats, a personal styling session with Stella McCartney and a game of table tennis with Boris Johnson. Critics have described the project as a "luvvies' folly", but I'm sure those mentioned above, as well as actors Joanna Lumley and Amanda Wakeley, opera singer Bryn Terfel, and Heatherwick himself, who all also attended, wouldn't agree at all.