This week, trips to Mars, gossip about a third runway at Heathrow, celebrations from yesteryear and a desk that turns into a bed - but donating blood at Gleeds quickly turns into a nightmare
Pipe dream
Dignitaries were out in force for the topping-out of Bloomberg's European headquarters in the City of London last week, led by the media conglomerate's founder Michael Bloomberg and the scheme's architect Norman Foster. After hammering a yew tree branch into the top of the building for good luck, it was on to the speeches. American Bloomberg made the surprise disclosure that he had his English ex-wife to thank for explaining to him the difference between England, Scotland and Wales. It was all the stranger given that for no apparent reason the whole shebang had kicked off with two Scottish pipers who entered the party down the building's central ceremonial ramp. Swiss resident Foster looked rather bemused.
When pigs fly
One of my journalists had the pleasure of attending the annual knees-up for the aviation sector, the British Aviation Group dinner, at London's historic Merchant Taylors' Hall. Naturally there was much gossip about the acrimonious battle between Heathrow and Gatwick for the right to build a new runway. One rumour doing the rounds was that Heathrow would imminently be tendering for consultants to work up more detailed plans for its third runway. Not surprisingly, those gathered for the evening, having waited on a runway decision for the best part of a decade, will believe it when they see it.
Down memory lanes
Elsewhere in the capital two top consultants - DBK and Buro Four - put on their big London bashes last week. DBK put on a generous array of champagne, canapes and fifties-style bowling at London's Ham Yard Hotel. Buro Four had hired space at the National Theatre on the South Bank, where guests were greeted by theatrics including a rousing rendition of the Beatles' classic All You Need is Love, sung by all those attending. We suspect there were a few feeling worse for wear the following day.
Sleeping on the job
For those who indulge in a sneaky at-desk snooze following a heavy night, a more comfortable solution could be at hand. Greek design company Studio NL has just launched a desk-bed hybrid, complete with panels either side that fold out to reveal a mattress. While sleeping at work is nothing new - with some companies introducing nap rooms - building a bed into a desk is pretty original. Apparently there are no plans to place the invention on the market just yet, but the designer will have to contend with open plan offices where having colleagues snoring loudly or dribbling at the mouth might not be entirely compatible with heroic ideas of team building.

A pint! That's very nearly an armful!
Consultant Gleeds literally demanded blood from their staff last month - as part of a worldwide effort by the consultant to raise £130,000 for local charities in seven days to celebrate the firm's 130-year anniversary. While partners from the London office were sponsored to abseil the 539ft Broadgate tower and an arachnophobic bid co-ordinator from Manchester agreed to hold a live tarantula for money, the Cairo office in Egypt went one better. They undertook a sponsored blood giving initiative for a local hospital. Apparently, they initially thought 130 pints would be a good target to chime with the 130 year theme but looking around at the limited number of people in the office, they soon settled on a less ambitious target.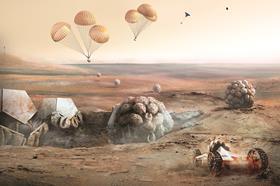 A Mars a day
With publicity in overdrive for Ridley Scott and Matt Damon's new film The Martian, which opened this week, what better time for Nasa to announce the finalists of a Mars Base design competition? Our own Foster + Partners was among the 30 finalists. Foster's design outlines plans for a 3D-printed settlement constructed by pre-programmed, semi-autonomous robots before astronauts arrive. The building would be partly built using regolith, the loose soil and rocks found on the surface of Mars. There should be lots of work for interested construction companies, but life on the planet isn't particularly inviting, with temperatures of -67ºC an average. Also, no pubs have yet been discovered.
Send any juicy industry gossip to hansom@ubm.com